Episode Credits | Dialogue | Did You Know... ? | Reviews | News & Ratings
Episode Summary

"The Cancer Man Can" / Season 2, Episode 11
A story of partners, coat rooms, influence and finally becoming harmonic.
Broadcast: January 10, 2006
The law firm represents Daniel Post (Michael J. Fox), a CEO battling terminal lung cancer who used his status with a pharmaceutical company to ensure that he receive the non-placebo in a promising anti-cancer drug test. Now, another participant in the test study is suing him. During one of Post's visits to Crane, Poole & Schmidt, the charismatic man meets and becomes romantically involved with the firm's Denise Bauer. Meanwhile, Denny Crane is attracted to Beverly Bridge (Joanna Cassidy), a fifty-year-old attractive predator trolling for a husband amongst her high-net-worth peers. And Alan Shore advocates on behalf of "Hands" (Christian Clemenson), a fellow quirky employee in his quest for partnership at Crane, Poole & Schmidt.
From SpoilerFix.com
Denny is being honored but is too buys having sex in the coat closet. Shirley and Denise represent Daniel Post, a wealthy man who was in a double-blind study for a cancer cure and was specifically given the drug instead of the placebo. Brad is up for partner, but Shore has other ideas.


Episode Credits

Directed by .... Lou Antonio
Written by .... Janet Leahy & Michael Reisz
Mary Boucher .... Judge Rose Olsheim
Joanna Cassidy .... Beverly Bridge
Larry Cedar .... Robert Hopper
Art Chudabala .... Peter Clark
Christian Clemenson .... Jerry 'Hands' Espenson
Marisa Coughlan .... Melissa Hughes
Michael J. Fox .... Daniel Post
Erica Gimpel .... Attorney Samantha Fried
Konstantina Mallios .... Receptionist
Eric Payne .... Mark Halpern
S.E. Perry .... MC
Ashley Sawdaye .... Bartender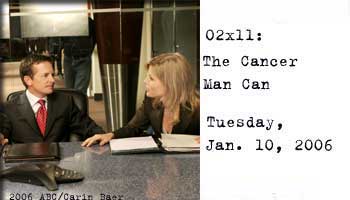 Episode Dialogue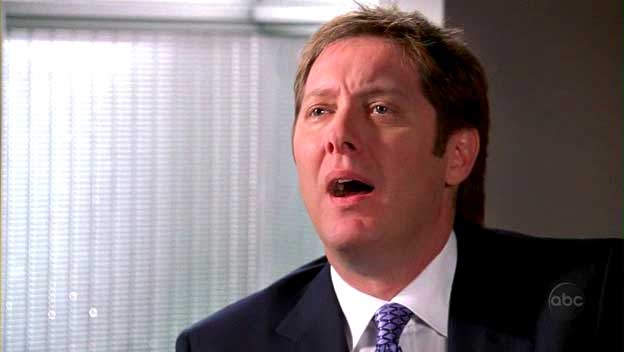 Denny: Maybe I'm having a stroke. Maybe its the mad cow.
Alan: Maybe you're in love.
Denny: I am delirious with joy
Alan: Denny, you enjoy being with Bev. She enjoys being with you. Why don't you just have fun in the moment and leave it at that?
Denny: I knew you wouldn't understand, you heartless bastard.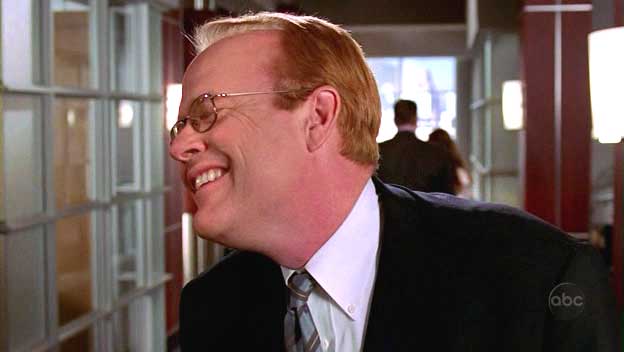 Jerry: It's in my file that I'm violent because I pushed another lawyer once.
Brad: How do you know what's in your file?
Jerry: I have a mole.
Brad looks astonished.
Jerry: Right here on my neck.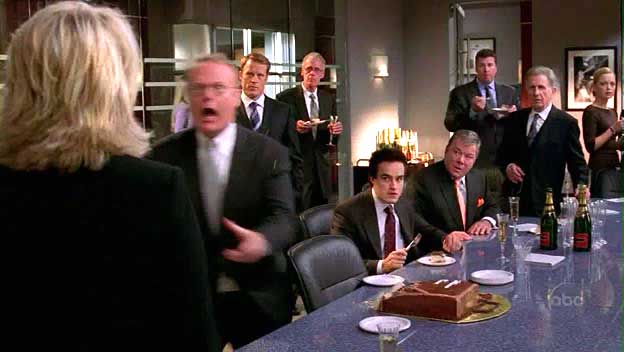 Jerry: Everybody stand back!! I swear I will kill her.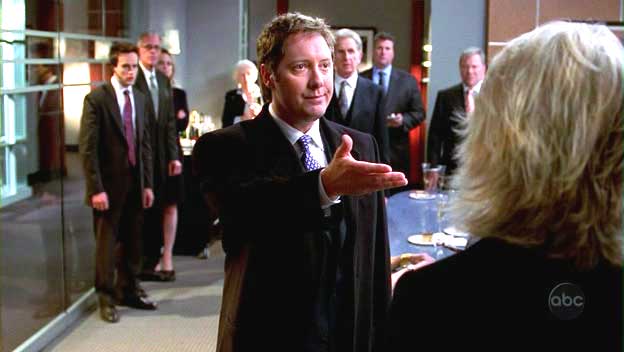 Alan Shore: I'll represent you. Now hand me the knife.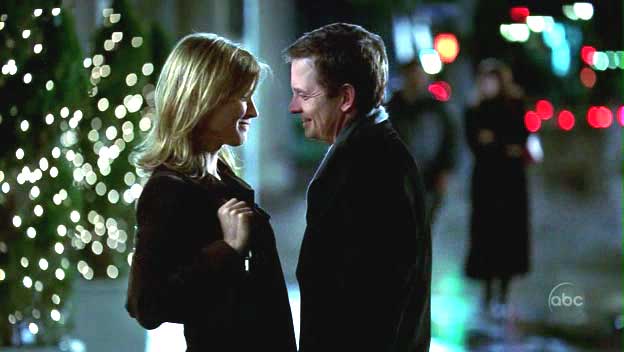 Daniel Post: A little problem with commitment, huh? I know the feeling. I'm uh, I'm not looking for a long-term relationship either.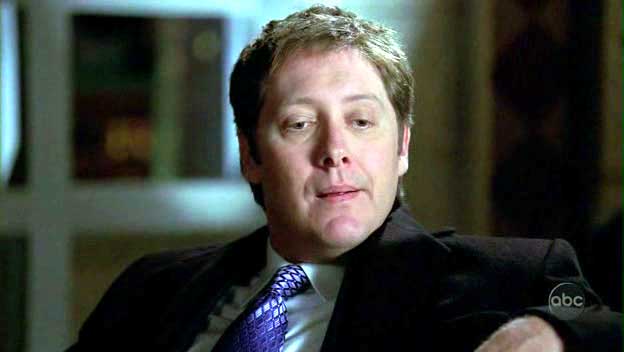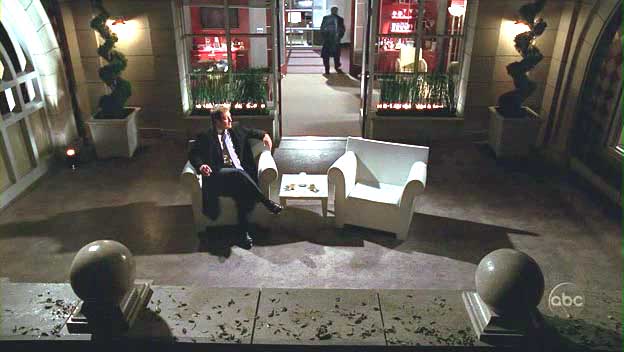 Final moments alone
__

Beverly Bridges: Give me a call sometime. You know how to use a business card, don't you? You just flip it out of your pocket and...
Denny Crane: Blow.
__

Paul Lewiston: I thought I could handle it myself, but…
Denise Bauer: Olivia died of cancer. Didn't she?
__

Alan Shore: Jerry you know I have tremendous affection for my own intelligence and even I think that you are smarter than me.
Jerry Espenson: Oh I am.
__

Denny Crane: Jerry Espenson? You mean Hands? Not a chance. He's a weirdo.
Alan Shore: Denny, he's not a weirdo, and he doesn't like to be called Hands.
Denny Crane: How could you not. The hands.
Alan Shore: A peccadillo to be sure. We all have them.
Denny Crane: I don't have any peccadillo.
Alan Shore: What's your name, Denny?
Denny Crane: Denny Crane.
Alan Shore: Ah! Yes.
__

Denny Crane: Bev bought me a camera phone. Whoa. Pictures finally loaded. Look at this.
Alan Shore: She's very limber for a woman her age.
Denny Crane: Alan. I'd like to be alone with my phone. Just fifteen minutes.



Did You Know... ?

Hollywood Wives Reunited
Joanna Cassidy [Bev Bridge] is reunited with Candice Bergen the on the set of Boston Legal. They starred together in the ultra campy 1985 miniseries "Hollywood Wives," Cassidy was one of many lonely women who stomped around empty mansions and scrounged around for love.

From a casting call for the episode
Shoot Dates: October 10, 2005 (in Manhattan Beach). Breakdown-- Robert Hopper: Mid-late 40's. Slightly gaunt from his battles with Stage 4 lung cancer, Robert was a participant in a double-blind research study of a new cancer drug. He is suing Daniel Post, a wealthy businessman and cancer patient, who used his influence to insure that he received the actual drug while Robert received the placebo. Guest Star. [Update: Larry Cedar was cast for this role]

Trek in the Courtroom: Similarities between The Cancer Man Can and Star Trek
Themes
The Lookalike – Joanne Cassidy
Star Trek Alumnus
Six degrees of Separation
How William Shatner Changed the World?
Let Them Eat Cake
>> Details and images [pdf]

Episode Reviews


2.11 "The Cancer Man Can" written by Abney

... coming ...



[Listen to Dana and Rob's conversation about Legal Deficits - mp3 download and follow along with the show notes]


Episode News


Ratings Ratings [101 by Nielsen]

Jan. 10, 2005 "The Cancer Man Can"
Households: 7.5/13 at #4 overall; adults 18-49 3.3 at #7 overall. 11.29 million viewers; BL scored 2nd at 10pm after SVU and had more viewers than lead-in Commander in Chief [#5 and #9], building by 18 percent among adults 18-49. ABC came in second for primetime overall with households: 6.6/10, #2; adults 18-49: 2.9, #4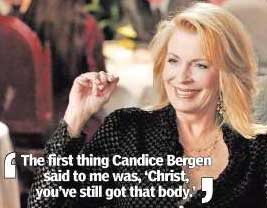 Body heat: Joanna Cassidy romances Shatner on 'Boston Legal'
New York Post by Robert Rorke

I think I scare people," says Joanna Cassidy. "I really have to watch myself."

It's hard to see why Cassidy, a durably glamorous actress with the kind of legs that were made for alighting from limousines, would see herself as intimidating. But when you watch her steal scene after scene, as she did so memorably as Margaret Cheno-with, the twisted shrink she played to perfection on "Six Feet Under," you can see why actors, not to mention ordinary humans, would be nervous in her company.

So convincing was Cassidy that she lost out a commercial for a sleep-aid.

"They said, 'That character is an alcoholic,'" she says. "I said, 'Three quarters of the women in this town have been in rehab. I haven't."

The pharmaceutical world's loss is television's gain. Cassidy, 60, has bounced back to play Beverly Bridge, a furniture store owner, who becomes the girlfriend of Denny Crane (William Shatner), the puckish attorney who can't be trusted, especially around colleagues' wives, on "Boston Legal."

"She meets him at the bar at a hotel," Cassidy says in a voice whose intimate, whispery tone suggests the imminent disclosure of many delicious secrets. "There's an event going on. Denny's receiving an award. And it just goes from there. I think Denny sees [Beverly] as a challenge."

Does she get the upper hand with Shatner? "Oh yes," says Cassidy, with mischievous glee.

Once producers — and audiences — get an inkling of how Joanna Cassidy can shake things up, they don't want to let her go. The "Boston Legal" role, originally scheduled as a three-episode arc, has been extended to six. On "Six Feet Under," she was signed to do two episodes, in 2001. Five years later, she was still on the show letting scathing remarks fall from her lips like so many shiny knives.

"It's my time," she says breathily. Indeed, she is savoring a long-awaited moment.

Like many working actors, Cassidy has seesawed between acclaim and neglect. She was a statuesque sculptor straight out of art school who was in Los Angeles doing some modeling for Nina Blanchard when she was told to call Joyce Selznick about a part in a movie. Selznick, who had already discovered Candice Bergen, accepted the call from Cassidy, who had no agent at the time, and eventually gave her a part in "The Laughing Policeman," a 1973 thriller starring Bruce Dern and Walter Matthau.

She seemed to be on her way. Cassidy, who has two grown children from her marriage to Dr. Kennerd Kobrin, had a small part in Harrison Ford's 1982 sci-fi film "Blade Runner" and won raves, a year later, for her lead role opposite Nick Nolte and Gene Hackman in "Under Fire." She worked with the hottest directors of the day — Ridley Scott, Bob Rafelson, Roger Spottiswoode — but movie stardom was always just out of reach. A co-starring role opposite Dabney Coleman on TV's "Buffalo Bill," a 1983 failed sitcom, brought Cassidy an Emmy nomination, but lost to Jane Curtin for "Kate & Allie." In the most recent, and probably ultimate indignity, she lost the part of Char-lie Sheen's mother on "Two and a Half Men" to the wildly overrated Holland Taylor.

The bitter irony of it all is not lost on the actress.

"I feel like I've had to work a lot harder than I should have," says the New Jersey native. "I don't understand it. I felt I was passed over [for an Emmy] when I played a homicidal cross-dresser on 'Starsky and Hutch.' It was one of the most remarkable performances on television."

A sense of humor — and great set of genes — have helped her through the valley of despond. With smart credits such as "Six Feet Under" under her designer belt — Cassidy can look back on some of the B-list projects she did with amusing disdain.

In one of those trivialities, the ultra campy 1985 miniseries "Hollywood Wives," Cassidy was one of many lonely women who stomped around empty mansions and scrounged around for love.

"We were doing a funeral scene and I got them all laughing too hard. Angie Dickinson could not make eye contact with me," Cassidy says.

Besides Dickinson, "Holly-wood Wives" starred the crème de la crème of '80s TV actresses, including Stefanie Powers and Candice Bergen, with whom she was reunited on the set of "Boston Legal."

The intervening years, 20 of them, were "compressed" when they saw each other again, Cas-sidy says. Except for one unexpected development: envy.

Says Cassidy, "The first thing Bergen said to me when she saw me was 'Jesus Christ, you've still got that body.'"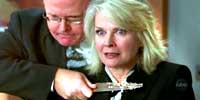 Episode Video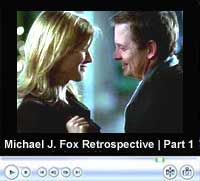 Watch scenes from Michael J. Fox's "The Cancer Man Can" storyline (13:52) wm stream; no downloads [Part 3-4 coming]



Watch the "The Cancer Man Can" promo (:26)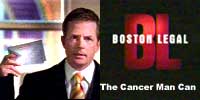 Watch the "The Cancer Man Can" preview (:40)
Boston Illegal Radio


"The Cancer Man Can" mp3 download [88 min; 30.3 mb] >> podcast show notes



Listen or subscribe via Yahoo Podcasts

Listen with streaming mp3 or subscribe via Odeo


iTunes subscription
Download free iTunes application


Listen on your cell phone
Episode Images
Memorable scenes >> go
Transcript
Read the episode, transcribed by Imamess; transcript
Episode Forum
Share your thoughts >> go
Episode Ratings
January 10, 2006:
Households: 7.5/13 at #4 overall; adults 18-49 3.3 at #7 overall
Extras
James Spader Meeting Place "The Cancer Man Can"
Discussion