Boston Legal Themes and Allusions in Comparison with Star Trek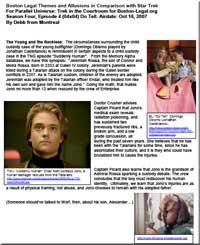 A Special Report from Debb from Montreal, Forensic Television Anthropologist for Comparative Studies [we jest]

Crossover instances in Boston Legal referencing Star Trek only begins with William Shatner and Rene Auberjonois -- themes, storylines, visuals, images and audio are prevalent enough to warrant further examination. We're not talking a full blown anthropologic thesis - just the kind of fun investigation akin to DVD Easter eggs and the Alias numbers game. We'll be adding documentation here as we can. We also cover these points, along with sound bites, in our weekly podcast for each episode. Meanwhile, listen to the 35 min. conversation by clicking on the mp3 or the Odeo button to the right.
4x13: Glow in the Dark
Themes
- One is for YES and Two is for NO: There were several dialogue nods to Trekdom worth noting: mirror universe identities, saving the Planet, Do Overs
- Trek Alumni: William Shatner (Denny Crane), John Larroquette (Carl Sack), Henry Gibson (Judge Clark Brown) Scott Bakula (Jack Ross)
>> Details and images [pdf]
4x12: Roe v Wade: The Musical
Themes
- Paternally yours: Missy/Terrence, Kirk/David, Sarek/Spock, Picard/Jason/Shinzon, Deanna Troi, Alien – Human hybrids, Artificial Life begetting Artificial Life
- Trek Alumni: William Shatner (Denny Crane), John Larroquette (Carl Sack), Ron Canada (Judge Willard Reese) Elizabeth Dennehy (Samantha Taylor)
>> Details and images [pdf]
4x11: Mad About You
Themes
- Disguisingly yours: It all begins with the barber.
- Trek Alumni: William Shatner (Denny Crane), John Larroquette (Carl Sack), Patrick Fabian (Attorney Stanley Gould)
>> Details and images [pdf]
4x10: Green Christmas
Themes
- Environmentally yours:
- Star Trek fired its first shot warning about pending environmental doom in the TOS episode "The Mark of Gideon."
- The plight of endangered species, such as the humpback whale, is the focus of the movie ST IV.
- Praxis go "BOOM" in ST VI: The Undiscovered Country, when we witness the fate of the Klingon moon.
- TNG's environmental catastrophe in episode "Inner Light".
- Trek Alumni: William Shatner (Denny Crane), John Larroquette (Carl Sack), Gary Anthony Williams (Clarence Bell)
>> Details and images [pdf]
4x9: No Brains Left Behind
Themes
- Annoyingly yours: teenage angst of Miri and Marlena
- The Dress Uniform: or drinking while in uniform… or "every woman loves a man in uniform"
- Trek Alumni: William Shatner (Denny Crane), John Larroquette (Carl Sack), Gary Anthony Williams (Clarence Bell), Henry Gibson (Judge Clark Brown), Mark L. Taylor (Atty. Adam Jorvanka). Colby French (Officer Taylor Jessel)
>> Details and images [pdf]
4x8: Oral Contracts
Themes
- Beyond the Chirp: Denny and Kirk call Alan and the Enterprise for assistance.
- Trek Alumni: William Shatner (Denny Crane), John Larroquette (Carl Sack), Gary Anthony Williams (Clarence Bell), Steven Culp (A.D.A. Norman Wilson), Rene Auberjonois (Paul Lewiston), Henry Gibson (Judge Clark Brown)
>> Details and images [pdf]
4x7: Attack of the Xenophobes
Themes
- Thoughtfully yours: "The Dream Police"
- Trek Alumni: Trek Alumni: William Shatner (Denny Crane), John Larroquette (Carl Sack), Gary Anthony Williams (Clarence Bell); Henry Gibson (Judge Clark Brown) Pamela Adlon (Attorney Emma Path), Ivar Brogger (Professor Tyler), Thomas F. Wilson (Jeffrey Bass), Lamont Thompson (Officer Aaron Payne)
>> Details and images [pdf]
4x6: The Object of My Affection
Themes
- Object-ively yours
- Trek Alumni: William Shatner (Denny Crane), John Larroquette (Carl Sack), Gary Anthony Williams (Clarence Bell), Gregg Daniel (Dr. Jason Marcini); Miriam Flynn (Gretchen Winters); Pamela Adlon (Attorney Emma Path)
>> Details and images [pdf]
4x5: Hope and Gory
Themes
- Insanely yours: Star Trek had more than its fair share of "compelling characters", code for the criminally insane.
- To be... or not to be: In the TOS episode, Conscience of the King, Kirk recognizes a well-known Shakespearean actor.
- Holographic psychopath
- TNG had its share of killers
- Cloniside in the DS9
- Trek Alumni: William Shatner (Denny Crane), John Larroquette (Carl Sack), Gary Anthony Williams (Clarence Bell), Mark Moses (Attorney George McDougal), Paul Dooley (Judge Wendel Donahue), Michael Wiseman (D.A. Bret Haber)
>> Details and images [pdf]
4x4: Do Tell
Themes
- The Young and the Reckless: The child custody case of the young bullfighter is reminiscent in certain aspects to a child custody case in the TNG episode "Suddenly Human".
- William Shatner (Denny Crane), John Larroquette (Carl Sack), Gary Anthony Williams (Clarence Bell), Henry Gibson (Judge Clark Brown); Check Debb's great Larroquette/Shatner pictures!
>> Details and images [pdf]
4x3: The Chicken and the Leg
Themes
- Psychologically yours: Psychologist's therapy could wreak havoc with a patient's emotional well being will ring familiar with Trek fans.
- Habit-ually yours: Women of the cloth
- Trek Alumni: William Shatner (Denny Crane), John Larroquette (Carl Sack), Gary Anthony Williams (Clarence Bell), Mark L. Taylor (Attorney Adam Jovanka), Henry Gibson (Judge Clark Brown), Dan Gilvezan (Evan Holt). Behind the scenes: Michael Reisz (co-producer, executive story editor), Donna Cicatelli-Lewis (key makeup artist), Andy Clement (makeup artist), David Galvan (painter) and Tim Sitarz (stunt double).
>> Details and images [pdf]
4x2: The Innocent Man
Themes
- Trek Alumni: William Shatner (Captain Kirk / Denny Crane), John Larroquette (Maltz / Carl Sack), Gary Anthony Williams (ST Video Game Voice Talent / Clarence Bell), Tony Todd (Detective Walter Berenson), Pamela Adlon (Attorney Emma Path)
>> Details and images [pdf]
4x1: Beauty and the Beast
Themes
- Nemeses old nemeses pitted against each other in a battle of wills
- Skirts: from the famous short skirts of Star Trek to Shirley Schmidt the cheerleader
- Lookalikes: TOS Yeoman Rand and Katie Lloyd
- Trek Alumni: William Shatner (Captain Kirk / Denny Crane), John Larroquette (Maltz / Carl Sack), Gary Anthony Williams (ST Video Game Voice Talent / Clarence Bell)
>> Details and images [pdf]
3x21: Tea and Sympathy
Themes
- Genetically yours: ownership of a patent on one individual's DNA
When does it all begin?: According to the Startrek timeline, it begins in 1992
Re-Animation
Identification
Degeneration
Augmentation: Genetic Good Guy or DNA "Do Not Augment"
- Star Trek Alumni: William Shatner (Denny Crane), René Auberjonois (Paul Lewiston), April Grace as Attorney Regina Williams
>> Details and images [pdf]
3x20: Guise 'n Dolls
Themes
- The Clothes do not Make the Doll: Comparing the "Tarties" in this week's episode of Boston Legal to some of the action figure dolls from Star Trek.
- Star Trek Alumni: William Shatner (Denny Crane), René Auberjonois (Paul Lewiston), Gary Anthony Williams (Clarence/Clarisse), Michael Bofshever (Charles Costello), Jim Jansen (Marshall Kennedy)
>> Details and images [pdf]
3x18: Son of the Defender
Themes
- Where Past and Present Collide
ST has also used film footage from the past. Star Trek: Deep Space Nine episode entitled "Trials and Tribble-ations" that incorporated footage from The Original Series Star Trek "The Trouble with Tribbles."
- Goes Nowhere, Does Nothing
When Brad gets stuck in the vent, every Trekker thought to himself… "well, he's polishing the "Jeffries Tube".
- Star Trek Alumni: William Shatner (Denny Crane), René Auberjonois (Paul Lewiston), Gary Anthony Williams (Clarence/Clarisse), Mark L. Taylor (Attorney Adam Jovanka) (see 3x3 Desperately Seeking Shirley), Billy Mayo (Detective Sean Wilkins) (see 2x9 Gone), Stephen Lee (Aaron Sears), Lawrence Pressman (Judge Floyd Hurwitz), Michael G. Hagerty (Wally Bird)
Click to see images of the two ST characters Lawrence Pressman, Mike Hagerty and Stephen Lee played. It's fun!
>> Details and images [pdf]
3x17: The Bride Wore Blood
Themes
- Reincarnation and Being Jewish: It takes a common frame of reference in order to discuss certain topics, ie: Israeli politics, and life after death.
- 47 Sighting: Another addition to The Land of Schlock and their list of Star Trek 47's
- Star Trek Alumni: William Shatner (Denny Crane), René Auberjonois (Paul Lewiston), Gary Anthony Williams (Clarence/Clarisse), Michael Ensign (Judge Paul Resnick see 2x16 ) Ron Ostrow (Atty. Everett Cone).
- Behind the Scenes: BL production people who have worked on Star Trek episodes
>> Details and images [pdf]
3x16: The Good Lawyer
Themes
- First Contact
- Spot the Alien! Patrick Breen
- Star Trek Alumni: William Shatner (Denny Crane), René Auberjonois (Paul Lewiston), RonOstrow (Atty. Everett Cone), Michael Reisz
- Behind the Scenes: Former Star Trek alumni is not restricted to the many actors that have appeared on Boston Legal – there are also many production people who have worked on Star Trek episodes.
>> Details and images [pdf]
3x15: Fat Burner
Themes
- A Pound of Flesh
- Making a Difference: Alan Shore asks Denny Crane while on the stand about why he wanted to be involved in Spirit Technologies. Denny Crane responds and says he wanted to make a difference.
From the dialogue in Star Trek: Generations, making a difference is underscored several times as the raison d'être of a certain starship Captain. See Debb's report to read the scene where Captain Jean Luc Picard visits the Nexus where he encounters Captain James T. Kirk.
- Say Again? Fat Burner had a fair share of verbal Star Trek references.
- Star Trek Alumni: William Shatner (Denny Crane), René Auberjonois (Paul Lewiston), Ron Canada (Judge Willard Reese)
>> Details and images [pdf]
3x14: Selling Sickness
Themes
- I NEED MY PAIN!!
[KIRK: Dammit, Bones, you're a doctor. You know that pain and guilt can't be taken away with the wave of a magic wand. They're things we carry with us -- the things that make us who we are. If we lose them, we lose ourselves. I don't want my pain taken away. I need my pain!]
- Emotionally yours
- Trek Alumni: William Shatner (Denny Crane), René Auberjonois (Paul Lewiston), Ed Begley, Jr. (Clifford Cabot see 2x20), Henry Gibson (Judge Clark Brown see 3x1), Scott Klace (Dr. Mitchell Levinson), Michael Reisz (writer see 2x24)
>> Details and images [pdf]
3x13: Dumping Bella
Themes
Shades of Black and White
Shades of Blue: the Bolians and the Andorians
See Through Partitions
Star Trek Alumni: William Shatner (Denny Crane), René Auberjonois (Paul Lewiston), Christopher Neiman (Marshall Prig), Michael Reisz (writer).
>> Details and images [pdf]
3x12: Nuts
Themes
Person vs Persona
Star Trek Alumni: Matthew Kaminsky (Mike Beckett), Zach Grenier (U.S. Attorney Randolph)
>> Details and images [pdf]
3x11: Angel of Death
Themes
The Big Easy
Those crazy young men in their flying machines
Trombone Envy?
Star Trek Alumni: William Shatner (Denny Crane), René Auberjonois (Paul Lewiston), Ann Cusack (Dr. Donna Follette), Dakin Matthews (Judge Harvey Fletcher), Mark Chait (Attorney Byron Robb), Gary Anthony Williams (Clarence/Clarice Bell)
>> Details and images [pdf]
3x10: The Nutcrackers
Star Trek Alumni: William Shatner (Denny Crane), René Auberjonois (Paul Lewiston), Michelle Forbes (Juliette Monroe), Clyde Kusatsu (Judge Matsumura), Annie Wersching (Ellen Tanner), Gary Anthony Williams (Clarence/Clarice Bell)
>> Details and images [pdf]
3x8-9: Lincoln and On the Ledge
Themes
The effeminate villain: Lincoln and Q
Being of sound mind and body: The holographic will
Error genous zones: "Suck on an earlobe"
Lesbians (again)
Six Degrees of Separation: A.D.A. Otto Beedle and Renée Winger
Star Trek Alumni: William Shatner (Denny Crane), René Auberjonois (Paul Lewiston), Michael Ensign (Judge Paul Resnick), Ellen Bry (Attorney Shelby Morris)
>> Details and images [pdf]
3x7: Trick or Treat
Themes
Paternally yours, (again)
Out of Uniform (again)
Body Parts (again)
Star Trek Alumni: William Shatner (Denny Crane), René Auberjonois (Paul Lewiston), Armin Shimmerman (Judge Brian Hooper)
>> Details and images [pdf]
3x6: The Verdict
Themes
Oedipus Retch
Too Human
Like Mother, Like Son
Lyrically yours
Star Trek Alumni: Ron Canada (Judge Willard Reese), Ethan Phillips (Michael Schiller), Armin Shimmerman (Judge Brian Hooper)
>> Details and images [pdf]
3x5: Whose God Is It, Anyway?
Themes
Religiously Yours
Star Trek Alumni Head Count! Full listing of ST/BL crossover actors
>> Details and images [pdf]
3x4: Fine Young Cannibal
Themes
Man o' Man
'Mad Cow' Boy and Indian
Red Spandex was wrong then… and wronger today.
We meet again…: René Auberjonois and Armin Shimmerman
Fishers of men ... indeed
Sounds Like: Shatner lyrics in script
>> Details and images [pdf]
3x3: Desperately Seeking Shirley
Themes
Star Trek Alumni: Armin Shimerman (Judge Brian Hooper), Ron Canada (Judge Willard Reese), Ethan Phillips (Scott Little's father), and Mark L. Taylor (Attorney Adam Jovanka).
Whodunit?
>> Details and images [pdf]
3x2: New Kids on the Block
Themes
Notable Shorts
Boston Legal's Little People
Look-alikes
Star Trek Alumni: Armin Shimerman (Judge Brian Hooper)
>> Details and images [pdf]
3x1: Can't We All Get a Lung?
Themes
Imaginary Lovers
Body Parts
Star Trek Alumni: Armin Shimerman (Judge Brian Hooper) and Henry Gibson (Judge Clark Brown)
>> Details and images [pdf]
2x26: Spring Fever | 2x27: BL: Los Angeles
Themes
Love is in the air
Postcards from the Edge: La La Land and Risa
Alt U Crane: Barry/Denny/Kirk
Star Trek Alumni: Jeri Ryan (Courtney Reese), David Burke (D.A. Casey Mathias), Dennis Cockrum (Detective Gary Jacobs), Robert Foxworth (Judge Simon Devon), David Burke (D.A. Casey Mathias), Dennis Cockrum (Detective Gary Jacobs)
>> Details and images [pdf]
2x25: Squid Pro Quo
Themes
Humanity on Trial
The Emotional Debate
Star Trek Alumni: Ray Proscia/Paul Schwimmer and Don McManus (Attorney John Lennox)
>> Details and images [pdf]
2x24: Deep End of the Poole
Themes
Here Comes the Grudge or Defending the Left Hand Man
Good things come in threes: The Logical, the Illogical, the Leader
"I Have and Always Shall Be Your Friend"
Star Trek Alumni: Lorna Raver (Judge Katherine Taylor), Writer/Actor Michael Reisz
>> Details and images [pdf]
2x23: Race Ipsa
Themes
"It's in his kiss"
Ebony and Ivory
Star Trek Alumni: Michael Ensign [Judge Paul Resnick]
>> Details and images [pdf]

2x22: Ivan the Incorrigible
Themes
"Not exactly Emily Post" On Manners and Mannerisms
The Bard Sayeth: Shakespeare references - "First, kill all the lawyers."
Star Trek Alumni
>> Details and images [pdf]

2x21: Word Salad Day
Themes
Wesley's Game
Star Trek Alumni: William Shatner (Denny Crane), René Auberjonois (Paul Lewiston), Christopher Carroll (Judge Stephen Bickel), Joel Polis (Attorney Eric Yavitch),
Ken Land (Dr. Samuel Williams), Ron Canada (Judge Willard Reese), Jennifer Parsons (Dr. Reesa Klaywig)
>> Details and images [pdf]

2x20: Chitty Chitty Bang Bang
Themes
Futurerotica: Fertility symbol, exotic dancers, aphrodisiacs, Dabo Girls, Seductress, Dominatrices, nudity, temptress, imaginary lover, bondage and the Ultimate Sex Toy
Star Trek Alumni: Ed Begley, Andrew Prine, Matt Malloy
>> Details and images [pdf]

2x19: Stick It
Themes
WMD's, Torture and Spying: Insurrection
"It's about the girl... "
Star Trek Alumni: Ron Canada and a closer look at Shatner and Auberjonois
>> Details and images [pdf]

2x18: Shock and Oww!
Themes
Vigilantes and Renegades: The Maquis
American Homeowner
The White Stuff: Narcotic addiction
Star Trek Alumni: Daniel Roebuck (Russell Blayney), Fran Bennett (Judge Diane Avent)
Death by High Voltage
>> Details and images [pdf]

2x17: There's Fire
Themes
Not all marriages are created equal
Where There's Smoke: Smoking in the future
Star Trek Alumni: Joanna Cassidy, Corbin Bernsen (Attorney Eli Granger), Patti Yasutake (Dr. Claire Simon)
>> Details and images [pdf]


2x16: Live Big
Themes
Parental eSTRANGEment
Wedding Belles
Star Trek Alumni: Michael Ensign (Judge Resnick)
>> Details and images [pdf]

2x15: Smile
Themes
The Cat: A True and Valued Friend
It's not easy being green... or purple [Outcast children]
Star Trek Alumni
>> Details and images [pdf]
2x14: Breast in Show
Themes
Squares vs. Hippies
Elevators and Turbolifts
Star Trek Alumni
Bad tasting drinks
>> Details and images [pdf]
2x13: Too Much Information
Theme
Beverly Bridge is Antonia
>> Details and images [pdf]
2x12: Helping Hands
Themes
Captain of the Ship
Captain's Mamba
Star Trek Alumni
>> Details and images [pdf]
2x11: The Cancer Man Can
Themes
The Lookalike – Joanne Cassidy
Star Trek Alumnus
Six degrees of Separation
How William Shatner Changed the World?
Let Them Eat Cake
>> Details and images [pdf]
2x10: Legal Deficits
Themes
The Introverted Expert: Lt. Reginald Barclay
Vigilante Justice
Loan Sharks and Hookers, Ferengis and Dabo Girls
>> Details and images [pdf]
2x09: Gone
Themes
The haves vs the have nots: The poor and the rich in "The Cloud Minders".
Pulp Fiction: Picard's alter ego Dixon Hill in "The Big Goodbye".
All Tied Up: Kirk and Spock tied up in "The Cloud Minders".
Vigilante Justice: From semi automatics to paint ball - Kirk and Crane love their guns.
>> Details and images [pdf]
2x08: Ass Fat Jungle
Themes
Youth v. Age: Charlie X, Miri, the fountain of youth planet of Baku
Literature: "It was the best of times, it was the worst of times... "
Workplace Romance: Commander Riker and Counselor Troi, Captain Picard and Anij
Cosmetic Surgery: Harcourt "Harry" Fenton Mudd. "The Cage"
Aging and Alzheimer's: Dr. McCoy's father
Night Terrors: Data has them and Then Next Generation episode Stardate 44631.2
>> Details and images [pdf]

---