Paul Lewiston Speaks:
Some Boston Legal Tidbits from Actor Rene Auberjonois
by Chris Bichler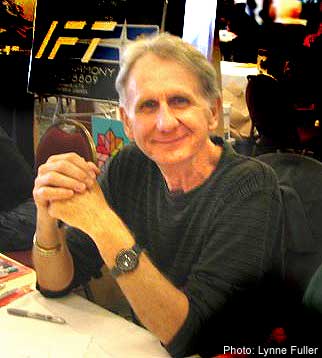 I had a chance to see and chat with Rene Auberjonois over the July 15-17 weekend at the Toronto Trek science fiction convention. The veteran actor answered questions from fans, not only about his role as Odo, the shapeshifting security officer of Star Trek: Deep Space Nine, but also about his more recent work on Boston Legal. The following is a summary of his comments on BL during the convention's Q&A sessions and also during an informal gathering with fans. (Author's note: Quotations given are from memory and any errors therefore are mine.)

Auberjonois said he's enjoying his role as Paul Lewiston, one of the senior partners at Boston Legal's fictional law firm of Crane, Poole, and Schmidt. Even though Paul doesn't always get a lot of screen time – and is frequently seen in the stock role of scolding parent to some of the shows more colorful characters - the actor says he doesn't mind playing a sometimes one-dimensional grouch. He says that he's proud of the show as a whole, and loves working with the rest of the Boston Legal cast. Auberjonois doesn't really expect Paul to get a storyline of his own anytime soon, noting Boston Legal creator David Kelley's assertion that the purpose of the Lewiston character is "to occasionally allow people to believe that this could be a real law firm."

Whatever the role of Paul in the shows evolving drama, Auberjonois said he's very happy to be part of Boston Legal. The actor pointed to a recent episode dealing with the subject of capital punishment as evidence of the high quality of the series and its writing, although he admitted that the show hasn't really found its true direction yet–and some cast changes in the upcoming new season are bound to shake things up. Boston Legal recently lost stars Rhona Mitra and Monica Potter, and some new, younger characters will be added to the show in the upcoming 2005-2006 season.

Auberjonois also had kind words for his co-stars, singling out William Shatner and James Spader for special praise. Shatner, he says, is enjoying the opportunity to re-invent himself in the role of the loopy aging attorney, Denny Crane. And, of course, Auberjonois and Shatner share the bond of being Star Trek alumni. (Shatner, who played Captain James Kirk in the original Trek, is still a frequent and popular guest at science fiction conventions himself.) As for Spader, Auberjonois cites him as a prime reason that viewers should tune in to the Boston Legal. He noted that he found meeting Spader for the first time a bit intimidating, simply because he himself was so much in awe of Spader's film work. But he soon found that Spader, whom Auberjonois describes as "awesomely brilliant" in the role of bad-boy attorney Alan Shore, was "very sweet" and a delight to work with. As for Candice Bergen, who plays senior partner Shirley Schmidt on Boston Legal, Auberjonois observed Bergen's character is "wonderful" and very much "written in her [Bergen's] key."

David Kelley has evidently been under some pressure from ABC to take Boston Legal in a direction similar to that of the popular hit "Grey's Anatomy," a show about young and attractive medical interns that currently occupies Boston Legal's former Sunday night time slot. Auberjonois admits that he's not really sure where the show is headed–but he did confirm one upcoming tidbit that was recently alluded to by co-star Spader: Alan Shore and Denny Crane will, he says, "wake up in bed together" in an upcoming episode, evidently without knowing how they got there. According to Auberjonois, the scene is played for laughs, a la a similar comic scene in the film "Trains, Planes, and Automobiles."

---
Links:
Rene Auberjonois Internet Link: http://renefiles.com/
Toronto Trek 19 Convention: http://tcon.icomm.ca/tt19/


Chris Bichler is a longtime member of Rene Auberjonois's fan-club, ORACLE, and has been writing for Star Trek-related fan publications since 1994. She's working on a Ph.D. from Bowling Green State University in the field of American Culture Studies.


Photo by Lynne Fuller
The photo was taken while Rene was sitting at the Toronto Trek ORACLE fan club table, signing autographs and drawing "Odo's Bucket" cartoons to raise money for Doctors Without Borders.


For more information about Rene Auberjonois' current projects and overall career, his official website, run by Marguerite Krause, is http://www.renefiles.com