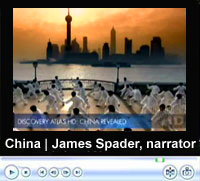 Watch a clip of Discovery Atlas: China Revealed, narrated by James Spader (13:19)


Listen to the audio of the full show (windows media download, 96k)
Part 1 (35 mb; 49min.) Part 2 (25.3 mb; 51 min.)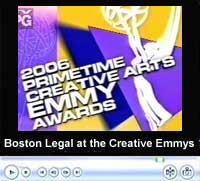 Watch clips from the 2006 Creative Arts Emmys
August 19, 2005 (8:50); See Christian Clemenson win, Mark and Julie present and the BL Sound Mixing guys take home their Emmy. Thanks to Beverly for sending me the footage.


Boston Legal's Valley and Potter on "They Started on Soaps"

Watch They Started on Soaps (4:05)
wm stream; 340 bitrate / no downloads

Mark Valley Moonlighting
ABC's "Emily's Reasons Why Not" stars Heather Graham. Emily has a relationship with Reese (Mark), a roguishly handsome, two-timing, baseball player/author. Polar opposite of Brad Chase. [Thanks to Bev for this news]


Watch 'Emily's Reasons Why Not' promo clip 340 bitrate; streaming only/no downloads (1:46)






Watch the "Mad TV" parody of Boston Legal broadcast November 26, 2005. Frank Caliendo (Shatner), Michael McDonald (Spader] and Nicole Parker (Bergen) send up shooting a scene from the series. Click images to enlarge.


Watch the Mad TV Boston Legal parody (3:55)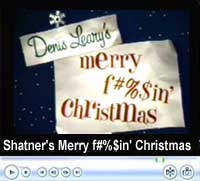 Watch Shatner on Denis Leary's "A Very F#%$in' Christmas"
Airdate: November 29, 2005; [2:51]
"Cuban cigars and 14-year-old scotch. Santa will love ya." | website



William Shatner stars in humorous DaimlerChrysler Canada TV ads
Launched November 17, the three 30 second television spots feature William Shatner as a "modest" millionaire who says "You know I'm a simple man, just like you. So when I heard that Chrysler was going to make someone in Canada a millionaire just by buying or leasing one of these great cars, I got excited." Various scenes of opulence surround him as he adds, "Like I said, I'm a simple man... and we all know money can't buy you happiness," spoken as the actor smiles knowingly into the camera. >> read more
[Watch two commercials, read the transcript and see images, compliments of VRRRM.com!]



Watch James Spader's Acura voice over commercials (five spots, :30 each)
Spader is the new voice of the Acura
Several 30 second commercials for the ACURA automobile have his voiceovers, including "Of all its abilities, listening might be its most impressive." ACURA launched new ads Oct. 12 for the MDX SUV. From Yahoo News: The brand's new voiceover artist, Boston Legal actor James Spader, suggests the confident, master-of-the-universe driver. The new tagline in two spots is, "Always advancing." >> read more
[Thank you to poetic_filmmaker who tenaciously recorded and scanned many hours of commercials to find these and share them with everyone! She finally got them on The Weather Channel]

Recently Added Videos


Sierra Club Global Warming PSA [:60]





Craig Bierko launches Bathing with Bierko and talks with "Seriously? OMG! WTF?"
Question: Or what about the show you were on last season, Boston Legal? Did you keep that Buzz Lightyear costume?
Craig: I was very happy to leave that costume behind. It was like wearing a Volvo. >> rest of the interview >> Watch 'Bathing with Bierko'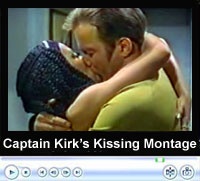 Captain Kirk and his 32 loves. Watch this YouTube montage of a pre-Denny Captain Kirk living up to his Kirkanova reputation. Thanks to Debb for finding the clip and to how video for creating it.