Press Coverage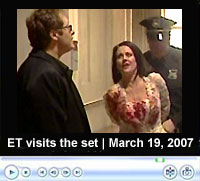 Watch Entertainment Tonight visit the Boston Legal set & interview Megan Mullally about her appearance in "The Bride Wore Blood"; March 19, 2007 (:43)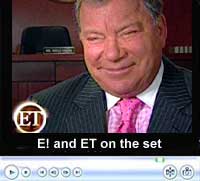 Watch two clips on the set. E! on the set of Boston Legal September, 2004 (:25) and Entertainment Tonight on the set with Heather Locklear, September 22, 2005 (1:30)
[Thanks to Katy for the video]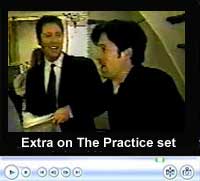 Watch "Extra" visit the set of The Practice. Hear from Betty White, Patrick Dempsey and James Spader while filming TP8x14 "Pre-Trial Blues" from February, 2004 (1:24)
[Thanks to Katy for the video]



Watch clip from "Extra"
QuickTime video, slide show and text from a segment aired on "Extra" October 29, 2004.



Play (1 min.)
Airdate: July 13, 2004
E! Entertainment TV coverage of Boston Legal Summer Press Tour, July 13, 2004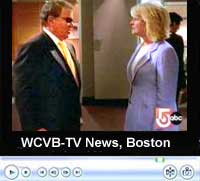 WCVB-TV News, Boston, MA feature story on Boston Legal premiere
Article / Newscast date: September 27, 2005


Watch tv news clip (2:47)
wm stream; 200 bitrate / no downloads
Honorable Mentions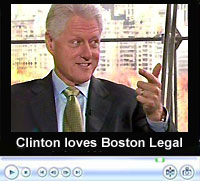 Watch President Clinton tell Ellen DeGeneres what he thinks of Boston Legal (:30)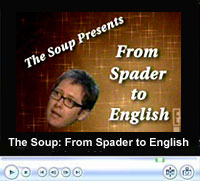 Watch "The Soup" clip about Spader's first Emmy win September 29, 2004 (1:10)









Watch the "Mad TV" parody of Boston Legal broadcast November 26, 2005. Frank Caliendo (Shatner), Michael McDonald (Spader] and Nicole Parker (Bergen) send up shooting a scene from the series. Click images to enlarge.


Watch the Mad TV Boston Legal parody (3:55)



Jon Stewart: This fall, William Shatner is... D.A. Earle.


Watch The Daily Show clip (:22)
Stewart: "Now DeLay himself used an interesting phrase in describing Earle: He's a renegade prosecutor who uses the criminal justice system to criminalize politics. Stewart: Wow. That's not a defense. That's a David E. Kelley show. Stewarts announcer voice: "... This fall, William Shatner is... D.A. Earle."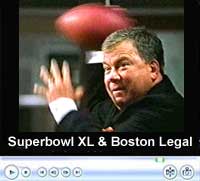 Watch the Superbowl XL Promo with William Shatner and James Spader aired during the Pregame Show on ABC(1:20)
Airdate: February 5, 2006 / wm stream; 340 bitrate / no downloads
>> See images in our Forum