[ cbs tv network podcaster ]
The CBS Network launched their Netcast podcast page Fall 2005 and, out of 300 other podcasters, selected me to create downloadable interview with their series stars. Listen to some in the player below or download from the comprehensive list below.


Watch a conversation with "Two and a Half Men" star Jon Cryer (6:26)



Watch a conversation with "NCIS": Michael Weatherly & Pauley Perrette (2:49)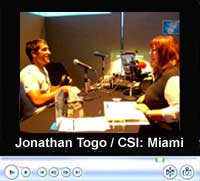 Watch video of Dana talking with Jonathan Togo of CSI: Miami (4:48) wm stream; 340 bitrate / no downloads

Related Links
CBS.com/Netcast
News Tribune: "Brace yourself for the great podcast wave"
Micro Persuasion: "CBS Signs Dana Greenlee to Podcasting Deal"
PodcastingNews.com: "Pioneering Podcaster Hits CBS"
Corante.com: "Dana Greenlee on CBS Netcast"
Info page
Video of Dana wandering the halls of the legendary CBS Television City

Image: Dana in her CBS podcast booth
Image: CBS series logos in studio 33 [podcast booth behind wall]
Interviews by CBS TV Schedule
Sunday
8:00 PM COLD CASE
Kathryn Morris: mp3 [5:47]
Danny Pino: mp3 [6:54]
[image: Dana and Kathryn Morris]

Monday
8:30 PM HOW I MET YOUR MOTHER
Cobie Smulders: mp3 [8:12]
Jason Segel: mp3 [4:09]
Josh Radnor: mp3 [4:59]
[image: Dana and Jason Segel]

9:00 PM TWO AND A HALF MEN
Jon Cryer: mp3 [5:54]
Holland Taylor & Conchata Ferrell: mp3 [7:20]
[image: Dana and Jon Cryer 1 and 2]

9:30 OUT OF PRACTICE
Henry Winkler: mp3 [5:49]
Stockard Channing: mp3 [4:40]
Paula Marshall: mp3 [5:05]
Ty Burrell & Chris Gorham: mp3 [6:55]
[image: Dana and Henry Winkler]

10:00 PM CSI: MIAMI
Jonathan Togo: mp3 [4:49]
Eva La Rue: mp3 [5:56]
[image: Dana and Jonathan Togo]

Tuesday
8:00 PM NCIS
Michael Weatherly & Pauley Perrette: mp3 [7:35]

9:00 PM THE AMAZING RACE
Phil Keoghan: mp3 [6:17]

Wednesday
8:00 PM STILL STANDING
Jamie Gertz & Mark Addy: mp3 [7:20]

8:30 PM YES, DEAR
Mike O'Malley: mp3 [6:52]

10:00 PM CRIMINAL MINDS
Shemar Moore: mp3 [9:39]

Thursday
8:00 PM EVERYBODY HATES CHRIS
Terry Crews: mp3 [11:55]

8:00 PM SURVIVOR: GUATEMALA
Jeff Probst: mp3 [7:39]
[image: Dana and Jeff Probst 1 and 2]

9:00 PM CSI: CRIME SCENE INVESTIGATION
Robert David Hall: mp3 [11:09]

10:00 PM WITHOUT A TRACE
Eric Close: mp3 [6:36]

Friday
8:00 PM GHOST WHISPERER
Jennifer Love Hewitt: mp3 [8:09]
Aisha Tyler: mp3 [3:31]
James Van Praagh: mp3 [5:33]

9:00 PM CLOSE TO HOME
Jennifer Finnigan: mp3 [6:24]
Kimberly Elise: mp3 [9:03]

9:00 PM NUMB3RS
Rob Morrow: mp3 [6:50]
[Image: Dana and Rob Morrow talk about life in Seattle / image 2]

9:00 PM THRESHOLD [cancelled]
Charles Dutton: mp3 [8:08]
[Image: Dana and Charles Dutton talk horses]

Daily
THE BOLD AND THE BEAUTIFUL
Antonio Sabato, Jr.: mp3 [4:57]




[ bio ]
Dana Greenlee is a pioneering podcaster, having the first terrestrial broadcast radio program, Web Talk Radio, to be distributed as a podcast using a Really Simple Syndication (RSS) feed with an enclosed mp3 file of the complete program back in September, 2004. [source: Wikipedia]

Besides producing and co-hosting Web Talk Radio at WebTalkRadio.com from 1999 to 2006, Dana also hosted a weekly podcast about the popular television show 'Boston Legal'. Before moving to the Seattle area, she worked as a production assistant for KNBC-TV in Burbank, for lighting directors at the Sunset Gower Studios, in music licensing and for a talent agent at Hollywood Center Studios and worked on air at several Los Angeles area radio stations. In the Pacific Northwest, she worked at Amazon.com in customer service and website editorial.

Dana wrote a weekly technology column for the Tacoma Daily Index from 2001-2007 and currently develops websites. She is a voting member of The International Academy of Digital Arts & Sciences, the 550-member body responsible for judging The Webby Awards, She earned a BA in Mass Communication in Radio and Television from La Sierra University and currently lives in Seattle, Washington.

Dana's LiveVideo page:
http://www.livevideo.com/Boston-Legal.org
Dana's Flickr gallery: http://flickr.com/photos/danag
Dana's MySpace: http://myspace.com/cyberdana
Dana's Facebook:
http://www.facebook.com/DanaGreenlee
[ TVj ]
Dana was a founding TVj for BuddyTV.com, a live, interactive blogging community. Each week during the broadcast, fans of Boston Legal joined her session to watch and comment on the episode together with hundreds of viewers all over the world. Past episode sessions are archived and can be replayed for repeat listening and reading.
>> Boston Legal page
>> Dana's TVj page
>> Seattle Times article

[ writing ]
Personal Journal: Rain Forest Radio Girl
Theatrical Muse: Brad Chase
Fic: Hollywood Guy
Fic: Eddie Arlette
Fic: Decca Crane
Tacoma Daily Index
[tech/business columnist since 2000]
[ about this site ]
open since: July 2, 2004
hosted by: webtalkradio.com
feedback: bostonillegal@gmail.com
buck stops at: dana greenlee
[ work ]
Radio
WebTalk Radio
[co-host/producer/editor]
A weekly syndicated tech talk show, on air and webcast since 1999. 350 shows, over 500 interviews.

Some favorite WebTalk shows
Wil Wheaton talks about "Just a Geek", Star Trek: TNG and his online life as blogger, journalist and futurist at WilWheaton.net; 1 hour; Sept. 25, 2004 | mp3

The Lone Gunmen from the X-Files; 1 hour; March 2001 | mp3

Web dev sites
Boston-Legal.org
JamesSpader.org
Mark-Valley.com
LastGreatFlyer.com

LoriLarson.com
TheAbortionControversy.com
IFMASeattle.org
BOMASouthPugetSound.org
CCINW.org
FirstAidCPR4u.com
BeaconElectricInc.com

[ Why Vegetarian? ]
This is why I live peacefully with all living beings.
"But for the sake of some little mouthful of flesh, we deprive a soul of the sun and light and of that proportion of life and time it had been born into the world to enjoy."--Plutarch
Number of animals killed in the world by the meat, dairy and egg industries, since you opened this webpage. This does not include the billions of fish and other aquatic animals killed annually.
Based on 2007 statistics from the Food and Agriculture Organization of the United Nations' Global Livestock Production and Health Atlas.
"Animals are reliable, many full of love, true in their affections, predictable in their actions, grateful and loyal. Difficult standards for people to live up to." -Alfred A. Montapert
[ twitter ]

[ articles ]
NPR, online streaming, and driveway moments: A conversation with Maria Thomas, vice president and general manager for NPR Digital Radio
By Dana Greenlee, Technology Columnist
July 21, 2006 - If you ever bought into the term "appointment radio," then you may also know the disappointment of missing your favorite NPR radio show.
>> read more [pdf]

Do we need Internet neutrality?
July 14, 2006 - There's a lively discussion across the Internet on the concept of Net neutrality, a term coined by law professor Tim Wu.
>> read more [pdf]

Abazab, widgets, and the growing demand for Web video
July 7, 2006 - Lucy is looking forward to the Pearl Jam concert at the Gorge Amphitheater in a few weeks. So are her friends who visit her MySpace page.
They're planning on watching Lucy's girl-at-thegorge video commentary about the show almost as it happens.
>> read more [pdf]

Firefox for Dummies
June 16, 2006 - Last year was a breakout year for 20-year-old
Blake Ross. He was on the cover of Wired magazine, nominated for Wired's Renegade of the Year and named Rolling Stone magazine's Hot List. This came six years after he started working at Netscape as a developer -- at age 14.
>> read Pt. 1 >> read Pt. 2 [pdf]

Television 2.0: The rising popularity of vodcasts
April 28, 2006 - What text blogging has done to print media, vodcasts, videoblogging, digital video 2.0, or whatever you want to call it, promises to do to broadcast media: kick down doors to unprecedented participation by citizen/"non-traditional" journalists.
>> read more [pdf]

The Democratization of Television for the masses
March 24, 2006 - Creating video for viewing on the Web is much more than a process of compression and output. It is also about creating original content for the unique environment of the Internet. >> read more [pdf]

From cubicle to mountain crest
Feb. 17, 2006 - It's a fact: working in the technology business, you can expect a fast-paced, demanding life with long hours and stress. Some enterprising tech workers schedule organized retreats to regroup the team. Last September, I talked with Barry Duplantis, Director of Government Programs at Red Hat Linux in Raleigh, NC, who seems to have identified a somewhat unique way to do this. It involves Mt. Rainier and an expedition he calls "Red Hat over Redmond." >> read more [pdf]

Hollywood loves the Internet, Pt. 2
Dec 23 2005 - Actors are just like the rest of us when it comes to using the Internet. They research, look up hobbies, and find music. >> read more [pdf]

Hollywood loves the net, Pt. 1
Dec 16 2005 - It should come as no surprise to know that television actors, with their disposable incomes and plenty of time waiting between scenes, have laptops and iPods... >> read more [pdf]

Increasing Web sales via testing, tracking [March 31, 2006]

Do you suffer from New Economy Depression Syndrome? [Dec. 9, 2005]

A Palm in your hand: the state of the Palm PDA [Dec. 3, 2005]

Techie protects coastline: A conversation with Ken Adelman of CaliforniaCoastline.org [Nov. 15, 2005] q