Episode Credits | Dialogue | Did You Know... ? | Reviews | News & Ratings
Episode Summary

"Truly, Madly, Deeply" / Season 2, Episode 7
A story of cows, clowns, courage, criminals and the imitable Mayor Crane
Broadcast: November 8, 2005
SpoilerFix description: Denny Crane is appalled that he should have to do pro bono work for a non-repentant man who raped and killed a 13-year-old girl, so he goes to extremes to get off the case - an effort that lands him in jail. Meanwhile, Alan Shore and Brad Chase defend a TV station that has fired Zozo the Clown (Joel McKinnon Miller) for talking to his young viewers about environmental issues. During the trial, Brad is surprised to learn that Alan's childhood fear of clowns prevents him from addressing Zozo in court. And, when a long-time client comes to Shirley Schmidt to stop his wife's action to annul their 23-year marriage, Schmidt is taken aback when she learns how the man cheated on his wife

ABC description: Dwight Biddle comes to Shirley when his wife wants to have their marriage of over twenty years annulled because his strayed, but not with another woman. Shirley dumps the case on Denise. Alan gets a new assistant based on her looks, who turns out to be more than he bargained for. Alan and Brad defend Marshal Stepcoe, sued by a clown he fired for including political issues in his act. Denny takes over a homicide and rape case when Garrett screws it up, but has trouble defending the client and shoots him in the knees. Sara gets an uneasy feeling when Heath asks her to go out with him in a Condaleeza Rice costume to celebrate their one week anniversary.


Episode Credits

Directed by .... Stephen Cragg
Written by .... David E. Kelley
Edited by ... Craig Bench
Director of Photography ... James Bagdonas, A. S. C.
Lisa Banes .... Attorney Kimberly Mellon
Angela Chee .... Reporter
Marisa Coughlan .... Melissa Hughes
Henry Gibson .... Judge Clark Brown
Anthony Heald .... Judge Harvey Cooper
Laura Henry .... Clerk
Michael McKean .... Dwight Biddle
Joel McKinnon Miller .... Peter Berrin - Zozo the Clown
Francesca Roberts .... Judge Jamie Atkinson
Susan Ruttan .... Jeanie Biddle
Pat Skipper .... Attorney Michael Roper
Jon Sklaroff .... Ronald Jessel
Austin Tichenor .... Marshall Stepcoe
Pam Trotter .... Jan
Marc Vann .... District Attorney Scott Berger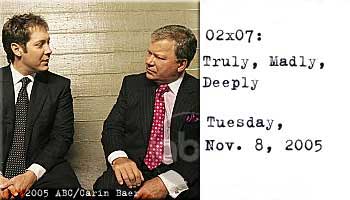 Episode Dialogue


Dwight Biddle: Well itís more what Iíve gotten into I suppose. I strayed.
Shirley Schmidt: You? Well, I, I, I canít pretend Iím not shocked. Even so, infidelity isnít grounds for annulment. Thereís something youíre not telling me.
Dwight Biddle: I strayed with Wendy. Youíve met Wendy
Shirley Schmidt: Wendy. Your cow?
Dwight Biddle: We became very close. One night Iíd had a bit to drink I suppose. Jeanie and I had been a little estranged andÖ
Shirley Schmidt: You strayed with lifestock?
__

Denny Crane: Denny Crane. I donít know why Iím here. Denny Crane. Iíve been summoned! Denny Crane. Denny Crane. Denny Crane.
__

Denny Crane: Was it a hooker? I can do hookers.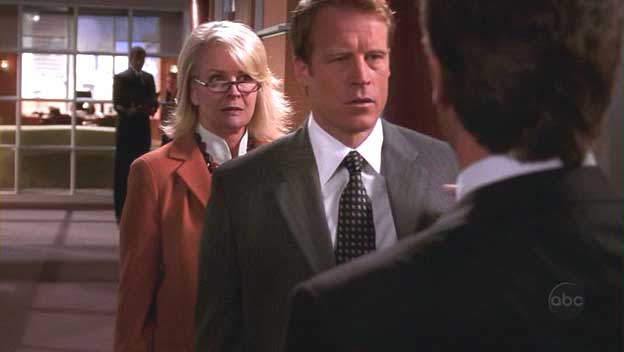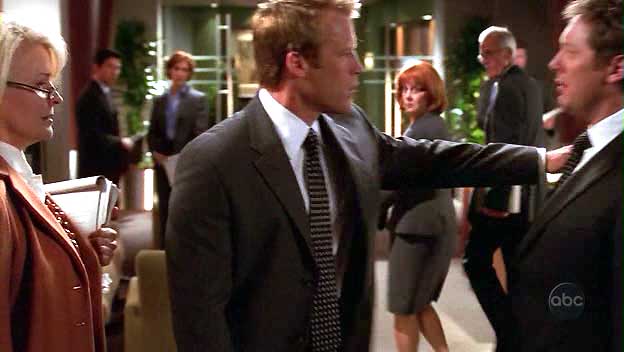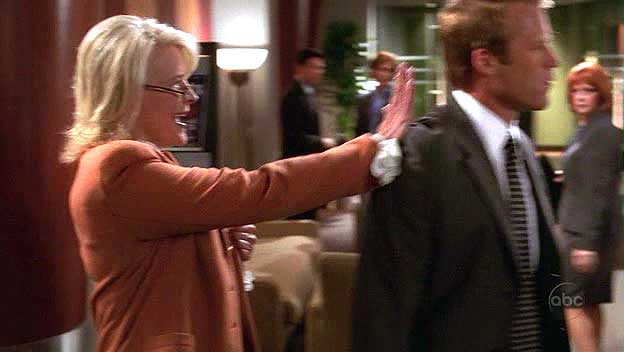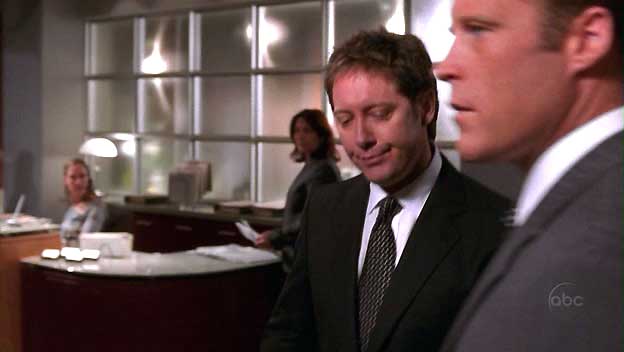 Brad: He's afraid of clowns.
Alan: I am not. It was strategy.
Alan shoves Brad; Brad shoves Alan; Shirley shoves Brad.
Shirley, disapprovingly: Hey.
__

Dwight Biddle: Well, Jeanie looks a little like a cow. You see? I fell in love with Wendy because she reminded me of you.
__

Marshal Stepcoe: He said he had a social responsibility. My God! We had viewers clicking over to Aaron Brown for a laugh. Our show became preachy, unfunny...
__

Dwight Biddle: You know? I was never gonna tell you this. When you were thirteen and your parent sent Bumpy away? It wasnít to some greener pasture where heíd be happier like they told you. Bumpy went to a slaughter house and then he returned to your freezer. You ate him, Shirley! So donít get so high and mighty with me! You ate your precious Bumpy!
__

Brad Chase: Did a clown ever do anything to you?
Alan Shore: No! Theyíre just evil.
Brad Chase: Alan? You need to close. First, you have a better grip on this whole global warming issue which I tend to dismiss asÖ
Alan Shore: Fuzzy math.
Brad Chase: And second, at some point every man, even the half-evolved kind, needs to confront his fears. You need to stand up and deliver this closing.
Alan Shore: Will the clown be there?
__

Paul Lewiston: Heís going onÖ Larry King!
Shirley Schmidt: What?
Paul Lewiston: Tonight. Heís catching the seven oíclock shuttle.
Shirley Schmidt: Denny, you canít be serious?
Denny Crane: Why does everybody insist I canít be serious? This guy Charlie slathered me on live television!
Shirley Schmidt: I think you mean slandered.
Denny Crane: Well. Iíll have the last word.
__

Jeanie Biddle: A lot of restrictions? Itís not like I set of ground rules. But limiting yourself to a single species is one of them. Our species, Dwight.
Dwight Biddle: I broke it off.
__

Denny Crane: The problem with the criminal justice system is the criminals have more rights, they get more attention, they get more sympathy than the victims! Itís disgusting, Larry. Itís, itís, uh. Itís disgusting, letís go to the listeners. Hey! Donna in Cincinnati, what do you got?
__

Brad Chase: Alan? You have to do this. Youíre forty-four years old. Tell him youíre a fan. Shake his hand.
Alan Shore: Will you go with me?
Brad Chase: Right by your side.
__

Alan Shore: What would you do as mayor, Denny. Really.
Denny Crane: Oh, I don know. Iíd attack Rhode Island. Small.
__

Denny Crane: Itís fun being me. Is it fun being you?
Alan Shore: Most of the time, yes, actually.
Denny Crane: Well, what else is there?
Alan Shore: Indeed.


Read more dialogue in our transcript [pdf]


Did You Know... ?

Bi-coastal Larry
Denny Crane flew the shuttle from Boston to Washington to appear live with Larry King. Larry King, in reality, moved his show from DC to Los Angeles three years ago, making the Boston Legal scenario improbable. Larry now lives in Brentwood and his show broadcasts from CNNís Los Angeles Bureau in Chinatown. [posting from the rainmaker forum]

Reunion
Susan Ruttan plays Jeanie Biddle in this episode. Susan has quite a history with David E. Kelley, working in L.A. Law as Roxanne Melman for seven years. She was nominated for four Emmys and two Golden Globes for her role - and won Best Supporting Actress in a Quality Drama Series at the Viewers for Quality Television Awards in 1988.

Wendy
For our music fans, as you know, DEK likes to toy with musical ironies. Toward the end of this episode, while Dwight Biddle poignantly released his love for Wendy, the cow, and recommitted to Jeanie, his cow wife, the pet sounds [haha] of the Beach Boys' "Wendy" played, underlining the angst. For a limited time, you can listen to a streaming version of the song on our home page embedded player.
Wendy, Wendy what went wrong
Oh so wrong
We went together for so long...

Zozo the Clown
Alan Shore? Fear... of... clowns? Where have I heard that before?

Ah, Conan. Spader, while a guest on the talk show, described a documentary he watched on TV about a woman's phobia, saying "...and she was deathly afraid of clowns."
http://jamesspader.org/tv-conan.shtml

Joel McKinnon Miller plays Zozo. This won't be the first time he's acted with James Spader. Joel played the minister in the movie "Dream Lover" starring Spader. Joel was also in David E. Kelley's "Picket Fences" and appeared on Candice's series "Murphy Brown".
Episode Reviews


2.07 'Truly, Madly, Deeply" written by Abney

... coming ...



[Listen to Abney and Dana's conversation about Truly, Madly, Deeply - mp3 download]


Episode News


Ratings Ratings [101 by Nielsen]

Taking second place in its hour to time period veteran NBC's "Law & Order: SVU," ABC's "Boston Legal" episode 7 "Truly, Madly, Deeply", topped the final hour of CBS' extended 2-hour edition of "Amazing Race 8" among Total Viewers (11.8 million vs. 10.5 million).

Boston Legal'S Truly, Madly, Deeply was up from the prior week in Total Viewers (11.8 million vs. 11.2 million) and Adults 18-49 (3.5/9 vs. 3.4/9). In viewers and young adults, the show delivered its second-strongest performance of the season.

The lead-in, Commander-in-Chief, saw 14.8 mil viewers, 3.8/9 in 18-49. That means Boston Legal had 80% retention in viewers, 92% retention in 18-49

Weekly Primetime Ranking Report for the Season
FROM 09/19/05 THROUGH 11/13/05

Viewers Rating # of episodes
26 OUT OF PRACTICE 11,990,000 4.3 8
27 BOSTON LEGAL 11,500,000 4.1 7
28 NUMB3RS 11,260,000 4.0 8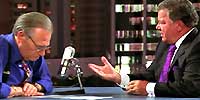 Episode Video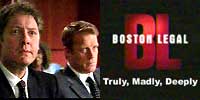 Watch the "Truly, Madly, Deeply" preview (:40)
Airdate: November 8, 2005
wm stream; 340 bitrate / no downloads
Boston Illegal Radio


"Truly, Madly, Deeply" mp3 download [84 min; 29 mb]



Listen or subscribe via Yahoo Podcasts

Listen with streaming mp3 or subscribe via Odeo


iTunes subscription
Download free iTunes application
Episode Images
Memorable scenes >> go
Transcript
Read the episode, transcribed by Imamess - partial transcript
Episode Forum
Share your thoughts >> go
Episode Ratings
November 8, 2005:
Adults 18-49: 3.5/9 vs. 3.4/9
Extras
James Spader Meeting Place "Witches of Mass Destruction"
Discussion