Episode Credits | Dialogue | Did You Know... ? | Reviews | News & Ratings
Episode Summary

"Boys to Men" / Season 2, Episode 5
A story of loose belt buckles, being Schmidt-canned, lonely chubbyists, Trouble in River city and six years to $1.7m. Check, please!
Broadcast: October 25, 2005

When an old case she neglected comes up for trial, Denise Bauer frantically prepares for her defense against an auto manufacturer whose defective pick-up truck caused a fire that killed a terminally ill woman. Garrett Wells' research trip to the file room of the opposing law firm turns steamy when he meets Cassie (Tamara Feldman), an audaciously outspoken paralegal. Meanwhile Alan Shore, still trying to get over Tara Wilson, takes Sara Holt to dinner and embarrasses her by giving his own public service announcement to a crowded restaurant. And when Lori Colson (Monica Potter) files an internal complaint against Denny Crane for sexual harassment, Shirley Schmidt insists that he apologize, leading Denny from the frying pan into the fire .
Spoilerfix.com summary: Denise represents Jose Pitino whose wife died in a fire of smoke inhalation, but didn't have long to live before this. Denise is afraid that if Dr. Forbes testifies that she died peacefully in her sleep, they will lose the case. Sara is second chair but Denise won't let her do much. While out with dinner with Sara, Shore makes a scene when making a point against the restaurant serving farmed salmon. Garrett has sex with a paralegal named Cassie in the storage closet, who doesn't date for fear of being disappointed in bed, and gets caught by a partner. Later that night, Cassie gets more aggressive and confesses to Garrett that her brother was killed in Iraq. Schmidt tries to get Lori to drop her sexual harassment complaint against Denny.


Episode Credits

Directed by .... Mike Listo
Written by .... David E. Kelley
Edited by ... Philip Neel, A.C.E.
Christopher Carroll .... Judge Stephen Bickel
Mark Derwin .... Attorney Michael Eaves
Tamara Feldman .... Cassie
Bob Morrisey .... Dr. Joshua Forbes
Bert Rosario .... Jose Pitino
Cristine Rose .... Meredith Waters
Wayne Thomas Yorke .... Waiter
Betty White .... Catherine Piper
Brad Wilson .... Maitre d'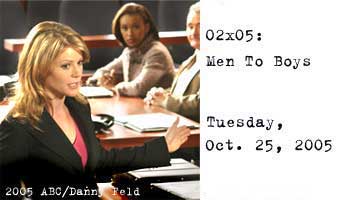 Episode Dialogue


Catherine Piper: I've been Schmidt-canned!
__

Denny Crane: Whoís dead?
Paul Lewiston: Nobodyís dead, Denny. But we have a situation.
Shirley Schmidt: Lori Colson filed an internal complaint against you for sexual harassment.
Denny Crane: Lori Colson. Did I sleep with her?
__

Paul Lewiston: Last week you talked about whether Judge Brown was a virgin. You made comments about Loriís sex life. As far as she is concerned you broken the camels back.
Denny Crane: First of all, I havenít had sex with a camel since I was in the army, and the camel never complained. As for Lori, I should be the one making the complaint. Sheís constantly ogling me.
__

Shirley Schmidt: She [Catherine] needed to be fired. I decided to spare you the dirty work. Alan! She went to the police to turn in a client who she subsequently murdered. If weíre to maintain any integrity as a law firmÖ
Alan Shore: Why is it so important to everybody? Maintaining integrity?
__

Denny Crane: How you learned about me and the camel I have no idea.
__

Denny Crane: Iíve often found itís the chubby girls who offend most easily. I donít know why because Iím not a psychiatrist. For what itís worth, I like chubby girls. I enjoy chubby sex. What Iím trying to say is if this is a lonely chubbists cry for help, Iím here for you, Lori.
__

Alan Shore: Good evening, diners! Forgive me. Instead of grace, I typically begin my meal with a public service announcement.
__

Alan Shore: Perhaps I should be more entertaining then. [Shatner-like speak-singing in the vein of 'Right Here in River City' from The Music Man] Folks, we got trouble. Right here, I say trouble, right here in River City.
Sara Holt: Mr. Shore?
Alan Shore: You got one, two, three, four, five, six pockets on the table. Pockets that mark the difference between the gentleman and a bomb with a capital B, and that rhymes with P, and stands for pool.
Sara Holt: Check, please.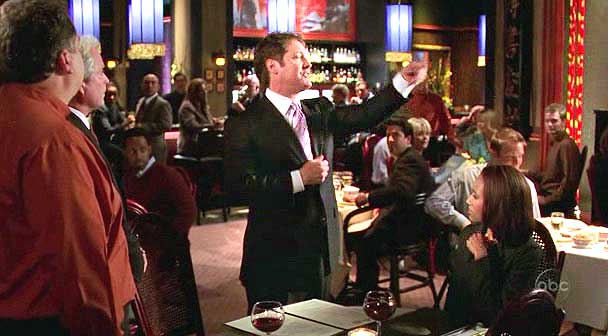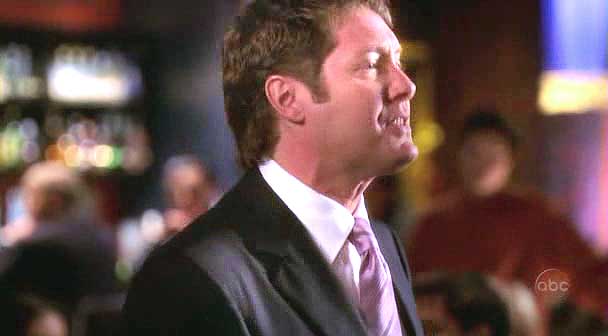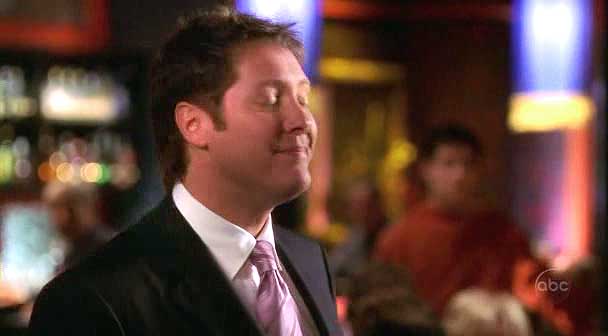 __

Alan: You know, Ralph Waldo Emerson said he reckoned a friend to be the masterpiece of nature. Iím not sure I truly understood that before I met you, Denny.
Denny: Iím not having sex with you.
__

Brad Chase: You're a trooper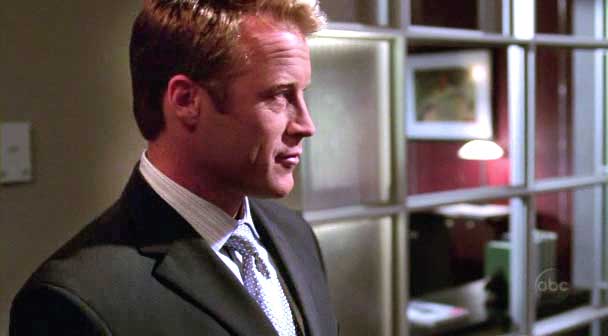 __

Alan Shore: Got the cigar in the ear again.
Denny Crane: Need to amuse myself in way I donít get sued.
__

Lori Colson: . I havenít been feeling very secure lately, Denny. Either in mind or body. My skin has become increasingly thin with all the sexual banter in the office. Iíve been feeling marginalized as an attorney. Maybe itís because this is such a boyís club? I donít know, but, Iím struggling here, Denny.


Did You Know... ?


"Men to Boys" is the final of the five episodes ABC forced Boston Legal to postpone from season 1 to season 2 when they schmidt-canned the show in favor of Gray's Anatomy. The ep was originally entitled "Race Ipsa", but with new storylines and editing, there remain only phantom references to lingering stories from season 1. One of these is Lori Colson's sexual harassment complaint against Denny. In "Death Be Not Proud", Lori took exception to Denny's Tourette's-like sexual comments. While 01x17 aired March 20, seven months later was *cough* but a week. In "Men to Boys", Paul Lewiston stated: "Last week you talked about whether Judge Brown was a virgin. You made comments about Loriís sex life." Judge Clark Brown [Henry Gibson] was presiding over the Miriam Watson nymphomaniac [Shelly Long] case in ep. 17 and Denny won the day by implicitly conveying that a virgin judge may benefit from excusing the defendant. Despite all this, the "Last week" comments stands.

From "Death Be Not Proud":
Shirley Schmidt: What about Judge Brown.
Denny Crane: Heís a virgin.
Paul Lewiston: And that would be relevant, how?
Denny Crane: If he saw in our clientÖ an opportunity?
Lori Colson: May I speak to you two a second? (Away from the table.) This is not funny. That man is a senior partner, and the only time of the day heís not making lewd sexual comments or inferences is when heís doing so blatantly.
Shirley Schmidt: LoriÖ
Lori Colson: No Shirley, I am sick of it. I am making an official complaint. Youíre on notice, and youíre on notice. Iíve had enough.

Later, in a hallway at C, P & S:
Shirley Schmidt: Lori. While we understand your issues with Denny. While we are certainly taking steps to resolve them. I donít think you mean to lodge an official complaint of sexual harassment.
Lori Colson: ShirleyÖ<br>Shirley Schmidt: Because if you do, we are required by law to initiate certain procedures. It could get very messy for all involved.
Lori Colson: Is that a threat?
Shirley Schmidt: He is ultimately a benign man who we all happen to care about, including you. I think what you really mean to do is to voice your concern, unofficially.
Lori Colson: I am making an official complaint. If thereís paperwork to be filled out, please have the forms sent to my office. (Lori walks away.)
Shirley Schmidt: You little bitch.


Stretching Your Credit
Opening credits finally concluded well into the second segment of this episode. The final credit - that of Mike Listo as director - appeared on screen at 9 min. into the show. Not that there's anything wrong with that. [update: I watched Alias later that week and their last credit flashed on screen 20 min. into the show.]

Episode Reviews


2.05 'Men to Boys' written by Abney

... coming ...



[Listen to Abney and Dana's conversation about The Black Widow - mp3 download]


Episode News


Ratings Ratings [101 by Nielsen]


Households: 7.6/12, #T4; adults 18-49: 3.6, #8

ABC's "Boston Legal" is the Most-Watched Drama in the 10 O'clock Hour, Matching The Series' Highest Ratings of the Season Among Adults 18-49 and Adults 18-34. For the night in Adults 18-49 (3.9/10), ABC took second place to Fox's coverage of the World Series Game 3 during primetime.

"Boston Legal" defeated CBS' drama, "Close to Home," by over 2 million viewers (11.3 million vs. 9.2 million) and by 24% in Adults 18-49 (3.6/9 vs. 2.9/7). "Boston Legal" matched season high ratings among Adults 18-49 (3.6/10) and Adults 18-34 (2.2/6).

This week last year saw "NYPD Blue" (households: 6.2/10, #7; adults 18-49: 3.4, #T7).

Source: NTI (Fast Affiliate Ratings) 10/25/05.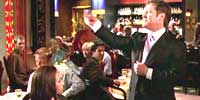 Episode Video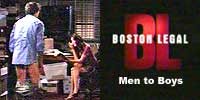 Boston Legal: "Men to Boys" Preview
Airdate: October 25, 2005


Watch "Men to Boys" preview (:50)
wm stream; 340 bitrate / no downloads

Boston Illegal Radio


"Men to Boys" mp3 download [68 min; 24 mb]



Listen or subscribe via Yahoo Podcasts

Listen with streaming mp3 or subscribe via Odeo


iTunes subscription
Download free iTunes application
Episode Images
Memorable scenes >> go
Transcript
Read the episode, transcribed by Imamess >> pdf file
Episode Forum
Share your thoughts >> go
Episode Ratings
October 25, 2005:
Households: 7.6/12, #T4; adults 18-49: 3.6, #8