Episode Credits | Dialogue | Did You Know... ? | News & Ratings
Episode Summary

"Race Ipsa" / Season 2 Episode 23
Broadcast: April 25, 2006

During Denny Crane's therapy session with Dr. Sydney Fields (Peter MacNicol), a verbal showdown between the two results in Denny's shooting the doctor. While Alan Shore defends Denny in court, the law partners discuss whether the time has come to oust Crane from the firm. Meanwhile, Alan runs into Chelina Hall (Kerry Washington) and their old chemistry returns when he enlists her help in a racially charged case. And Brad Chase learns that he can't keep a girl because he's a lousy kisser, so he asks Denise Bauer to give him lessons.

Episode Credits

Directed by .... Lou Antonio
Written by .... David E. Kelley

Peter MacNicol .... Dr. Sydney Field
Kerry Washington .... Chelina Hall
Marisa Coughlan .... Melissa Hughes
Shelley Berman .... Judge Robert Sanders
Alan Wasserman .... A.D.A. Oliver Goldberg
Michael Ensign .... Judge Paul Resnick
Page Kennedy .... Dennis Pryor
Jason Blicker .... A.D.A. Duncan Jones
Randy Thompson .... Officer Carl Ralston
Jonathan Palmer .... Public Defender Michael Adams
Deb Hiett .... Cindy
Scarlett Chorvat .... Sandy [role was cut]
Kurt Scholler .... bailiff
Zylan Brooks .... clerk
Rowan Joseph .... foreman

>> More information on the guest stars in our forum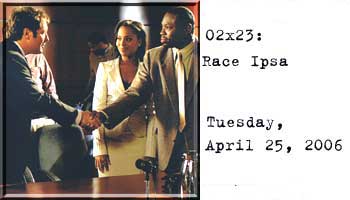 Episode Dialogue


[In original script, but scene was cut] Brad Chase: Iím not saying sheís not smart, or that she wouldnít be good. Iím just saying she canít get elected.
Sandy: You could be right.
__

[In original script, but scene was cut] Sandy, to Brad: BradÖ kissing is a big part of intimacy for me, I even consider it more intimate than sex and youÖ itís like youíre licking a postage stamp, the way your tongue, itÖ weíre just not a match. [He continues to stare, he has no words.] Youíre a great guy. Iím just gonna say goodnight now.
__

Denny Crane: I still feel that everything I've wanted to express in life is still bottled up inside me like a ... a kidney stone.
__

Dr. Sydney Fields: I think you're a silver spoon-fed empty sack.
__

Sydney Field: Pull the trigger, Denny. Do something finally to rise above your insipid press releases, all the meaningless, pull it.
Denny Crane: You think I wonít?
Sydney Field: Actually, I happen to know you will. I happen to know you must. You know why? Because even though you may carry that weapon simply to play cowboy or perhaps be prepared should your self-destructive voices finally achieve majority rule, even though it isnít really in you to harm another, youíve nevertheless managed to bumble your way into a corner from which you cannot possibly extract your bloated self. Youíve pulled a gun on a therapist who not only has a death wish of his own but also a life insurance policy which excludes suicide, Iíve long been wondering how do I die without forfeiting my sonís Harvard education, but if I were to be murdered, well...
__

Alan: I think it was a Sunday. Then I was taken off the air, you went off to do movies, and I got switched to Tuesdays, and ...
Chelina: ...here we are. With old footage.
__

Melissa: Don't fall for her, Alan. She's just a guest star.
__

Denise: Could I please show you. Clinically?
Brad: Whadayamean?
Denise: I mean, Brad, I'm a double black diamond kisser and I'm also incredibly busy, so could I please just quickly show you?
__

Brad: I just prefer that everything takes place in her mouth.
Denise: This is why you are the worst kisser in the history of the planet. So drop the Homeland Security and let the girls tongue in.
__

Brad: We had sex.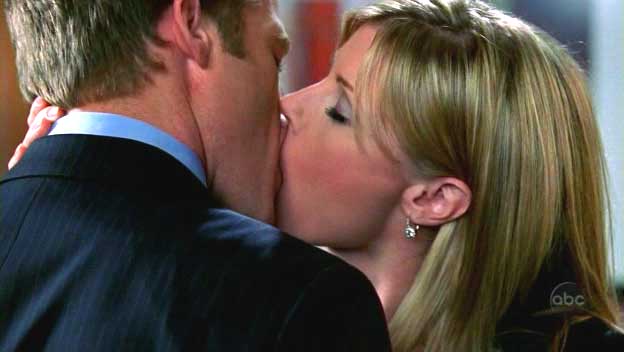 Did You Know... ?



"You can be my stand-in any time"
Tuesday's "Race Ipsa" guest star Deb Hiett relates an amusing rehearsal moment during the shooting of her scene as Cindy, Dr. Sydney Fields [Peter MacNicol] assistant. It involves the elusive David E. Kelley and a memorable prank. >> read more at DebHiett.com


Trek in the Courtroom: Parallels between Star Trek and Boston Legal: Race Ipsa
Themes
ďIt's in his kiss"
Ebony and Ivory
Star Trek Alumni: Michael Ensign [Judge Paul Resnick]
>> Details and images [pdf]


Six Degrees of the Guest Star

Peter MacNicol as Sydney Field - Emmy-winner MacNicol takes a break from his current gig on CBS procedural Numb3rs to reunite with the David E. Kelley team as Denny's gun-wielding therapist. After a brilliant dramatic role in the acclaimed film Sophie's Choice (1982), MacNicol's movie roles tended toward comic features such as Ghostbusters II (1989) and Addams Family Values (1992). His ability to play quirky characters made him a natural fit for Kelley-produced shows, and he was on the cast of Chicago Hope (1994-5) and then on Ally McBeal (1997-2002). It was for his role as John 'The Biscuit' Cage on the latter that he won an Emmy in 2001 for Most Outstanding Supporting Actor in a Comedy Series. Besides acting, MacNicol has done extensive voice-over work and has also directed episodes of Ally McBeal, Ally and Boston Public and written scripts for Ally McBeal and Numb3rs. The fansite at www.petermacnicolonline.com has more about his multifaceted career.


Shelley Berman as Judge Robert Sanders - Berman returns for his second appearance in the role of no-nonsense Judge Sanders, who tried Melissa's tax-evasion case in 2x19, "Stick It". One of Berman's early TV appearances was as a celebrity guest on the game show Password (1963), competing against Betty White. Among his numerous TV credits is a handful of short-lived sitcoms on which he starred, including That's Life (1968), Mary Hartman, Mary Hartman and its spinoff Forever Fernwood (1977-1978), and Walter & Emily (1991). Besides his work on BL and Curb Your Enthusiasm, his most recent credit is for an episode of Grey's Anatomy earlier this season.


Page Kennedy as Dennis Pryor - Kennedy has enjoyed a fairly quick rise to stardom since 2002 when he had his first TV roles on Six Feet Under (as the 'ghost' of a young football player), Philly, and three episodes of The Shield. The following year, he made his feature film debut in the Samuel L. Jackson action flick S.W.A.T.. Despite his high-profile (and unexplained) firing from the cast of Desperate Housewives last fall, Kennedy's career seems to be back on the upswing with recent appearances on CSI and the pilot of Pepper Dennis. Website: www.pagekennedy.com


Written by:
David E. Kelley - this is show creator Kelley's eighth solo script of the season after writing six on his own in Season 1 (of course, several of these - including part of this one - were originally written last year). Including collaborations, this episode marks Kelley's 25th writing credit for the show out of 40 episodes aired to-date. Kelley's last solo script was for episode 2x16, "Live Big".


Directed by:
Lou Antonio - this is the second episode of the season filmed under Antonio's direction, after 2x11, "The Cancer Man Can". Antonio has had a lengthy career in show business, beginning as an actor with a 1960 appearance on Have Gun, Will Travel. His acting credits also include an appearance on the original Star Trek in 1969, by which time he had begun his long career as an episodic TV director. He first did directing work for David E. Kelley on Picket Fences (1992) and was nominated for a DGA Award for the episode "The Dancing Bandit". He later worked on Chicago Hope (1994) and received one of his three Emmy nominations for the episode "Life Support".



Thanks to Sue for this research and writing. For more acting Six Degrees for every guest star in this episode, see our forum episode page



Episode News


Ratings [101 by Nielsen]

April 25, 2006 "Race Ipsa"
Households: .5/12 (#1), Viewers: 9.95 million (#1); A18-49: #3, 3.0/ 8). Last episode: 6.3/10, 8.79 million viewers. Lead-in: "Less Than Perfect" at 9:30p 3.6/ 5 (#3), Viewers: 5.30 million.

>> More ratings information in our Forum


Legal Drama for Axed Housewives Star
by Matt Webb Mitovich

[excerpt] The big buzz surrounding Desperate Housewives last November sweeps wasn't about anything happening on screen, but about the abrupt dismissal of Page Kennedy from the role of Caleb, the Applewhite family's mysterious cellar-dweller. Despite what's been reported, rumored and simply fabricated, however, Kennedy is back on ABC, facing more "legal drama" as a guest star on Boston Legal (tonight at 10 pm/ET). Have the actor and the network kissed and made up?

TVGuide.com: Now tell me about your role on Boston Legal.
Kennedy: This episode has to do with race, and I play a character named Dennis Pryor, who has been arrested for trespassing in a white neighborhood. But he was just there to look at the architecture, to watch, see, dream and hope. I'm represented by Kerry Washington (Chelina) and James Spader (Alan).

TVGuide.com: You want James Spader on your side, that's for sure.
Kennedy: You definitely want James Spader on your side. He's my favorite television actor, and on top of that he's a beautiful human being. A wonderful guy.

TVGuide.com: Of course, it would have been funnier if you were playing an actor mysteriously fired from his role on a hit TV series.
Kennedy: [Laughs] That would have been ironic, wouldn't it?
>> read full article in our forum >> TVGuide.com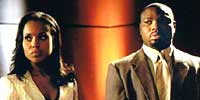 Episode Forum
Share your thoughts >> go

Episode Video


Watch the preview for "Race Ipsa" Part 2 (:40)
Airdate: April 25, 2006



Watch the preview for "Race Ipsa" (:40)

Boston Illegal Radio


"Race Ipsa" podcast
Special guest co-host Deb Hiett, Cindy, Denny's therapists assistant who walked in on a Denny's felony against Dr. Sydney Field.
Race Ipsa mp3 d/l [86 min; 30mb]



Listen or subscribe via Yahoo Podcasts

Listen with streaming mp3 or subscribe via Odeo


iTunes subscription
Download free iTunes application


Listen on your cell phone
Episode Images
Memorable scenes >> go
Transcript
Read the episode, transcribed by Imamess: [pdf] Transcript
Episode Ratings
April 25, 2006:
Households: .5/12 (#1), Viewers: 9.95 million (#1); A18-49: #3, 3.0/ 8). Last episode: 6.3/10, 8.79 million viewers. Lead-in: "Less Than Perfect" at 9:30p 3.6/ 5 (#3), Viewers: 5.30 million.