Episode Credits | Dialogue | Did You Know... ? | Reviews | News & Ratings
Episode Summary

"Word Salad Day" / Season 2, Episode 21
Broadcast: March 28, 2006

A story of emptying your bucket, the family cooperative, Dopamine - the master molecule, passion or addiction, Pillow pants, value your melancholy – and needing friendship.

It's a rough day in court for Alan Shore when he experiences an inexplicable case of "word salad" - a horrifying condition that causes him to speak unintelligible gibberish. To ease Shore's anxiety, Denny Crane recommends that they enjoy a day at the spa. Meanwhile, Denise Bauer defends a polygamist whose wives believe their husband has done nothing wrong and are willing to fight for their beliefs. And Brad Chase defends his college buddy's video game company, which is being sued by the mother of a boy who died after playing one of their games for two days straight.

Episode Credits

Directed by .... Jeannot Szwarc
Written by .... Michael Reisz & Sanford Golden & Karen Wyscarver

Steven Eckholdt .... A.D.A. Richard Kelton
Christopher Carroll .... Judge Stephen Bickel
Joel Polis .... Attorney Eric Yavitch
Jesse D. Goins .... Dr. Anyar Marks
Tessa Auberjonois .... Evette
Margaret Welsh .... Alena
Craig Anton .... Ray Richardson
Adrian LaTourelle .... Chris Mott
Romy Rosemont .... Stephanie Beller
Kelly Connell .... Attorney John Hoberg
Francesca P. Roberts .... Judge Jamie Atkinson
Ken Land .... Dr. Samuel Williams
Ron Canada .... Judge Willard Reese
Jennifer Parsons .... Dr. Reesa Klaywig
Mark Knudsen .... waiter
Aja Evans .... Jessica
Marty Ryan .... jury foreman
Alyss Henderson .... pedicurist

>> More information on the guest stars in our forum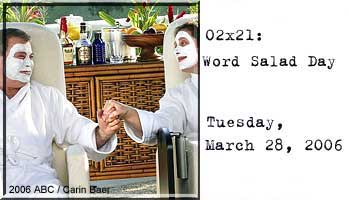 Episode Dialogue


Alan Shore: Your Honor. I refer you to plaintiff's exhibit number apple.
Eric Yavitch: I beg your pardon?
Alan Shore: Apple trash can is picked from God.
*Everyone looks at Alan, confused. Alan appears as though everything is okay.*
Eric Yavitch: Huh?
Judge Willard Reese: Mr Shore…
Alan Shore: Not the years sixty when classic electrons are free.
Eric Yavitch: Objection! I think.
Judge Willard Reese: Mr Shore, you have a notorious history of courtroom theatrics. If your aim is the force a mistrial, you will be disappointed.
Alan Shore: *He is emphatic.* Pillow pants join forces over embargo pylons. You aren't mailing past honor for the liking of a room. These questions are birthday basements. To end the blue radish in the upside of luxury and sparking a good lizard can only make tears fall in hindsight. Puddles do not ask for why not? It is cheese! Breath and wind. It is cheese. *He sits down, spent and furious. He looks up at everyone and feigns nonchalance.* What?
__

Chris Mott: The game is called Soul Seeker. You start out as a ghost fighting your way out of hell. When you finally reach the surface, you have to track down your lost soul in order to become human again.
Paul Lewiston: Sounds like a typical day around here.

__

Brad Chase: Okay. We're required to turn this over to Ms Beller and, per the rules of discovery; we'll provide it with the other one hundred thousand pages of documents that pertain to their production request.
Chris Mott: So you're going to bury it.
Brad Chase: No, that would be unethical. We'll simply comply… fully.

__
[The following scene was edited out of the final product]
Sensei: *Calling a new pose* Part the Wild Horse's Mane. *They do so*
Alan Shore: You're right, Denny. There is something to this Tai Chi.
Denny Crane: Of course. A billion Chinamen can't be wrong. And once we're relaxed and inscrutable, we'll get Ayurvedic head massages.
Alan Shore: That has a 'Mancharian Candidate' ring to it.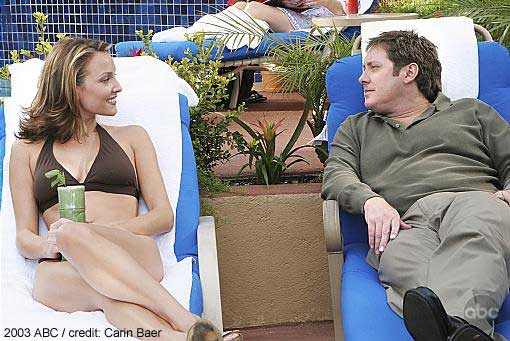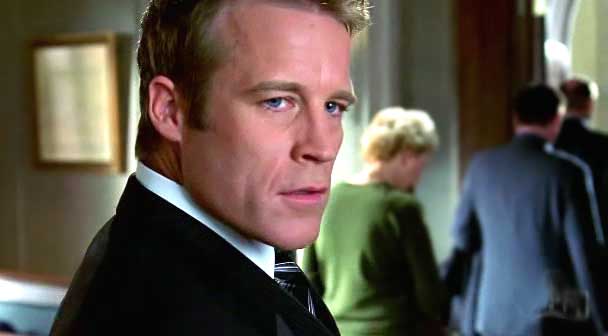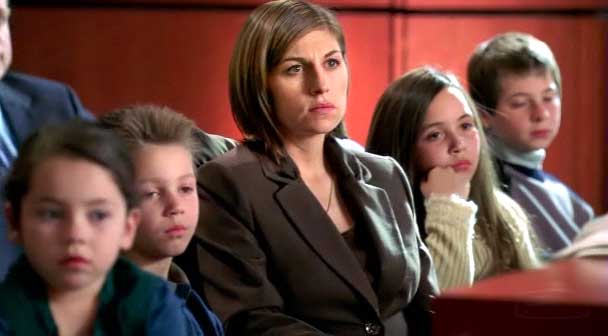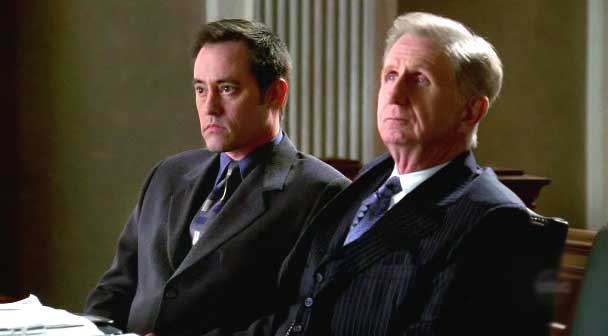 Did You Know... ?

Six Degrees of the Guest Star

Tessa Auberjonois as Evette - Auberjonois is the daughter of series regular Rene Auberjonois ('Paul Lewiston'). Since graduating from Yale in 1998, she has had a busy stage career and so far has just a few film and TV credits, which include appearances on Law & Order (2001) and Law & Order: Special Victims Unit (2004). Her husband, Adrian LaTourelle, is also a guest actor in this episode

Adrian LaTourelle as Chris Mott - LaTourelle is Tessa Auberjonois' husband. The two acted on stage together in Seattle's Empty Space theater production of 1984 (2004). His only previous TV appearance to-date was in a January episode of Numb3rs. He also was the sole actor in "Horror Chase" (2002), a video installation art exhibit by artists Jennifer and Kevin McCoy inspired by Sam Raimi's "Evil Dead 2". >> Flickr images >> movie

Steven Eckholdt as A.D.A. Richard Kelton - Eckholdt previously portrayed the character of A.D.A Chris Kelton on three 1997 episodes of The Practice. Kelton has been acting on film and TV since 1985. He's been on the regular casts of several short-lived series - WIOU (with Jayne Brook), The Monroes, Grapevine, It's Like, You Know..., and My Big Fat Greek Life. He is perhaps more recognizable from his many recurring roles on better-known series such as Melrose Place, LA Law, and Friends. So far in 2006, he's had appearances on The West Wing, Half & Half, and The L Word.

Director Jeannot Szwarc - Szwarc previously directed BL1.8 ("Loose Lips"). The highly-experienced French-born director has also directed for David E. Kelley before on The Practice, Ally McBeal, and Boston Public. After getting his American directorial start on '70s shows such as Kojak and Night Gallery, he moved into feature films, including Jaws 2, Somewhere in Time, and Supergirl. Though not critical successes, these films have each retained a certain cult following. An interview with Szwarc from 2000 which coincided with the DVD release of Somewhere in Time has a brief mention of his work on Ally McBeal and The Practice. Though he still does films (mostly French), TV directing continues to take up most of his time - he is most actively involved with Smallville.


Thanks to Sue for this research. For more acting Six Degrees for every guest star in this episode, see our forum episode page
Episode Reviews


| 2.21 'Word Salad Day' written by Abney


Coming soon.


Written by: Abney | Send feedback and comments to Abney at aliasabney@hotmail.com





Episode News


Ratings [101 by Nielsen]

March 28, 2006 "Word Salad Day"
Households: 9.64 mil viewers, 7/11, #2 and 2.9/8 for 18-49. #37 for week [last week: 9.76 mil, 6.8/11 and a 2.8/ 7 for 18-49]

>> More ratings information in our Forum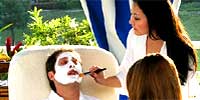 Episode Forum
Share your thoughts >> go

Episode Video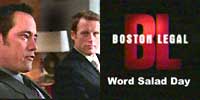 Watch the preview for "Word Salad Day" (:40) Airdate: March 28, 2006

Boston Illegal Radio



"Word Salad Day" podcast
Special guest co-hosts Adrian LaTourelle and Tessa Auberjonois, co-stars in the episode as Evette Richardson and Chris Mott.
Part 1 of 2 mp3 [82 min; 28mb]
Part 2 of 2 mp3 [coming soon]



Listen or subscribe via Yahoo Podcasts

Listen with streaming mp3 or subscribe via Odeo


iTunes subscription
Download free iTunes application


Listen on your cell phone
Episode Images
Memorable scenes >> go
Transcript
Read the episode, transcribed by Imamess: [pdf] Transcript
Episode Ratings
March 28, 2006:
Households: 9.64 mil viewers, 7/11, #2 and 2.9/8 for 18-49. #37 for week [last week: 9.76 mil, 6.8/11 and a 2.8/ 7 for 18-49]