Episode Credits | Dialogue | Did You Know... ? | Reviews | News & Ratings
Episode Summary

"Chitty Chitty Bang Bang" / Season 2, Episode 20
Broadcast: March 21, 2006

From ABC: While Shirley Schmidt and former husband Ivan Tiggs (Tom Selleck) work together on a divorce case involving a couple arguing over their Victorian erotica collection, the recently remarried Ivan tries once again to woo Shirley back into his life. Meanwhile, now that Paul Lewiston is single-handedly taking care of his three-year-old granddaughter, his presence at the firm is sporadic and his absence is sorely felt. And, after Catherine Piper (Betty White) helps her 83-year-old friend, Adele (Norma Michaels), escape from the hospital where her court assigned conservator had placed her, Alan Shore steps in to help Adele regain control of her life, Brad conducts dubious business with the building landlord.

From Spoilerfix.com: Chitty Chitty Bang Bang: Catherine gets arrested again! This time for kidnapping, when she tries to help Adele Freeman escape from an assisted living facility. She enlists Alan's help to help Adele get her life back, which is being ruined by the conservator, Donald Wharton, assigned by the court to be in charge of her estate. Paul seems to have left the firm; Shirley urges Denny to get him back. Denny is sure they don't need him, but he learns otherwise the hard way. Shirley represents Clifford Cabot in a divorce proceeding. He is willing to give up a lot, except for his Victorian Erotica Collection. Ivan Tiggs (Tom Selleck) represents Clifford's wife Natalie.
.

Episode Credits

Directed by .... Ellie Kanner
Teleplay by .... Janet Leahy & Lawrence Broch
Story by .... Janet Leahy & Phoef Sutton & Sanford Golden & Karen Wyscarver

Tom Selleck .... Ivan Tiggs
Betty White .... Catherine Piper
Ed Begley .... Clifford Cabot
Joan McMurtrey .... Natalie Cabot
Patricia Belcher .... Judge Leslie Bishop
Norma Michaels .... Adele Freeman
Matt Malloy .... Donald Wharton
Anne Betancourt .... Judge Isabel Hernandez
Lamont Dixon .... attendant
Carol Kiernan .... manager
Ken Davitian .... Mr. Kahanov
Andrew Prine .... Sam Wolfson

Set Photographer: Carin Baer and Craig Sjodin
Set Photos taken February 9 and 13, 2006
© 2006 ABC, INC.

>> More information on the guest stars in our forum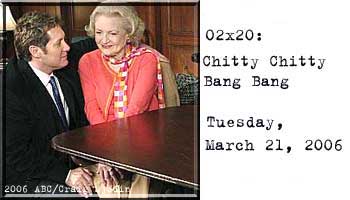 Alan Shore: If this injustice was being done to Adele, why didn't you call me before you attempted to kidnap her?
Catherine: Well, dear, you'd helped me out with those two convenience store robberies, not to mention the murder. I didn't want to feel like I was becoming a bother.
__

Adele Freeman: *Whispers* Did you pack my Jean Nate?
Catherine Piper: *Whispers* Yes, I packed your Jean Nate.
Adele Freeman: What about my nighttime eye patches? I can't sleep without my nighttime eye patches.
__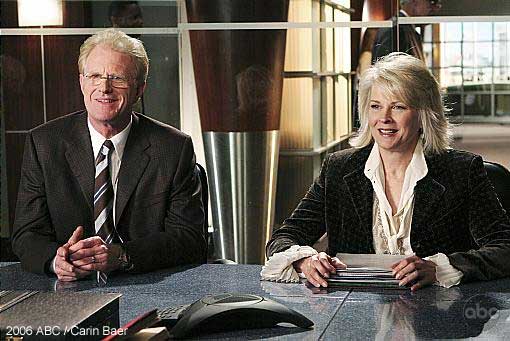 Clifford Cabot: The Victorian era was the height of the industrial age. And whenever new technology arrives, one of its first uses is erotica.
Shirley Schmidt: Much like the internet and…
Clifford Cabot: … Internet porn.
__

Clifford Cabot: Before you met me you hadn't even heard of 'The Lusty Turk."
Natalie Cabot: And if not for me, "Two Circus Virgins on Bareback" would be hanging over someone's else's living room fireplace.
__

Brad Chase: Are you asking me for some kind of bribe?
Kahanov: No, no, no, no, no, no…
Brad Chase: You are, aren't you?
Kahanov: Da.

__

Shirley Schmidt to Denny Crane: Let me put it in terms you'll understand. Paul is our Karl Rove.
__

Shirley Schmidt: Could you tell us how the Hysteria Machine works?
Clifford Cabot: Women would frequently complain of symptoms such as nervousness, heaviness in the abdomen, vaginal lubrication, insomnia, and so on. Physicians referred to these symptoms as "hysteria," but of course they were actually signs of sexual arousal. Before inventions such as this, the physicians would 'massage' a woman until she reached a climactic "paroxysm," as they called it.



Did You Know... ?

Six Degrees of the Guest Star bu SueB

Ed Begley as Clifford Cabot - The son of an Oscar-winning actor, Begley got into show business at an early age. His first film appearance was in a 1969 short film The Lottery, when he was just 19. He went on to have TV and film roles throughout the '70s before landing the signature role of his career. As quirky doctor Victor Ehrlich on the pioneering medical drama St. Elsewhere (1982), Begley received six straight supporting actor Emmy nominations. Never quite a leading man, he nevertheless has carved out a distinguished career with many and varied film and TV roles. His credits include an appearance on Star Trek: Voyager (1996) and The Practice (1999). In 2004, he received a Florida Film Critics Circle Award as part of the cast of the mockumentary film A Mighty Wind. Most recently, he's had recurring roles on Arrested Development, Six Feet Under, and Jack & Bobby. According to his website, www.edbegleyjr.com, Begley is also a self-described environmental activist.

Norma Michaels as Adele Freeman - Michaels had a 1964 TV appearance on the Andy Williams Show followed by a role as a murder victim in 1971's The Zodiac Killer. Then she apparently took a long break before her TV career picked up again in 1987 (Highway to Heaven). She's had a fairly steady work in guest roles since then, including an appearance on Ally McBeal (2002). In 2005, she had a recurring role on The King of Queens and a part in the film Wedding Crashers.

Patricia Belcher as Judge Leslie Bishop - Belcher reprises her role from BL1.3 ("Catch and Release"), when she played the judge in the Donny Crane endangered salmon case. She is a busy character actor with credits dating back to 1990, including appearances in David E. Kelley shows Chicago Hope (1997), The Practice (1997 and 2001) and Ally McBeal (2002). She has several film credits as well, including 2001 teen horror flick Jeepers Creepers. In 2006, she's already appeared in episodes of Rodney and My Name is Earl.


Thanks to Sue for this research. For more acting Six Degrees for every guest star in this episode, see our forum episode page


Trek in the Courtroom: Comparisons between Boston Legal and Star Trek
2x20: Chitty Chitty Bang Bang
Themes
Futurerotica: Fertility symbol, exotic dancers, aphrodisiacs, Dabo Girls, Seductress, Dominatrices, nudity, temptress, imaginary lover, bondage and the Ultimate Sex Toy
Star Trek Alumni: Ed Begley, Andrew Prine, Matt Malloy
>> Details and images [pdf]

Was there really a Hysteria Machine? You be the judge
Thank you to olucy for finding it and to the late actor Robert Burns for having this image on his site.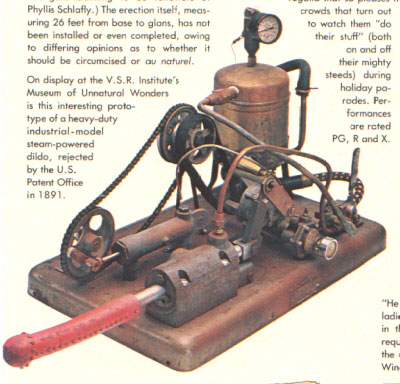 Episode Reviews


| 2.20 'Chitty Chitty Bang Bang' written by Abney


Coming soon.


Written by: Abney | Send feedback and comments to Abney at aliasabney@hotmail.com





Episode News


Ratings [101 by Nielsen]

March 21, 2005 "Chitty Chitty Bang Bang"
Households: 9.76 mil viewers, 6.8/11, #2; adults 18-49: 2.8/ 7, #3 and #6 for the night [last week: 10.67 mil, 7.0/12 and a 3.1/8]. Lead-in Sons & Daughters fell to 4.05 million from last weeks 4.91 mil at #4, so BL moved ABC up to 2nd and almost doubled its viewers.
source: mediaweek.com

>> More ratings information in our Forum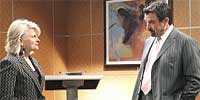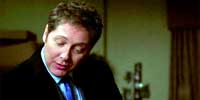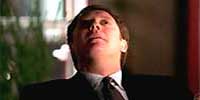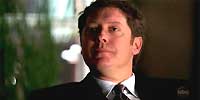 Episode Forum
Share your thoughts >> go

Episode Video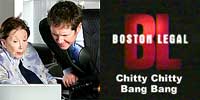 Watch the preview for "Chitty Chitty Bang Bang" (:40) Airdate: March 21, 2006

Boston Illegal Radio



Listen to our "Stick It" podcast with special guest co-host Marisa Coughlan [Melissa Hughes], Alan Shore's assistant who refused to pay her taxes on principle.
Part 1 of 2 mp3 [76 min; 26.6mb]
Part 2 of 2 mp3 [42 min; 14.8mb]



Listen or subscribe via Yahoo Podcasts

Listen with streaming mp3 or subscribe via Odeo


iTunes subscription
Download free iTunes application


Listen on your cell phone
Episode Images
Memorable scenes >> go
Transcript
Read the episode, transcribed by Imamess: [pdf] Transcript
Episode Ratings
March 21, 2006:
Households: 9.76 mil viewers, 6.8/11, #2; adults 18-49: 2.8/ 7, #3 and #6 for the night [last week: 10.67 mil, 7.0/12 and a 3.1/8]. Lead-in Sons & Daughters fell to 4.05 million from last weeks 4.91 mil at #4, so BL moved ABC up to 2nd and almost doubled its viewers.
source: mediaweek.com