Episode Credits | Dialogue | Did You Know... ? | Reviews | News & Ratings
Episode Summary

Still Crazy After All These Years / Season 1, Episode 2
First broadcast: October 10, 2004
Alan helps his ex-lover who tried to kill him get out of a psychiatric hospital. Brad and Denny take a case where a wife is suing the hospital for causing her emotional distress when her husband died during an angioplasty. Denny learns this new case will help the other partners decide if he is a liability to the firm. Lori tries to steer Sally away from Alan.
Episode Credits

Directed by .... Charles Haid
Written by .... Kerry Ehrin, David E. Kelley
Elizabeth Mitchell .... Christine Pauley
Frances Fisher .... Carrie
John Michael Higgins .... Jerry Austin
Eric Payne .... Sam Halpern
Joel Anderson .... Atty. Kevin Ripley
Steven Anderson .... Walter Seymore
Rich Cooper .... Paul Rober
Anthony S. Johnson .... Judge Baker
Thomas Knickerbocker .... Dr. Mahoney
Andy Milder .... Dr. Gill
Victor Raider-Wexler .... Dr. Bender
Penelope Windust .... Martha Silver
Episode Dialogue

Alan: Christine, you were in love with a man who was unworthy of you, who made you doubt everything you had a right to count on, who perhaps even toyed with your sanity.
Christine: That's still no reason to kill him.
Alan: Perhaps he had it coming.
Christine: Perhaps you did.
__

Alan to Brad: Do you do tongue pushups?
__

Alan to Sally: I haven't kept up with the boyfriend/girlfriend regulations.
__

Denny: A man died during angioplasty, leaving him dead. Tragic.
__

Denny in deposition of attractive plaintiff: In this last year, would you say you've had more or less sex since your husband died?
__

Alan to Lori: I find it difficult to maintain grudges against all those who want to kill me, don't you? Perhaps you'll find that witty comeback in your office.
__

Alan: I demand only one thing in a relationship, Christine, that I remain utterly alone.
__

Alan: I may not be able to talk as fast, but my tongue is more versatile.
__

Alan: I love Vermont. Would you allow me to cover your body with maple syrup?
__

Alan about Brad and Tara: They make a lovely couple, don't they? He has a nice tight ass, don't you think?
Did You Know... ?

For viewers on the Pacific Time Zone, this episode of Boston Legal was interrupted with breaking news that Christopher Reeves passed away.


In the episode "Still Crazy After All These Years", Paul Lewiston recalls to Denny Crane about the time they saw Muhammad Ali's last fight and the beating that he received from Larry Holmes. Ali's last fight was against Trevor Berbick, not Holmes. [source: IMDb]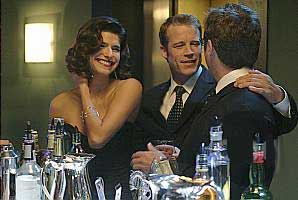 This image was shot between takes. Note the uncharacteristic chumminess between Brad and Alan - and Alan wearing Spader's glasses.
Episode Reviews

Layers of Insanity by Abney [written for TV Tome]
The problem with measuring sanity is that, you can't really do it for yourself. Someone else has to tell you you're not right in the head or you probably won't believe it, and even then it's more than normal for people not to trust others. It's a riddle, but it's part of life, even the quirky lives of the lawyers at Crane, Poole, & Schmidt.

Alan's uneven relationship with Sally continues to bother me. They just don't seem to belong together, no matter how much she thinks so. There are more sparks between Alan and Lori, and they've had maybe three scenes together the entire series. Brad seems to be filling the 'appreciative and admiring' son figure that is usually occupied by Alan, (only Brad does it with a tad less cynicism), and it's a justified move since Alan and Brad seem to balance each other out. He didn't really have anything to do in the courtroom, but he was superb, as always, in front of the committee at the loony bin. He plays the English language like a musician plays his instrument, brilliantly setting up Christine's stockpile of unused medication, and freeing her from the "hospital". Unfortunately for him this would set into motion a chain of circumstances that can only end badly; something mirrored in Denny's alienation from the rest of the firm, especially others in positions of power within it.

Denny may not be the same awe-inspiring figure he used to be, but he still knows what the hell he's doing when it comes to the law, and manipulating others, two skills that tend to go hand in hand. His former friend and partner tried to set him up (something that astounds Lori, who was the first to pick up on the plot), but Denny wrapped up his confidence in his trademark arrogance, winning the trial and thwarting the efforts to have him removed. Despite Brad's confession of a deep love for Denny, which I'll get to later, he remains the authority figure who demands respect, not just because he's a figurehead but because he commands it. Even though he was obviously badgering the widow at the deposition, he was able to conceal it as a legitimate line of questioning while making the opposing counsel seem like the fool, something I doubted he could do. But only for a second.

Tara did not appear much, to the episode's detriment. In her one, small scene with Alan, she accomplished nothing but recapping for viewers what was going on in case they had just tuned in, and in the other she inspired no jealously from Alan by dancing with Brad. Just a comment that I would rather not have heard about Brad, from Alan.

Sally, on the other hand, was much too insecure for me, and a terrible match for Alan. Alan and Christine have better chemistry, and she tried to kill him and then stalked him throughout the episode. But that's besides the point. The one good thing she did was look genuinely crestfallen, framed between a taken aback Alan and an advancing Christine, to bring the episode to a melancholy close and set up next week's installment, where I would love to see her past relationship with Brad explored.

Brad admitting he loved Denny could have been sweet if it wasn't so awkward; it was, however, nice to see him interacting with people other than Alan and Sally, one of which he already has a history with. The first episode had him pigeonholed into a role with little going on. This time around, he felt obligated to tell Denny that the senior partners were looking for a reason to oust him, even though he was blinded to that truth until Lori made it quite clear to him. He came off a little narrow-minded, but overall good development for a character who desperately needs some.

For new characters not introduced in the final season of The Practice I'm enjoying Lori's presence much more than I am Brad's, a situation that could be remedied should Brad and Alan return to the antagonistic relationship they had in the first episode. For now, I enjoyed her soothing aura and the experienced (in all aspects of the word) voice she gives, advising Sally on what to do with Alan while temporarily letting her guard down at the office party. She's not interested in Alan, but she is intrigued...and yes, there is a difference.

And last, but certainly not least, the charmingly zany Christine. I sincerely hoped that the first few times she "rescheduled her flight" that it was true, that she was really leaving but couldn't bring herself to do it because she still felt tied to Alan, for what he did for her despite what she (tried) to do to him. Boy was I naive. Hopefully, her stalker-like tendencies will bring more interaction with some of the rest of the staff at the firm in the coming weeks.

At the end of the day, it's more difficult to this episode than it was to last weeks, and that's understandable. Most people don't come into contact with the clinically insane on a day to day basis, but for these people it's an oddity if they don't. If the show can continue to challenge the viewer (in this case with a revealing view at the nature of "mental hospitals" and the question of whether they're truly hospitals or just dressed-up prisons, or some combination of the two), I'm looking forward to watching and reviewing the rest of the series. Until Sunday, I leave you with some afterthoughts -

The Good
-Elizabeth Mitchell as Christine Pauley; I enjoyed her recurring role on ER and I love her here. It's a part that's as powerful as it is out there.
-Christine dropping her many pills on the table. Predictable, but enjoyable nonetheless.

The Bad
-Even though the camerawork and rapid zooming was toned down a bit, (now used predominantly upon returns from commercials, and sometimes scene changes), along with the irritating music, it's still unnecessary.
-The attempted ousting of Denny Crane by setting him up to commit professional suicide. How very devilish of someone accusing Denny of being off his rocker...

The Ugly
-Denny Crane's pink tie/pink shirt combo under his suit. And his purple tie/purple shirt too. Sorry, but that's just plain bad fashion sense. No matter who you are.

Written by: Abney | Send feedback and comments to Abney at aliasabney@hotmail.com
Episode News>

Fast Overnight Ratings / MediaWeek.com [October 11, 2005]
Results in viewers and adults 18-49 are based on the fast affiliate ratings. Ignited by lead-in Desperate Housewives, ABC's Boston Legal won the 10 p.m. hour for the second week in a row in viewers and adults 18-49, beating NBC's Crossing Jordan by 250,000 viewers (12.75 vs. 12.50 million) and 13 percent among adults 18-49 (5.1/13 vs. 4.5/11). Crossing Jordan was first, however, in the overnights with an 8.9/14 compared to an 8.6/14 for Boston Legal. They also won the hour in Adults 18-34 (3.7/11) and Adults 25-54 (6.0/14). Given how far Boston Legal fell from Desperate Housewives - 42 percent in the overnights, 7.79 million viewers and 41 percent among adults 18-49 - ratings could be better. [Source: NTI Fast Affiliate]

Boston Legal was ranked #23 out of 100 shows for the week ending 10/10/04 with 12.1mm viewers. Last week, it was 17 of 116 in the same ranking system. It did not make the Nielson Top 20 this week.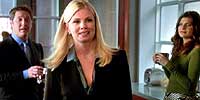 Episode Video



Boston Legal: Still Crazy After All These Years
Season 1, Episode 2
Airdate: October 10, 2004


Watch 1st segment clip (4:00)


Watch 2nd segment clip (9:25)
wm stream; 298 bitrate / no downloads
Episode Images
Memorable scenes >> go
Transcript
Read the episode, transcribed by olucy: [pdf] Transcript
Episode Forum
Share your thoughts >> go
Episode Ratings
Won time slot
12.8 million viewers [last week: 13.8m]
Won Adults 18-49
5.1/13 [last week: 5.0/13]
Extras



Boston Legal Ep.2 [mobile edition]
Download mp3 audio from "Still Crazy After All These Years" (10 mb; 128k)


"Music Video: "Still Crazy After All These Years"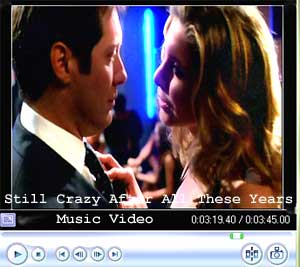 Watch 'Still Crazy After All These Years' (3:45) [Episode Airdate: 10/10/04]
wm download; 340 bit rate / right click link and 'save target as'

I used The Killers "Mr. Brightside" to accompany the storyline from episode 2 where Shore's ex is released from a psychiatric hospital. The theme is obsession, jealousy and Shore's many women. Side note: The Killers music was chosen both because the lyrics seemed to fit and because The Killers are lobbying hard to get Spader to be in their extended short film that will incorporate "Smile," "Midnight Show" and "Leave the Bourbon on the Shelf" — songs the Killers refer to as "The Murder Trilogy". The singer said, "Whenever I see it in my head, I see James Spader killing this girl."