Episode Credits | Dialogue | Did You Know... ? | Reviews | News & Ratings
Episode Summary

Death Be Not Proud / Season 1, Episode 17
First broadcast: March 20, 2005; repeat: September 6, 2005
Chelina asks Alan to assist her in Texas because her former client is getting executed but may be innocent of the crime. An old friend of Denny and Shirley asks them for legal representation when she charged with having sexual encounters for a fee. Lori files a complaint about Denny with Shirley and Paul and they seriously consider doing something about it; especially when they suspect he performed an unethical act on his recent case.

Episode Credits

Directed by .... Matt Shakman
Written by .... David E. Kelley and Jonathan Shapiro
Sterling K. Brown .... Zeke Borns
Traber Burns .... Warden Silverman
John Considine .... Judge Lance Abrams
Liam Craig .... Attorney Gerald Litman
James Dalesandro .... Judge Theodore Mitchell
Henry Gibson .... Judge Clark Brown
Shelley Long .... Miriam Watson
William Murray .... Attendant
Conor O'Farrell .... A.D.A. Glenn Jackson
Kat Sawyer-Young .... Judge Martha Brenford
Donovan Scott .... Judge Christopher Serra
Ken Strunk .... Father Thomas Martin
Kerry Washington .... Chelina Hall
Episode Dialogue


Alan: I'm not about to go to Texas and not ride the mechanical bull, Chelina. That would be like going to Los Angeles and not sleeping with Paris Hilton.
__

Alan: I promise you. By the time I finish tomorrow, those judges - every last one of them - will rise up and say 'Never mind executing Ezekiel Borns. Let's kill Alan Shore instead.'

Alan: With all due respect.
__

Alan: How can you kill him?
__

Alan: Chelina. Let's go argue the cause


Did You Know... ?

..working on it...

Episode Reviews>

Into The Next Life by Abney [written for TV Tome]


Wow...I mean, wow.

Probably the strongest episode of the series, dramatically speaking. Of the few episodes of The Practice that I did see prior to the introduction of Alan Shore in Season 8, this rang true as an episode that could have come from that series, with a classic Boston Legal tongue-in-cheek subplot to undercut the seriousness of the main plot, which was nothing short of phenomenal. Alan is so effective in this role - because for once, he isn't sardonic or smug. He's passionate about a case that he truly believes in, and he doesn't have the upper hand - he's fighting an arduous uphill battle that he knows he probably can't win. But he fought anyway. For Chelina, for Zeke - for his own personal beliefs. That's admirable whether or not you're morally upstanding.

I'm not going to comment on whether the death penalty is virtuous or a monstrous institution, and I'm not even going to touch the fact that Texas is responsible for so many of our nation's state-inflicted capital punishments. David E. Kelley did plenty of that for the both of us. Instead, I'd like to examine the people that make up this show - it's the characters that carry us through the story, case by case. That's why I watch the show in the first place, and that's why I stick around. I'll tell you, plain and simple, right now - Alan Shore is THE most interesting, involving, sarcastic, and yet at the same time utterly serious character on television. Period. I just couldn't help but watch in awe as he delivered his final speech to the Texan justices, scrambling to find some way to stay Zeke's execution, any way he could. He likes that people such as Chelina would turn to him for help in this insurmountable situation, and he hates that sometimes, he fails. But that's what makes him more real than the (pleasantly) one-dimensional Denny.

Who, from the first day we stepped into the Boston office of Crane, Poole, Schmidt, has been rude, crude, inappropriate, coarse, impolite, vulgar...you get the picture. Tara doesn't seem to mind, and while Sally took issue with that type of thing from time to time, it wasn't really an issue for them. But Lori is not like them, and she can't keep on looking the other way when he makes his classic comments. Sure, they win him cases, as does bribery and judge intimidation, but perhaps Lori's official complaint will be the catalyst for a power struggle within the office that could rip our already troubled lawyers, who for the most part can't stand each other's company, even more apart than they are right now. And I'm all for any kind of an overlapping story.

The other story, involving a nymphomaniac (are you serious!?), didn't feel right matched up with Zeke's case. That's twice in a row that two cases that don't fit together AT ALL have been forced together into one episode. In fact, I think this episode would have been far better off with a set-up of only one case, for once. The humor did serve to break tension, but it also trivialized it, and didn't do it justice at all. (Pun very much intended.)

At the end of the day, everyone who heard Zeke's story passed judgment on him. Not just those who convicted him or did not halt his potentially wrongful execution, but even our legal heroes, Alan and Chelina. Chelina was so willing to believe that he was innocent that she had demolished any inroads with the Texas court system and made an unwinnable case even less winnable before she even called Alan in. It's not that she's to blame, though; she didn't feel she or Zeke or his case were being treated the way they deserved to be, and it was an injustice Alan came to witness. It's not difficult to see both sides of the story, however. I sympathize with Zeke and Chelina's ploy, but I'm not a Texan, and I won't criticize the way they do things in Texas regardless of how suspect their system may appear. It's not my place.

It is, however, Alan's. And Chelina's. Last week, Alan was the champion of free speech. This week, he didn't just represent a mentally challenged client, he represented his own brand of justice. He didn't come to his case out of money - greed is not a factor for him, though money is certainly something that is nice to have. He didn't have to come to Texas with Chelina to see this case through, but he's not as hardened and heartless as he comes off upon first introduction. He's not infallible, and he doesn't always win. He's still a damn good attorney though.

Maybe Zeke's confession was coerced. Maybe he was brainwashed - Chelina went as far as to suggest that, perhaps out of desperation. They did interrogate him for an unbelievable 16 hours. Take into account that he's a man of diminished mental capacity, and it probably wasn't that difficult to convince him that he did what they wanted him to have done. He may not remember it, but then again, all you need is to parade a doctor in front of him who convincingly explains that one's own mind often blacks out traumatizing events. Zeke was bent to the wills of others, made pliable, his fighting spirit killed. Made to believe his salvation was in accepting his own death for a crime he isn't even sure he did. Alan was able to stir that very human urge within him once more, to find the humanity in Zeke. The will to live overrides everything when it comes to the human mind, no matter its IQ.

'Death Be Not Proud'.

No kidding.

The Good
-Alan Shore! God do I love that man. I'm quite sure a part of it is how beautifully written he is, but Spader delivers every line with the perfect mix of arrogance, subtety, disdain, sarcasm...you name it, and there's an element of it in his speech. It's amazing to watch. Give this man another Emmy. NOW.
-Chelina (I know her name!) became interesting for the first time here. I would have loved the scene of her breaking down, seeming to give up on Zeke and the case - if the illicit kiss had not happened. Seriously - I know Alan is charming, but does every single woman who is or ever has been in the legal profession have to fall for him?
-I loved the usage of Big & Rich's "Save A Horse (Ride A Cowboy)" for the scene in Texas, and Alan's cowboy hat throughout the episode. Sure, it's a stereotypical portrayal of the state, but that doesn't mean I can't love it.
-In desperation, with nothing else to turn to and all legal options exhausted, Alan's final speech to the judges who sat before him was incredible. He really shined.
-The governor didn't call. Alan's last second hula girl didn't come through. He lost. And Zeke died.
-When Chelina got the phone call, her eyes teared up - but you didn't know why right away. It was a great way of conveying emotion even though it could have been one of two that are on opposite ends of the spectrum.
-But by far, THE BEST scene of the episode and perhaps the series was the closing scene. Zeke fought, even though he knew he couldn't win. Just like Chelina; just like Alan. And when he slowed breathing carried through to the fade to 'Executive Producers...'; amazing.

The Bad
-I almost loved this episode enough to put absolutely nothing here, but...
-They wasted Shelley Long in a very stupid plot which I already mentioned did not mesh at all with the core of this episode. And it's a shame, because it's the lone (glaring) black mark on this fantastic episode.

The Ugly
-Chelina turned away when Zeke was fighting being tied down so he could receive his punishment. My stomach actually turned a little bit and I almost felt like turning away myself.
-Alan running through the list of defenses he was willing to attempt and may have gotten Zeke off but were never raised by his initial representation, which was undoubtedly inadequate, if not in the legal sense. It makes me sick that people die because of other's people's apathy or stupidity.

Boston Legal goes on hiatus so ABC can introduce Grey's Anatomy, which works out for me since I will be out of the country for Spring Break. I'll see you all when I (and the show) return.

Written by: Abney | Send feedback and comments to Abney at aliasabney@hotmail.com


Episode News>

Ratings
September 6, 2005 [repeat of "Death Be Not Proud"]
Households: 3.8/7, #11; adults 18-49: 1.6, #13; lagged behind the competition.

Footnote TV
Analysis of the stories behind the stories of Death Be Not Proud by Stephen Lee
Texas executions by the numbers:
Texas has executed more people than any other state, accounting for 313 of the 885 executions (about a third) in the United States between 1977 and 2003; no other state had executed more than 100 people as of the end of 2003. Texas executed 24 people in 2003, of whom 17 were white and 7 were black. The following graphs show how Texas compares to other states in terms of executions from 1977 to 2003 and in recent years.
>> read more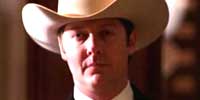 Episode Video



Boston Legal: Death Be Not Proud
Season 1, Episode 17
Airdate: March 20, 2005


Watch segment clip (11:13)
wm stream; 340 bitrate / no downloads
Episode Images
Memorable scenes >> go
Episode Forum
Share your thoughts >> go
Episode Ratings
March 20, 2005:
...working on it...

[Source: Nielsen Media Research (Fast Affiliate Ratings]

September 6, 2005 [repeat]:
Households: 3.8/7, #11; adults 18-49: 1.6, #13; lagged behind the competition.
Extras
James Spader Meeting Place "Death Be Not Proud"
Images
Discussion

Full transcript of episode
[Thanks to "Imamess" at JSMP]