Episode Credits | Dialogue | Did You Know... ? | Reviews | News & Ratings
Episode Summary

From Whence We Came / Season 1, Episode 12
First broadcast: January 16, 2005, repeat: August 23, 2005
One of the members of the firm falls victim to Shirley Schmidt's mandate to clean house and is ordered to leave immediately. Meanwhile Lori, with help from Denny Crane and Shirley Schmidt, defends a school superintendent being sued by two science teachers who were fired for refusing to teach creationism. And Bernard Ferrion, Alan Shore's client who killed his mother by whacking her with a skillet, finds himself in need of legal help once again, but Shore refers the case to Tara, as he cannot hide his disappointment in his former client. And Shore is genuinely surprised when he learns his assistant, Nora Jacobs, is offended by his inappropriate advances.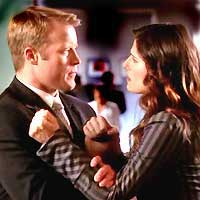 Episode Credits

Directed by .... Mike Listo
Written by .... David E. Kelley
Sam Anderson .... Walter Fife
Frank Birney .... Judge William Howe
Keisuke Hoashi .... Police Technician
Rhomeyn Johnson .... Detective Willet
Leslie Jordan .... Bernard Ferrion
Leyna Nguyen .... Reporter
Jodi Lyn O'Keefe .... Nora Jacobs
Alyson Reed .... Roberta Turner
Maura Soden .... Melissa Stevens
David Starzyk .... Attorney Daniel Gellman
Betty White .... Catherine Piper
Episode Dialogue


Denny: Lock and load. *pause* Where is everybody?
Paul: This is an administrative meeting, Denny.
Denny: Oh. What the hell am I doing here? *begins to leave*
Schmidt: Remember the good old days when you liked to know what was going on, when you could go from your office to the elevator without a roadmap?
__

Denny, about Schmidt: I once had her and Streisand at the same time. Remember that?
Schmidt: I do Denny. And not to burst your bubble but that was a female impersonator. Perhaps the penis might have been your cue.
Denny: That wasnít Barbara Streisand?
__

Denny, about Schmidt: She can still pump my chubby.
__

Schmidt: You're a very good lawyer... but not good enough. We're letting you go.
__

Nora: Mrs. Schmidt.
Schmidt: My mother is Mrs. Schmidt, you can call me Schmidt.
__

Denny: Massachusetts is a blue state. God has no place here.
__

Denny: Iíve been practicing law for 45 years. Never lost a single case.
Client: Youíve never lost?
Denny: My record is 6,043 to 0. You hear the one about the fellow who died, went to the Pearly Gates, St Peter let him in, sees a guy in suit making a closing arguments. says, ďWhoís that?Ē St Peter says, ďOh, that's God. Thinks heís Denny Crane.Ē Iím your boy, Walter. Never lost. Never will.
__

Lori: Did she give you a reason?
Sally: Just that my work didnít cut it. I mean my reviews have all been good. Plus, I mean itís not that theyíve given me very much to do. The Witchell case was really the first one they let me run with.
Brad: And... you forgot to plead negligence. *everyone gives him a disapproving look* Sorry.
__

Nora, explaining Alan's sexual harassment: Well. He compliments my figure daily. And he just kind of does it in kind of lascivious way. He also ranks my sweaters.
Schmidt: He ranks your sweaters?
Nora: Yes. Which ones he thinks I look best in. This is a three. He asked if he could take one home for the weekend. He told me he has dreams about me.
Schmidt: What kind of dreams?
Nora: All kinds. Once he dreamt that I was just a head. No body, just a head. Everywhere he went he would carry me along, wrapped in a muffler, to keep him company. And every so often I would whisper terrible, dirty things in his ear. Feels a little like harassment.
Schmidt: You think?
__

*Tara, contentedly watching the news reports about another skillet death, is suddenly propelled backwards as Alan emerges*
Alan: It's Bernie - that skillet-wielding client from last week.
Tara: Does this mean we're done?
__

Bernie: She knew. She heard an argument between me and mother. She was out there watering her stupid plants - in the winter, for God's sakes. The woman is not right. *hesitates* Or wasn't right.
Alan - she said she was going to call the police. She said what she heard would not be hearsay. She said she looked it up. She said because we were arguing, it would qualify as an excited blutterance.
Alan: Blutterance isn't even a real world, much a defense. You murdered somebody over a fake word!
__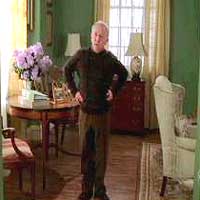 Bernie: You said you helped the little man. I'm little!
*When Alan refuses to help Bernie since he's been 'let down terribly'*
__

Alan: Shirley? What about senior partners? There would be nothing wrong with me lusting, say, after you, would there?
Schmidt: Go subscribe to National Geographic. Make a list of the places youíll never get to visit. Add to that list, Schmidt.
__

Schmidt: I certainly believe in evolution. Who here among us, while watching the presidential debates could deny that we all come from monkeys.
__

Alan: What are you doing here?
Catherine Piper: Iím applying for the position of your secretary, of course. I heard what happened to the last one and, I must say your problem - most people arenít able to see that beneath your slick and sensitive exterior, deep down you really are douche bag. I get that Alan. Youíd have no misunderstanding with me.
__

Brad: So when are your leaving?
Sally: Is there a big rush?
Brad: I didnít mean it like that.
Sally: Iím leaving now. Tonight.
Brad: You know, for what itís worth, Shirley can be very draconian, and when she makes up her mind, itís not -
Sally: I have nothing against Shirley. In fact, she didnít even really hurt me. Shirley doesnít know me. You do. Lori does. Alan does. A lot of people, none of whom took issue with Shirley. The silent majority has spoken, Brad, with a resounding roar. Every knock is a boost. Iím gonna cling to that and a few other clichťs for a while, and then, youíll all see me again. In court, across the deposition table, youíll all see me again. Thatís a promise.
__

Alan: I hate this job. *pondering his disappointment in Bernie and Nora's reaction to his sexual harassment*
__

Lori: What are you doing out here?
Schmidt: Just looking at the city. Still trying to fathom that -
Lori: - The Red Sox won?


Did You Know... ?

The 62nd Annual Golden Globe Awards aired on Sunday, January 16th, 2005 at the same time as Boston Legal. Both James Spader and William Shatner were nominated - and Shatner won for "Performance by an Actor in a Supporting Role". Boston Legal fans were masters of juggling two compelling shows that night.

Nora, Jodi Lyn O'Keefe's character, looks remarkably like Yasmine Bleeth - and actually played a relation of Bleeth's on "Nash Bridges" for 6 seasons.

Sally Heep's [Lake Bell] final speech seemed too real, as if Lake was performing her own firing since she was let go from Boston Legal. "Every knock is a boost. Iím gonna cling to that and a few other clichťs for a while, and then, youíll all see me again. In court, across the deposition table, youíll all see me again. Thatís a promise." And shortly after that episode aired, it was announced Lake Bell was hired as the star of "Surface" [NBC series, 2005-2006]

David E. Kelley's pop culture references - it's an amusing game to look for them. Lori makes reference to the Red Sox winning the World Series. The win was on October 28, 2004. This ep aired January 16, 2005. Also, on the CP&S balcony, Schmidt asks Lori "You wanna smoke cigars? Lori replied, " The passing of the torch, from the boys club, to us!" One thinks of the other David E. Kelley series, "Girls Club", on Fox in 2002.

You would not believe the increase in visitors to http://Boston-Legal.org after this episode aired in January - seven times the normal traffic. People adore this show, you know. Visitors also came after Shatner's Golden Globe win that night.
Episode Reviews

Petty Crime by Abney [written for TV Tome]

A few nights ago, January 16th 2005, Boston Legal went up against the 62nd Annual Golden Globe Awards - a daunting task. While James Spader was bested by Deadwood's Ian McShane, William Shatner took honors in the BEST PERFORMANCE BY AN ACTOR IN A SUPPORTING ROLE IN A SERIES, MINI-SERIES OR MOTION PICTURE MADE FOR TELEVISION category for his role of Denny Crane on the series. Congratulations to him!

I don't really have a good way to shift gears into my review, but I figured that was worth mentioning. Anyways, this latest installment of Boston Legal was equal parts farewell episode, dark comedy, and socially meaningful legal drama - the story of creationism vs. evolution isn't an old one in our court systems or our television sets (or even the David E. Kelley universe, I'm told) but that doesn't mean it isn't worth revisiting, especially under different circumstances. As Shirley Schmidt (or just 'Schmidt' as she's telling most people to call her) acclimates herself to life in the crazy world that is the Boston office of Crane, Poole, and Schmidt, Nora discovers the lewd game that is working for Alan Shore; Bernard Ferrion returns as the serial tiny serial killer whose only crime was to desperately want to be noticed; and Betty White, reprising her role from The Practice (Catherine Piper) was more of a cameo appearance than a guest spot. Hopefully there will be more from her in the future besides skeeving Alan out by applying for the now vacant assistant's position.

For weeks now, you've probably picked up that my least favorite character on the show is Sally Heep. But as often happens when a character leaves a TV show, that character becomes more important and interesting during the one episode they leave than they were for the majority of the series. Sally was always the whining, "secure with her femininity", junior attorney that I didn't care much about - and leaving the firm the way she did made me respect her for the first time. What made her mad wasn't that Shirley came in out of nowhere and fired her after a week - that's not the point. The point is, her co-workers didn't say or do anything about it. No one showed that they cared enough to stand up to Shirley, and with their inaction they did more for and to Sally than they had in weeks. Interestingly enough, she promised a return - whether this is a tangible goal Sally is keeping in mind to keep her going or a solemn truth isn't quite certain, but I, for one, wouldn't mind seeing her as opposing counsel one day.

A lot of you are unhappy with the introduction of and continued focus on Shirley Schmidt, and I can't honestly blame you. Doesn't this show belong to Spader and Shatner? Shouldn't people with an endless pit of potential be given a chance to develop before introducing a new character? And I can't really blame a lot of you who continue to gripe; it's quite understandable. I can get pass the political bias that comes through with characters up against each other like Denny and Shirley as long as the dialog is still witty and the cases are still resounding. The dynamic between Shirley and Lori is, as we all know, the parallel to the relationship shared between Denny and Alan - the difference is Denny and Alan are little off. Shirley knows what she's doing and wins the case - but if she doesn't agree with what she's arguing, then is that truly a victory? On the other hand, Denny wins not because of his legal skills but because he is who he is and he knows who he knows. I'd like to see more moments in the future where he isn't making a joke at his own expense - let the old Denny who "never lost a case" shine through every now and then, if for no other reason then to keep things fresh - he certainly could have said a lot more about the case this week than he did.

I won't claim to know the ins and outs of the Intelligent Design theory, and I'm anything but an expert on the theory of Evolution. I won't force my religious views on anyone, and will leave the analysis of this week's main case at this - why does there have to be antagonism between science and God? Why is there a perpetual conflict there? Some people are such staunch supporters of one side or the other they fail to understand the other side's view. Should Intelligent Design be something we teach in science classes? That's up to you to decide, but for those who believe it to be a made-up version of creationism - can't you at least see where the supporters of it are coming from? Is it not as valid? And on the other end - evolution and natural selection fit perfectly into the principles of science as we know it - presumably, it makes more sense than anything else and has more concrete evidence to support it. But is there not faith in science? Is there not science in faith?

If the main case was supposed to be dramatic, then the the secondary one was definitely supposed to be comedic. And though I'm sure Bernard Ferrion was written to be amusing (perhaps even funny) he didn't do it for me this week - he made the same jokes as he did last week, and he still speaks with that annoying inflection in his voice. The only thing that made his presence worth it to me was how Alan played off of him, and how Tara explained what Bernard had done to Alan by committing murder again when he promised he wouldn't. Alan sees some pretty scummy people in his day to day work, and every once in a while he meets someone who truly inspires faith in the righteousness of man. Alan thought Bernard was one of those people. Alan was wrong. You can usually tell that you're letting things get way out of hand when someone like Alan Shore calls you evil, flat-out; and I don't care if Bernard was only looking for attention. It doesn't justify what he did, in my eyes, the law's, and certainly not in Alan's.

Sorry for the short review, but I watched only once and took no notes. So I'll leave you with a (kind of) brief The Good, The Bad, and The Ugly.

The Good
-Sally's final speech to Brad - before, I didn't believe that they had been or could be a couple; now I do. And my approval rating of Sally skyrocketed right when she walked out the door.
-I loved Tara's remark when Shirley wanted to speak to Lori - Tara really is Alan's soul mate. They're destined to live unhappily ever after together.
-The final scene between Shirley and Lori would have been great on it's own, but it was even better with the words Shirley chose to talk about how the women didn't like the cigars while the men did. Something tells me the word 'evolved' was not slipped in there by accident.
-When Alan pointed up and out to signal Bernard to leave - hehe.
The Bad
-The way Tara pronounced 'Bernard'. That's an 'A' Tara, not an 'E'. It's not Bernerd. I guess it's ok; she's hot and she's British.
-Bernard Ferrion, the serial skillet smasher. The man seems to either not know what the law is or have no regard for it, as he basically said to Alan "I committed premeditated murder, than I conspired to cover it up. Help me?"
-Did I her ANOTHER BoSox mention? Seriously, when is enough going to be enough - they won like 4 months ago! (I know, I know, they wrote the script and filmed the episode a long time ago...but c'mon. There comes a point where you've got to let it go.)
The Ugly
-Not much to say here this week. I guess I could always close The Good, The Bad, and The Ugly with the same scene I opened it - the tongue-lashing Sally gave Brad was pretty ugly, and ultimately satisfying.
-If you have anything else, fill it in yourself. I don't feel like going back and watching the tape again.

Written by: Abney | Send feedback and comments to Abney at aliasabney@hotmail.com
Episode News

Ratings

[January 16, 2005]
Boston Legal ranked #21 of 112 shows with 13.9 mm viewers, tying with "Two and A Half Men". As for the timeslot competition, there was no episode of "Crossing Jordan" due to the Golden Globes and no episode for "Law and Order: Criminal Intent. The lead-in, "Desperate Housewives" ranked #2 that week with 24.1 mm viewers. [Thank you to Kitkat for tracking all Boston Legal ratings for season one!]

Ratings translate to advertising dollars, of course. As of October 2004, the average prices for a 30 sec spot were:
Boston Legal - $160,000
Desperate Housewives - $156,542

[Thank you to Anais for this data]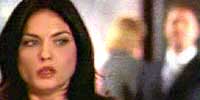 Episode Video





Boston Legal: From Whence We Came
Season 1, Episode 12
Airdate: January 16, 2004


Watch 6th segment clip (9:32)
wm stream; 340 bitrate / no downloads
Larger image
Spoiler warning: This is the ending. The clip also sadly says goodbye to Sally Heep [Lake Bell] and introduces Betty White [Catherine Piper] to Boston Legal. We love her!
Boston Illegal Radio
Listen to a discussion of the episode
[66 min; 23 mb; 48k bitrate]


"From Whence We Came" mp3 download

Listen with streaming mp3 or subscribe via Odeo


iTunes subscription
Download free iTunes application
Episode Images
Memorable scenes >> go
Transcript
Read the episode, transcribed by Imamess: [pdf] Transcript
Episode Forum
Share your thoughts >> go
Episode Ratings
January 16, 2005:
Boston Legal ranked #21 of 112 shows with 13.9 mm viewers, tying with "Two and A Half Men".

August 23, 2005 [repeat]:
Households: 3.5 / 6% share of all households watching TV, tied for #10
Adults 18-49: 1.6, tied for #14
Extras
James Spader Meeting Place "From Whence We Came"
Images
Discussion