Episode Credits | Dialogue | Did You Know... ? | News & Ratings
Episode Summary

"Can't We All Get A Lung?" / Season 3 Episode 01
Broadcast: September 19, 2006

Denise and Schmidt defend Daniel Post (Michael J. Fox) after he's arrested for trying to buy a lung. Meanwhile, Shore reunites passionately with Marlene (Parker Posey) and defends his pal, Jerry "Hands" Espenson (played by Emmy Award winner Christian Clemenson), after he's caught driving in the carpool lane with a life-sized sex doll.

Episode Credits

Directed by .... Mike Listo
Written by .... David E. Kelly and Corinne Brinkerhoff

Michael J. Fox .... Daniel Post
Henry Gibson .... Judge Clark Brown
Christian Clemenson .... Jerry "Hands" Espenson
Parker Posey .... Marlene Stanger
Marisa Coughlan .... Melissa Hughes
Jane Lynch .... Joanna Monroe
Currie Graham .... A.D.A Frank Ginsberg
Armin Shimerman .... Judge Brian Hooper
Denis Arndt .... A.D.A. Joshua Wendt
John Hartmann .... Tom Raulston
Marcella Lentz-Pope .... Megan Raulston
Randy Thompson .... Officer Ralston

Image credit: © 2006 ABC / Scott Garfield
Images taken August 8, 2006; abcmedianet.com

>> More information on the guest stars in our forum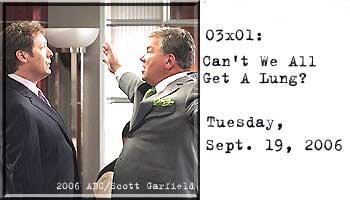 Episode Dialogue


Shirley Schmidt: Denise, your second marriage. That's always the best one.

__

Tom Raulston: I got a second and third opinion and they all say it's inoperable. I've been through the whole stages of death thing. I cried, I begged, I threw stuff. I made it to acceptance.
Shirley Schmidt: And now you seem to have moved on to the final stage; profiteering.

__

Max Roberts: The angle of attack will determine your lift coefficient. However, there's a problem with your aspect ratio.
Denny Crane: What's the problem?
Max Roberts: Your weight and drag are greater than your lift and thrust.
Denny Crane: Speak English.
Jake Schultz: You're fat.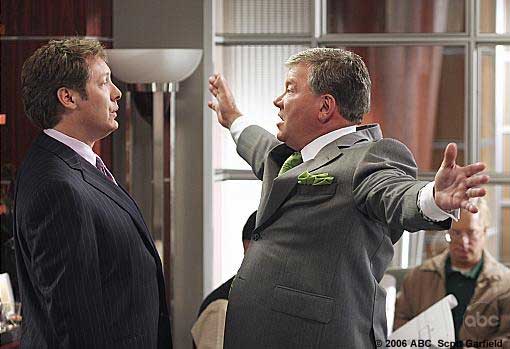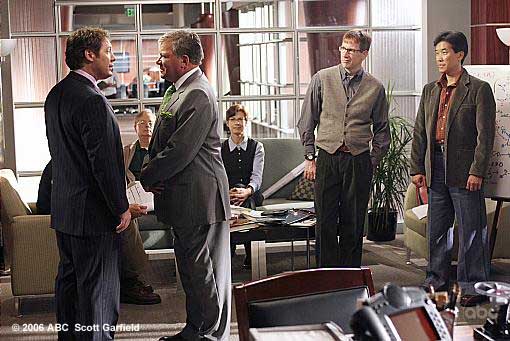 Did You Know... ?


Sue's Six Degrees of the Guest Star
Boston Legal forum moderator makes it a practice to discover interesting connections between guest stars. A selection of connections are below. For more of her guest biographies, see her work on "Can't We All Get A Lung?" in our forum. >> more

Marisa Coughlan as Melissa Hughes - Coughlan returns as the popular Melissa, whom she played in nine episodes last season, after (sadly) her ABC sitcom pilot 'Separated at Worth' did not get picked up.

Jane Lynch as Joanna Monroe - Speaking of 'Separated at Worth', Jane Lynch also had a role in that pilot. On the positive side, she is scheduled to appear on the Oct 17th episode of BL lead-in show 'Help Me Help You'. This summer, she starred in the semi-improvisational series 'Lovespring International' on Lifetime (the season finale is Sept 18 and guest stars Camryn Manheim). Lynch has appeared on many prominent TV series, including David E. Kelley's 'Boston Public' and Bill D'Elia's 'Judging Amy'. She also featured (along with Parker Posey) in the Christopher Guest film 'A Mighty Wind' and will appear in the latest Guest film 'For Your Consideration' this fall.


Armin Shimerman as Judge Brian Hooper - Shimerman is perhaps best-known for his longtime role as the snarky Ferengi 'Quark' on Star Trek's TNG and DSN. However, he has also played many human characters on TV and film. His credits include episodes of the David E. Kelley series 'LA Law', 'Ally McBeal', and 'Boston Public', and he appeared twice as 'Judge Garth Moskin' on 'The Practice' (1997-98). [From Sue: Image from http://memory-alpha.org; Armin Shimerman played Quark on ST:DSN, here, with Rene Auberjonois/Odo]

Dennis Arndt as A.D.A. Joshua Wendt - Arndt had a recurring role as A.D.A. Roland Hill, including on two episodes of Season 8 although he did not cross paths with Alan Shore. He has also appeared on virtually every other David E. Kelly program - 'LA Law', 'Picket Fences', 'Ally McBeal', 'Chicago Hope', and 'Boston Public' (in which he also appeared as A.D.A. Hill).

Randy Thompson as Officer Ralston - Thompson reprises the role he played in 2x23 [Race Ipsa], when he played the officer who had made an arrest based on apparent racial profiling.

Written by David E. Kelley and Corinne Brinkerhoff - Brinkerhoff's first script was last season's 2x15 [Smile]. Meanwhile, this marks Kelley's 26th episode writing credit.

Directed by Mike Listo - this episode marks Listo's ninth directing credit for the show. He directed three episodes in season 1 and five last season, including fan favorite 2x03 [Finding Nimmo].


Thanks to Sue for this research and writing. For more acting Six Degrees for every guest star in this episode, see our forum episode page


Trek in the Courtroom
3x1: Can't We All Get a Lung?
Themes
Imaginary Lovers
Body Parts
Star Trek Alumni: Armin Shimerman (Judge Brian Hooper) and Henry Gibson (Judge Clark Brown)
>> Details and images [pdf]



Episode News


Ratings [101 by Nielsen]
Thanks to SueB and TopDog for gathering and post the ratings for this site. See full season 3 ratings list and graph chart: http://www.boston-legal.org/forum/topic.asp?TOPIC_ID=860


September 19, 2006 "Can't We All Get A Lung?"

Final Ratings:
11.28 mil viewers, 3.4 18-49. Lead-in: 2-Hour DWTS 18.17 mil viewers, 5.2/14 18-49

Fast Overnights from Sept. 20:
From Zap2it.com:
NBC took the lead at 10 p.m. with the season premiere of "Law & Order: SVU," 9.5/16. "Boston Legal" began its third season with a 7.7/12 on ABC, leaving CBS' new drama "Smith" in third with a 7.2/12."

From TVWeek:
At 10 p.m., NBC's "Law & Order: SVU" premiered with a 5.1, down 7 percent from its own season premiere last season but still high enough to eclipse the competition.

ABC's season premiere of legal drama "Boston Legal" and CBS's series debut of crime drama "Smith" tied for second place, both with a 3.5. "Legal" was up 3 percent from its season opener last year, while "Smith" was up 6 percent from the October 2005 series debut of "Close to Home" in the time period.

>> More ratings information in our Forum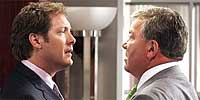 Episode Forum
Share your thoughts >> go

Episode Video



Play 15 sec. version




Play 30 sec. version

Boston Illegal Radio


"Race Ipsa" podcast
Special guest co-host Deb Hiett, Cindy, Denny's therapists assistant who walked in on a Denny's felony against Dr. Sydney Field.
Race Ipsa mp3 d/l [86 min; 30mb]



Listen or subscribe via Yahoo Podcasts

Listen with streaming mp3 or subscribe via Odeo


iTunes subscription
Download free iTunes application


Listen on your cell phone
Episode Images
Memorable scenes >> go
Images in forum >> go
Transcript
Read the episode, transcribed by Sheri and Imamess: [pdf] Transcript
Episode Ratings
September 19, 2006:
Households: 11.28 mil viewers, 3.4 18-49. Lead-in: 2-Hour DWTS 18.17 mil viewers, 5.2/14 18-49