Episode Credits | Dialogue | Did You Know... ? | Reviews | News & Ratings
Episode Summary

Head Cases / Season 1, Episode 1 / Series premiere
First broadcast: October 3, 2004
On a dare with Brad Chase, Alan Shore takes a case where a black mother wants to sue the Annie on Tour production because she believes that they did not choose her daughter to play Annie because she is black. Brad and Sally Heep take a case where a client's ex-husband will not allow her to take her children to New York. Denny Crane tries to prevent his client from hiring an investigator to find out who his wife's lover is. Lori Carlson asks Tara Wilson to do an unethical act. Brad and Sally share a secret.
Episode Credits

Directed by .... Bill D'Elia
Written by .... Scott Kaufer, David E. Kelley, Jeff Rake
Anne Betancourt .... Judge Isabel Hernandez
Kevin Cooney .... Atty. Smith
Helen Eigenberg .... Atty. Tompkins
Anita Finlay .... Helen Poole
Philip Baker Hall .... Ernie Dell
Melora Hardin .... Sharon Brant
John Michael Higgins .... Jerry Austin
Sharon Lawrence .... Judge Rita Sharpley
Larry Miller .... Edwin Poole
Eric Payne .... Sam Halpern
Aisha Hinds .... Beah Toomy [Sarah's mom]
Jadzia Pittman .... Sarah [Annie]
Al Sharpton .... Himself
Todd Stashwick .... Matthew Calder
Episode Dialogue

Brad: Uh, I think that's my seat
Alan: Yes, I did see someone's things here. I moved them to a less desirable location.
Brad: *smirky stare*
Alan: I'm sorry. We're not territorial about that sort of thing around here, are we?
---
Denny: *introductions* Denny Crane.
Chicago Partner: I know. I'm from Chicago.
Denny: Oh, my kind of town. Always had the best sex of my life in Chicago.
What about you?
--
Associate: Where the hell is Edwin?
Edwin: Sorry I'm late, good people.
Alan: Is it casual Monday?
--
Brad Chase: I outrank you.
Alan Shore: And I'm such a slut for authority.
--
Alan: I have trouble talking that fast. I don't believe in being straight up, but I'm a big fan of your aqua velva commercials.
--
Alan: You two have had sex!
Brad: You're not territorial about that sort of thing, are you
--
Little Orphan Annie's Mom: She's earned this, Mr. Shore.
Alan: I have no doubt. But you realize producers do have descretion in the art of casting - strikes me as a very inexact science.
--
Sharpton: "The sun needs to come out today - not tomorrow, your honor."
*courtroom explodes in applause* "That's what you call a rabbit**, son. Denny Crane."
Did You Know... ?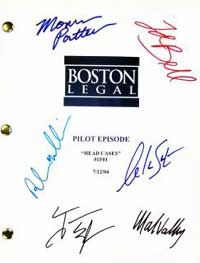 Boston Legal "Head Cases" pilot episode script, dated July 12, 2004
1. Read the first seven pages of an early draft of the pilot. The aired episode was quite different. For instance, this script has no reference to the Little Orphan Annie storyline, does have a story of Edwin Poole's romantic interest in Tara and incorporates the hypochondriac case that actually aired in episode 5 in "An Eye for an Eye". To put in perspective, this script is dated five days after it was announced Mark Valley was hired as Brad Chase and over a month before Rene Auberjonois was signed to play Paul Lewiston. This script references Jerry Austin (John Michael Higgins) as having much of the dialog that is re-shot with Rene later.
Read the script [pdf file. 4.5 mb]

2. Guest star Philip Baker Hall portrayed Denny's old friend Ernie Dell in 'Head Cases'. In 2001, he portrayed George Reese Greeley in "Padadena", the father of the character Mark Valley played (Robert Greeley). Too bad they had no scenes together.

Episode Reviews

TVGuide.com - The Watercooler
Oh, for God's sake — wasn't there a way to let us know Larry Miller wasn't wearing any pants without showing us the lower half of his butt? I know it's a Kelley show, but I was just about to tear into this unusually fuzzy peach and... well, forget that now.

I was going to ask why a wealthy, powerful guy like Philip Baker Hall couldn't just go out and hire his own private eye, but then he did. So instead I'll ask: Couldn't he have gone out and bought his own gun?

While Annie's a cute show, I now have to spend the rest of the evening with "Tomorrow" stuck in my head? That I will not forgive.

But speaking of tomorrow, toasting to "no tomorrows" is a sure way to jinx a new series, if you ask me, Emmy or no Emmy.
Morality & Hooker Rabbits by Abney [written for TV Tome]
First off, I'd like to start with an honest statement - I was not an avid fan of The Practice, watching it only occasionally for its fantastic writing and formidable cast. But it was always too serious for me; too dramatic. I understand that was the nature of the show, and I can still appreciate it. That said, I fell in love with the new characters introduced in the final season - and I'll be the first to admit that The Practice ended with Season 7's finale. Then the show became Alan Shore's. If you were looking for a continuation of The Practice you've come to the wrong place.

OK, I'll start now. I just needed that to be said.

In an overexerted effort to distance itself from The Practice, Boston Legal employs deliriously fast camerawork, even faster delivery of lines, uptempo music and practically hyperactive characters. In some situtations it works; in others it can be harsh, or overly humorous. Depending on your personal inclinations, you may or may not like certain aspects of the new show's tone and mood. Hopefully, the crew will dial it down a bit to an acceptable level or I might have to concede and watch this show in slow motion just to make sure I don't miss any dialogue.

James Spader as Alan Shore, while still lovably unethical, is not featured as prominently as he was in the final season of The Practice, and, while he is still the undeniable center of the story, it allows for the supporting cast to come into their own and to find their niche in the plot. It would be easy to call his character 'different...not like he used to be.' But you have to examine his environment. Around Eugene Young and Ellenor Frutt, Alan Shore is a much different man, comparatively speaking. In a law firm where everyone is just as nutty, if not nuttier, than he is, he seems almost sane. (Did I just say that?)

Plus, a fantastic father/son relationship between Denny and Alan continues to develop, with Alan now puncutuating Denny's sentences with the obligatory and deliciously self-righteous mention of his name.Which lead me to Denny Crane, whose mental condition continues to deteriorate, which, while unfortunate for him, makes for great quips between him and...well, everyone and anyone else. Anyone who didn't laugh at all during this episode is watching it for the wrong reasons. At the end of it all, he returns to his strong and determined state at the top of the totem pole.

In an attempt to find an opposing equal for the gloriously malevolent Alan Shore, the people behind Boston Legal bring in Brad Chase, and while he is almost Alan's equivalent when it comes to witty repertoire, he's going to take some time to grow and develop into his role. There is, however, great potential, especially since there is some built-in sexual tension with already established character, Sally, and a 'two sides of a coin' feel for Brad and Alan, with one willing to do anything to get the job done and the other having reservations about crossing the line. Who will win this battle of egos? Your guess is as good as mine.

At first, you would think that Sally and Tara are the playing the same role within the firm, and I can easily understand why some people might think having both of them onboard is unnecessary. However, they continue to distance themselves from each other when it comes to asserting their individuality; with a reluctant Tara compromising her integrity to help the firm and Sally dealing with her former lover's re-entrance into her life, we see that these women are anything but carbon copies of one another.

It was also nice to see Alan and Sally together, away from the world of law, chatting harmlessly about life, and slowly meandering towards a potential love triangle with Alan, Tara, and Sally, and a possible love quadrangle/square when you throw Brad into the mix. Plus, Alan's sojourn in the bar with Sally was not meaningless nor was it out of the kindness of his heart. He had a plan; he executed it. To him, the ends justify the means, a cliché that pretty much sums up who he is.

The final character rounding out the new team at Crane, Poole, and Schmidt is newcomer Lori Colson, one of very few members of the firm who actually has some semblance of a conscience which at first makes her seem out of place but in the end solidifies why she is there. To her, she can do the most good one step away from people she is surrounded by, but only if she stays right where she's at. She provides a much needed voice of reason and moral compass for the rest of the cast.

Senior Partner Edwin Poole's insanity manifests itself in a much different way from the other 'off the deep end' members of the firm; instead of quick wit and seemingly backwards values, he shows up to the board meeting - bare assed. Fueling more Denny Crane-isms (muting the British representative of the firm...) and setting up the rest of the episode perfectly, if the writers of Boston Legal can contiune to weave the plots and subplots with clever banter and thoughtful cases, they just might have something of a hit on their hands, although the show will have to struggle with it's lead-ins, (Desperate Housewives and Alias, both of which are excellent but neither of which are a good fit along with Boston Legal.)

The Reverend Al Sharpton makes a stunning appearance, and I must say it seemed a bit out of place; and despite the obvious comedic nature of his showing up, it had undertones rooted in an emotional and social reality. Where do we draw the line between 'equal oppurtunity' and flat-out 'equality'? Should we even make a distinction? With a brilliant, underhanded social commentary Boston Legal succeeded in both furthering the plot and making me think, something I can't say about a lot of shows on TV today.

The Good
-The same two edged tone we've come to expect from these characters - light-hearted and serious, all at the same time.
-New characters Brad Chase and Lori Colson, neither of which were a part of the final season of The Practice, but both of which I believe fit right in, in their own way.
-Hooker Rabbits. Hilarious.
The Bad
-Unfitting use of uptempo music that didn't match the storyline at all. And useless zooms in/out that served to do nothing but dizzy and unbalance the viewer.
-Al Sharpton. He just seemed out of place, and the fact that the resolution of the case came solely from his presence bothered to me.
The Ugly
-Edwin Poole's "full moon". Need I say more?

Written by: Abney | Send feedback and comments to Abney at aliasabney@hotmail.com
Episode News

Daily Variety [Oct. 5, 2005]
ABC Entertainment prez Steve McPherson said he's happy with the perf of "Boston Legal," noting some of the audience for "Housewives" simply "isn't going to stick around" for anything that follows it. "The work on ('Legal') is good, as showed by the Emmys" for James Spader and William Shatner, he said. "And the episodes are getting better and better."
NTI Fast Affiliate Ratings [Oct. 3, 2004]
ABC's "Boston Legal" debuted a strong No. 1 in its hour, besting second-place NBC's "Crossing Jordan" by 1 million viewers (13.8 million vs. 12.8 million) and by 14% in Adults 18-49 (5.0/13 vs. 4.4/11). *The program debut of "Boston Legal" produced ABC's strongest Total Viewer and Adult 18-49 numbers with a series in the time period in 2 years - since 10/0/02.
Nielsen Media Research Top 20 Week of Sept. 27-Oct. 3, 2004

RANK / PROGRAM / NET DAY TIME HOUSEHOLD VIEWERS RATING/SHARE AUDIENCE
1 DESPERATE HOUSEWIVES ABC Sun 9:00PM 13.6/20.0 14,926,000 21,645,000
2 CSI: MIAMI CBS Mon 10:00PM 13.0/21.0 14,205,000 19,716,000
2 NFL MONDAY NIGHT FOOTBALL ABC Mon 9:07PM 13.0/22.0 14,268,000 19,368,000
4 CSI: NY CBS Wed 10:00PM 12.5/20.0 13,753,000 19,474,000
5 EVERYBODY LOVES RAYMOND CBS Mon 9:00PM 12.1/18.0 13,262,000 18,685,000
6 SURVIVOR: VANUATU CBS Thu 8:00PM 11.5/18.0 12,626,000 19,915,000
7 TWO AND A HALF MEN CBS Mon 9:31PM 10.9/16.0 11,953,000 16,595,000
8 CSI SPECIAL(S) CBS Wed 9:00PM 10.8/17.0 11,887,000 16,363,000
9 LOST ABC Wed 8:00PM 10.5/17.0 11,506,000 17,004,000
10 60 MINUTES CBS Sun 7:26PM 10.2/17.0 11,161,000 14,908,000
11 COLD CASE CBS Sun 8:26PM 10.0/15.0 10,945,000 15,033,000
12 NFL MONDAY SHOWCASE ABC Mon 9:00PM 9.9/15.0 10,901,000 15,235,000
13 APPRENTICE 2 9/29(S) NBC Wed 9:00PM 9.3/14.0 10,222,000 14,695,000
13 NAVY NCIS CBS Tue 8:00PM 9.3/15.0 10,244,000 14,329,000
15 JOEY NBC Thu 8:00PM 9.0/15.0 9,882,000 13,592,000
16 DECISION '04 PRES ANALYS-(S) NBC Thu 10:31PM 8.9/14.0 9,791,000 13,360,000
17 LAW AND ORDER NBC Wed 10:00PM 8.8/14.0 9,663,000 12,943,000
18 LAW AND ORDER:SVU NBC Tue 10:00PM 8.7/14.0 9,573,000 13,000,000
18 WILL & GRACE NBC Thu 8:31PM 8.7/14.0 9,589,000 12,820,000
20 BOSTON LEGAL ABC Sun 10:00PM 8.6/15.0 9,480,000 13,069,000

*There are an estimated 105.5 million television households in the USA. A single ratings point represents 1%, or 1,055,000 households for the 2001-02 season. Share is the percentage of television sets in use tuned to a specific program.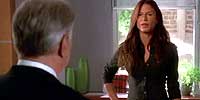 Episode Video




Boston Legal: Head Cases
Season 1, Episode 1
Airdate: October 3, 2004


Watch 1st segment clip (5:12)


Watch 2nd segment clip (9:40)
wm stream; 298 bitrate / no downloads
Episode Images
Memorable scenes >> go

Transcript
Read the episode, transcribed by DrSheri: [pdf] Transcript
Episode Forum
Share your thoughts >> go
Episode Ratings
Won time slot
13.8 million viewers overall
#1 rating in 18-49 demographic
5.0/13
Extras


mobile edition
Download mp3 audio from "Head Cases" (38 mb; 128k)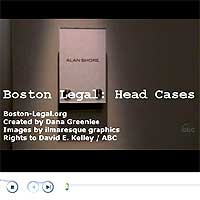 Boston Legal Music Video
"Head Cases"; 2 min.; windows media download (3.6 mb)