Boston Legal Podcast




---



Boston Legal Videos




"Goodbye, My Friend" Music video by Bren - saying goodbye to an awesome series. (3:42)


The Shatner Remix: William Shatner rappin' with Conan O'Brien


Lorraine, Part 1 (19 min) Video created, edited & complied by Imamess, part of the series "Alan Shore: The Women in His Life"


Lorraine, Part 2 (20 min) Video created, edited & complied by Imamess, part of the series "Alan Shore: The Women in His Life". For the rest of the series, watch "Melissa" and "Tara" here and "Ellenor", "Sally", "Diane", "Sheila", "Tara", & "Hannah" here.

<
Tara Summers talks about the end of BL and her next project. (4:30)


The Bromance!


Bill Shatner on "Live with Regis and Kelly" (10 min) Watch Bill and Reeg on the balcony!




Play Next on Boston Legal: Series Finale - Made in China & Last Call (:30) "We picked a really bad week to get married."



Musical Tribute to Boston Legal Seasons 1-5 (3:30) created by the fab ADA. A must see! Music: Matchbox Twenty.





Tara Summers talks Emmys, BL viewers, her favorite BL character and life after BL. (from TVGuide)


>> More video previews, from season 1 to present
>> Talk show interviews with Boston Legal cast
>> Additional Videos


Boston Legal News

Tweet To Be a Part of "Kirk, Crane and Beyond: William Shatner Live" April 3, 8, 10, 11
[April 4, 2011] Website WilliamShatner.com announced today that William Shatner's 4-city tour of Australia entitled "Kirk, Crane and Beyond: William Shatner Live" has added a live interactive component to the tour to allow fans worldwide to participate and become a part of the show.

Fans from around the world are invited to Tweet in a question during a specified time frame each night of the tour to William Shatner's Official Twitter account. During a segment of the evening Mr. Shatner will go live online to Twitter and choose questions that have been tweeted in by fans during that day and answer them live on stage.
The segment will be filmed and will be available at a later date on "The Shatner Project"; Mr. Shatner's online video project which can be found on YouTube.com/WilliamShatner.

Mr. Shatner's Official Twitter account can be found at Twitter.com/WilliamShatner and he invites all William Shatner fans around the world to follow him on Twitter.

> Full Tweeting Details & Schedule at Shatner.com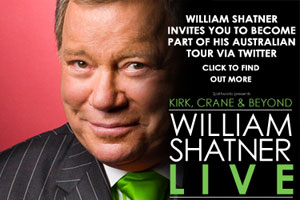 ©2011 Shatner.com.

[February 12, 2010]
Celebrating the life of Justin Mentell (1982-2010)
In commemoration of the passing of Boston Legal actor Justin Mentell, filmmaker James Zahn, friend of Justin and this website, created this tribute to his friend, including Justin's paintings, acting excerpts, playing his drums in his band and just being Justin. "I'm out of time." Music: "Call to Arms" by Angels and Airwaves, one of Justin's favorite bands. >> YouTube page



[February 10, 2010]
Boston Legal premieres on TVLand primetime - and Marathon
Order, order! 'Boston Legal' is now in session on TV Land! The Primetime Emmy Award-winning hit series created by David E. Kelley premieres on Monday, February 15th with a President's Day marathon from 12pm - 12am EST/PST, showing the best cases, most outrageous moments and most creative storylines that audiences love. During the marathon, TV Land PRIME will offer special character "briefs" on viewers favorite Crane, Poole & Schmidt firm members such as Denny Crane, Alan Shore and Shirley Schmidt, and viewers will learn personal and professional information on the characters as well as everything they need to know about this popular series.

Additionally, beginning February 15th, fans of the series can log on to www.tvland.com and enter a sweepstakes for the chance to win one of 30 "Boston Legal" Season 5 DVD box sets.
>> more

[February 1, 2010]





Justin Mentell, 1982-2010
The talented and wonderful Justin Mentell passed away February 1. Justin was only 27. He was a friend of our Boston Legal site and we were fans of his. Our prayers are with his family and friends. William Shatner made the following statement about his colleague Justin Mentell upon hearing about his death:
"I am deeply saddened to hear of the death of this promising young actor. There's no telling how far up the ladder of show business he might have climbed. My deepest sympathies to his family."
Visit JustinMentell.com | Article

Watch Justin in the Boston Legal episode "The Black Widow" (Season 2, Episode 1) Airdate: September 27, 2005 (4:56)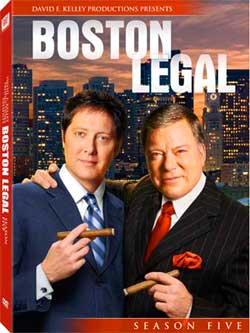 [January 11, 2009]
Boston Legal Season 5 DVD Due May 5!
From tvshowsondvd.com by David Lambert
"Boston Legal - Season 5" is making its DVD debut on May 5th. This 4-disc set contains the final 13 episodes which include extras like "Denny's Daughter: The Untold Story" and Stricken from the Record! (Deleted Scenes). Price will be $49.98 in the US. You can pre-order at Amazon and - at the moment - it is 30% off. By using this link, Amazon will give a percentage of the sale to this site. Thank you!
>> disc-by-disc breakdown at tvshowsondvd.com


>> Older news archive

---
Share your thoughts about Boston Legal.
|
---
---
Your Boston Legal Store

We hope you browse the aisles and shop in our Boston Legal Store! Thanks to Amazon, 6% of your purchases from our store will come back here to help with my bandwidth and servers costs. As long as you start your search from here, even if you click 'Go to Amazon.com', all your orders will count toward helping our fan site. Click your way through our door - we're open at the oddest hours and our aisles are stocked with:
Art House Spader
Shatner the Cowboy
Classic Candice
Shatner Owns Television
Golden Throat of Shatner and way more.
---