Episode Credits | Dialogue | Did You Know... ? | Reviews | News & Ratings
Episode Summary

Truth Be Told / Season 1, Episode 6
First broadcast: November 7, 2004
When mayoral candidate Jack Fleming (Brian Kerwin) has his bid for Boston's highest office threatened by dirty politics just days before the election, his wife, Samantha (Dana Delany), seeks the help of longtime friend Alan Shore... whose tactics put him on a collision course with the city's new power elite. Meanwhile, Lori takes the case of a man, Richard Kirkland, whose ex-wife refuses to release their son's umbilical cord blood that was stored at the time of his birth, which may be the only hope Kirkland has to fight his cancer, and Lori is forced to tell him some very difficult news.
Episode Credits

Directed by ... Tucker Gates
Written by ... Scott Kaufer
Rene Auberjonois ... Paul Lewiston
Brian Kerwin ... Jack Fleming
Dana Delany ... Samantha Fleming
Vincent Angell ... A.D.A. Richard Kirkland
Missy Yager ... Marcy Kirkland
Danielle Bisutti ... Roberta Sloane
Eric A. Payne ... Halpern
Henry Hayashi ... Dr. Lee
Mary Boucher ... Judge Olsheim
TJ Thyne ... Mark Shrum
David Starzyk ... Attorney Gellman
Lou Beatty, Jr. ... Judge Kolodny
Paul Schackman ... Stu Himelfarb
Fred Helsel ... fat man
Amy Penney ... waitress
Rebecca Lin ... receptionist
Glen Walker ... TV anchorman
Bernadette Speakes ... lab tech
Kevin Dunigan ... campaign aide no. 1
John Sterling Carter ... male attorney
Episode Dialogue


Tara Wilson: Let me see if I understand this. In college, you longed to have sex with her.
Alan Shore: Yes.
Tara Wilson: You ached to feel her naked body pressed up against yours.
Alan Shore: Yes. Well said.
Tara Wilson: And yet, nothing between the two of you ever happened?
Alan Shore: We suffered from bad timing. Youíre wondering if thatís our destiny - yours and mine. Twenty years
of unrequited foreplay.

__

Paul Lewiston: Mr. Shore, I saw you in the conference room with Jack Fleming. What were you two doing?
Alan Shore: Tai chi, actually.

__

Dr. Thomas Lee: Now, Iím going to ask you a series of -
Denny Crane: Denny Crane!
Dr. Thomas Lee: Why did you just say that?
Denny Crane: Well, isnít that how you guys usually begin a mental examination, by determining if the subject knows his own name?
Dr. Thomas Lee: Good. And who is the current president of the United States?
Denny Crane: That would be Ernest Borgnine. (there is an uncomfortable pause) Ah. Iíll bet you get lunatics in here every day that - that say that stuff for real, right? (Dr. Lee takes some notes in silence) The current president of the United States is George Walker Bush, son to George Herbert Walker Bush, whose father was the late United States Senator Prescott Bush, who, as an undergraduate at Yale, once wrestled my father in the nude. But thatís a story for another day. Letís stick to the issues at hand. Denny Crane.

__

Paul Lewiston: Is it your feeling that Denny Crane will protect you from me?
Alan Shore: It is. To the extent that he recalls who I am.

__

Tara Wilson: CNN said the election was too close to call. Fleming is up two points, but itís within the margin of error.
Alan Shore: I think thatís what Iíll call my autobiography - ďWithin the Margin of ErrorĒ.

__

Alan Shore: When I said not a day in college went by that I didnít long to sleep with you?
Samantha Fleming: Yeah.
Alan Shore: It wasnít a joke. I had a place all picked out back then. A motel out on Route 9. The Aloha Inn. I thought you might appreciate the tropical ambience.
Samantha Fleming: Iím imagining a lot of rattan and plastic orchids.
Alan Shore: Thereís a neon sign out front that blinks ďAlohaĒ in orange, then ďInnĒ in pink, then the hula girlís skirt in green, over and over and over. And all night long, the rooms are flooded with the glow of that neon. And I always wondered how you would look naked in all that pink, green and orange.

Alan Shore: We shouldíve done this much sooner.
Tara Wilson: Letís do it again.

Did You Know... ?


Wherefore art thou
This is one of the few episodes of Boston Legal without a balcony scene.

There was no opening theme credit sequence for this episode. Instead, the regular cast names were superimposed over the first scene of the mayoral candidate arriving at Crane, Poole & Schmidt. [Thanks to Sue for noticing this.] Then, nearly 4 minutes into the story we see writer and producer credits, of which there were seven consulting, supervising and co-executive producers.

Brad Chase [Mark Valley] was completely absent from "Truth Be Told" after only barely appearing in previous episodes. Where is he? Perhaps the Marine reserves?

This was the first episode this year not written by David E. Kelley, nor did he write the subsequent episode.

Six Degrees
Dana Delany (Samantha Fleming) co-starred as Mark Valley's sister in "Pasadena".

David Starzyk (Attorney Gellman here) has morphed from his days as Martin Adler in The Practice "The Lonely People" (the season 8 ep with wife-killer Roland Huff) as well as several eps from the 2000 season as John Myers.

Vincent Angell as A.D.A. Richard Kirkland here was also Attorney Todd Furst on The Practice in 2002. (One wonders how shady these lawyers are who have to change their names from year to year)

Eric A. Payne is Halpern but he was also in DEK's Ally McBeal.
Episode Reviews

Truthful Deception by Abney [written for TV Tome]

I'd like to start off with an apology for not posting a review for last weeks episode (1.05 'An Eye For An Eye'). I even had a clever name for the review before I even saw the episode, but the age old VCR problems have plagued me for this last week. I had similar problems when taping the other show I review, Lost; unfortunately, ABC does not air reruns of Boston Legal, at least not yet. Once I see the episode I'll be sure to post a (late) review for it.

Anyways, I'm finally feeling optimistic about this show again, like I was during it's early development stages and all summer long as I saw promos for it. There is something of a character balance and rotation - Tara has reappeared, and Brad was shifted away from the focus. I know that he'll be back, though, and with 16 episodes still to go in the season, I'm more than positive that by the end of Season 1 everything will be in order. Sometimes, it takes time for a new show to find it's feet, and I'm more than willing to give the show as much time as it needs, because it has the potential to be an amazing law show whose characters are more important than the plotlines, a flaw that has been epitomized by law shows in past years.

I think something that the creative team behind Boston Legal have realized is that the idea that the entire show and firm would focus on the "high priced world of civil law" is limiting the show's concept and ultimately taking away from what it could be; this episode, however, proved that they've found a balance, as episodes like 'Change of Course' focused more on the criminal aspect of things (something that I criticized) and episodes like this one honed on on moral and civil issued which, when crafted and written carefully, can be just as human and pensive as any criminal case. The two stories told tonight were a testament to that fact.

Alan, as much as he is often portrayed as the greatest attorney who ever walked the earth, has been proved vulnerable - all of his rhetoric and persuasive nature are useless when the case, and the law, flat out disagrees with him. In our world today, negativity is rewarded. It's a harsh fact of life, and I'm not going to even try to sound idealistic about our society. In politics, it's expected that you're corrupt; if you don't use (or practically rely on) negative campaigning, you can't possibly expect to win a race. In the world we live in, it's more effective to make the other guy look worse than it is to make yourself look better. However, our country was founded on the basis of freedom; and even though everything said in the ad smearing the would-be mayor was misleading and/or false, it's the right of the person or people running that ad to say whatever they want, whenever they want, no matter how low in character we may judge those tactics to be. Despite all of his skill as a lawyer, and a carefully presented case, there was nothing Alan could do to get the ad off the air. So he had to rely on...other means. A circumstance that seems to come up quite often.

I must admit that I was losing faith in Denny's self-righteousness and getting very tired of the obligatory "Denny Crane" at the end of any statement and/or question, I wasn't irked by it here. I actually chuckled, and not just at the transparent predictability of it. The fact is, it was used effectively with the shrink/doctor, instead of as forced humor or an unnecessary quirk in a character who has enough idiosyncrasies already. The subtle allusion to his overbearing conservative-ness and the fact that he has never used a computer before (both startling in character for him) more than made up for the fact that he wasn't seen in court. Not to mention the fact that he's proved his worth to Lewiston and to the firm and secured his position as Crane, Poole & Schmidt.

I'm always glad when current issues and events are tied into one of David E. Kelley's shows; the fact that these characters operate in our universe, in our world, and have to deal with the same things we deal with makes the cases more believable and the characters more relatable. Lori not only had to deal with an ethical question at the root of the profession of law - obey the standards and laws of the vocation, or selectively ignore them to do what you know is right? Clever writing and shooting of Lori's "reveal" about "the truth" not only made you think she was coming clean about the fact that the man's son wasn't actually his son; but instead she takes the moral high road, defies Lewiston, and weaves a lie that will keep all involved parties happy. Ironically, I didn't see the twist coming; it was my female friend who called what would play out. Coincidence? Maybe.

Sally and Tara didn't have much to do, something that might have seriously bothered me a few weeks ago but was barely even a minor annoyance - they didn't even overplay the tension between Alan, Tara, and Sally now that Alana and Sally as a couple are out of the picture. And the final scene was pure, plot-twisting bliss - regardless of whether you thought it was Tara or Samantha, the politician's wife, it was still a satisfying conclusion to a satisfying episode.

The Good
-The nifty little reveal at the end of the episode, after the delightfully inappropriate story about Alan's fantasies of Samantha back in college.
-Alan, in spite all of his moral shortcomings, still tries to help the people he cares about, something that is undoubtedly honorable, even for a person like him. If there's anything more crooked than a lawyer, it's a politician, and Alan made sure the sleazebag paid for what he did to his wife.
-Denny has never used a computer before, and consequently is a very slow typer. That, couple with his calling it a 'remarkable machine' were pleasantly amusing.
-This episode shares a title with the pilot of Alias, a personal favorite show of mine. Just a little side note.

The Bad
-Lewiston. I don't see his name in the title of the firm, but he still acts like he's the boss of everyone, including Denny. The fact that he serves no real purpose and remains one-dimensional and pretty boring landed him in the bad column this week.

The Ugly
-Multiple mentions of 'umbilical blood'; correct me if I got the terminology wrong, because science is not my forte, but the thought alone was enough to unsettle me. Maybe I have a weak stomach.
-Jack Riley, and the episode's portrayal of politics and politicians in general. I guess there's always Jack & Bobby if you want to see the virtuous side of the civil servant.

Written by: Abney | Send feedback and comments to Abney at aliasabney@hotmail.com

Episode News


Ratings

From Variety.com

ABC scored a significant ratings victory on the opening Sunday of the November sweep, getting time-period highs from both "Extreme Makeover: Home Edition" and "Desperate Housewives," according to preliminary nationals from Nielsen.

NBC did well at 10 with a special episode of "Crossing Jordan" (5.3/13 in adults 18-49, 14.3 million viewers overall) featuring cast members from the net's Monday drama "Las Vegas." These are the best "Jordan" numbers since May 2002, winning the hour over ABC's "Boston Legal" (a projected 5.0/12 in adults 18-49, 12.3 million viewers overall).

Update:
Boston Legal ranked #26 with 11.9mm viewers. Crossing Jordan ranked #16 with 14.4mm viewers. Lead-In Desperate Housewives ranked # 2 with 24.6mm viewers while L&O: Criminal Intent ranked # 28 with 11.5mm viewers.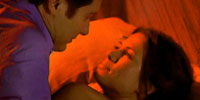 Episode Forum
Share your thoughts >> go
Episode Video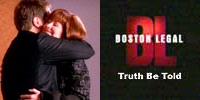 Boston Legal: Truth Be Told
Season 1, Episode 6
Airdate: November 7, 2004


Watch 1st segment clip (12:00)


Watch the Truth Be Told preview (:30) wm stream; 298 bitrate / no downloads

Episode Images
Memorable scenes >> go

Transcript
Read the episode, transcribed by Sue: [pdf] Transcript

Episode Ratings
Boston Legal ranked #26 with 11.9mm viewers. Crossing Jordan ranked #16 with 14.4mm viewers. Lead-In Desperate Hwives ranked # 2 with 24.6mm viewers while L&O:Criminal Intent ranked # 28 with 11.5mm viewers.