Episode Credits | Dialogue | Did You Know... ? | Reviews | News & Ratings
Episode Summary

Change of Course / Season 1, Episode 4
First broadcast: October 24, 2004
When Edwin Poole escapes from the mental hospital and wanders into a criminal courtroom, he shocks the firm by taking on the pro-bono case of a man accused of murdering a police officer. Brad Chase persuades Lori Colson to use her skills from her days as a D.A. and serve as first chair in the defense. Meanwhile, Shore is encouraged by a senior partner to use extreme measures to defend a company CEO charged with shoplifting and to keep the case from going public.
Episode Credits

Directed by ... Ron Underwood
Written by ... David E. Kelley, Jonathan Shapiro
Teleplay by ... David E. Kelley
Jeremiah Birkett ... Warren Litch
Larry Miller ... Edwin Poole
Robert Joy ... A.D.A. William Preston
Richard Portnow ... Judge Phillip Harding
Dennis Cockrum ... Officer James Jacobs
David Kaufman ... Dr. Steven Karp
Thomas Kopache ... Judge Wallace
David Norona ... A.D.A. Harris
Linda Gehringer ... Lee Tyler
Will Radford ... Miles Tibbet
Charles Currie ... Bennett Lyne
Kevin R. Kelly ... foreman no. 2
Louise Claps ... criminal court jury foreman
Anita Finlay ... Helen Poole
Craig Mitchell ... prisoner no. 1
Jim Kratt ... prisoner no. 2
Episode Dialogue

Paul Lewiston: We have exhausted all conventional means to make this go away. We have failed. We now need an attorney with some experience in perhaps unconventional means.
__

Sally Heep: Is that fair?
Alan Shore: I donít understand the question.
__

Miles Tibbet: Youíre very beautiful, but I donít do that sort of thing.
Sally Heep: What sort of thing? What? You think Iím a hooker?
__

Edwin Poole: Son, if I might ask? Why did you call her fleshy?
Warren Litch: I was just tryiní to humanize her. Juries donít like beautiful women.
Lori Colson: You think Iím fleshy?
__

Brad Chase: Feel free to mock me all you want, but donít you dare ridicule our troops.
Alan Shore: Just so Iím clear. I should feel free to mock you.
__

Lori Colson: I was trying to establish that you were coerced. The judge doesnít shock easily, but maybe the jury does.
Warren Litch: Oh, I see. You were goiní for shock value. Maybe you could have really gone for it and asked three questions.
__

Alan Shore: Do people often take pity on you, Miles? Wouldnít surprise me. Iím seeing a pattern here. Pity. Anxiety. Inferiority. All those ďityĒ words.
__

Alan Shore: Youíre right, itís not. But you have a job to do, and so do I. Yours is to sell socks and suspenders. Mine is to cross-examine people like you and crush them.
__

Denny Crane: Sally, that was not a pleasant meeting. Typically, when associates are unhappy, I give them a hug.

Sally Heep: I donít want a hug, Mr. Crane.
Denny Crane: Okay. May I have one?
__

Edwin Poole: You know, in Perryís closings, he would point to the real killer. I donít suppose I should do that, should I?
__

Paul Lewiston: The district attorney has lodged a complaint against you for witness tampering, intimidation, obstruction of justice, extortion.
Alan Shore: He should make up his mind.

Did You Know... ?



Sox v. Cardinals v. Boston Legal
Game 2 of the 2004 World Series [Boston Red Sox versus St. Louis Cardinals] airing during primetime on Fox ran late and into the Boston Legal time period. To see how the match-up went. check the nights ratings below.


Episode Reviews

(Ignoring) The Road Less Traveled by Abney [written for TV Tome]

In spite of a somewhat successful melding of the two contrasting aspects of this show, I was unsettled by the fact that the "high priced world of civil law" that was so highly touted during promotion has been pushed aside for two criminal cases; if you want this show to assume it's own personality, away from The Practice, then you cannot rely on the plotlines that are prevalent in criminal law. A criminal case here and there is unavoidable, perhaps even preferable; but here it was overkill. And while the characters seem to grow in baby steps, leaps and bounds, or not at all, I'm still enjoying tuning in every week.

Alan may not be the shining beacon of hope for the law show he was on The Practice, but at least he's still the poster child for questionable ethics. The fact that everybody in the firm knows it, including the insufferable and office-less Lewiston, only makes it that much more enjoyable. I was even able to look past the terrible mismatch that is Alan and Sally, because I truly believe the quiet conclusion means that they're finally done. And although he remains, generally speaking, largely inactive in the courtroom, he's still the most fun to watch. I can only hope he'll get even more interesting now that he's cast Sally aside. (Or did she cast him aside? Is that distinction irrelevant?) <--- I'll give you the answer to that one - it's a yes.

I still think Sally is a waste of screen time; that's not to say that she isn't an integral character, or that she's entirely useless - I simply believe they are spending too much time on her. Perhaps the title of this episode has more than one meaning - I certainly hope that the 'change of course' involves a shift away from Sally and more towards Tara, who is still absent. And the fact that she is missing is felt; there is a definite hole in Crane, Poole, & Schmidt. And for now, Sally does not succeed in filling it.

I suppose she's still better off than Denny, who was nothing but filler; basically shoehorning him into the 'Alan intimidates the witness' plot by having him utter his name, yet again (maybe we should start a count?). I can only wonder just how badly Miles would have done on the stand, seeing as the doctor that was called in the other case couldn't have stumbled more, and he wasn't taken advantage of by the tag-team of Alan and Sally. Denny goes on to ask Sally if he can hug her; at least he's up front about his sexual harassment related desires. Unfortunately for him, she still has some dignity, something that separates her from a few of the other members of the firm.

I must admit, I'm getting sick of the crazy lawyer/somewhat sane lawyer dynamic that seems to come up so much; it was the rationale for Brad staying in the Boston office in the first place, and now it's used to force Lori upon a case with Edwin Poole, whose eccentricity is dwarfed by that of just about everyone else and whose presence was not only outlandish but laughable at times. But I suppose that was the point. As for Brad, his story is much like that of Tara, but instead of practically not being around at all, he gets one or two throwaway lines and/or scenes, just another example of the gross imbalance of character development that plagues this show.

Rereading this review, it may seem that I don't like this show, but that isn't the case. I'm disappointed because I see an enormous waste of potential. And it isn't as if everything was off this episode; even though the two featured cases were criminal, they were still insightful, especially the one Edwin took and Lori was forced to run. Do we follow the law to the letter? Is there leniancy when it comes to "reasonable doubt" - there was no doubt in my mind that every single person in that courtroom knew that the defendant was guilty, but should he have gotten off on a technicality? Apparently, this jury didn't think so, but I must say that the case would have been intriguing no matter which way the verdict ended up.

The Good
-The two criminal cases, while unjustified, were still some of the best courtroom drama we've seen on this show. Even though the one settled outside of court.
-Lewiston's gratitude at Alan's willingness to cross the line. Sure, you could tell he was going to say something, but it made Lewiston seem less extraneous, especially since he's set up camp in the conference room.

The Bad
-See above review.

The Ugly
-I've debated about giving this to a few different things -the "fleshy" comment; Edwin Poole's forgetfulness that cost Lori the case; the numerous unapologetic Perry Mason references; but I've settled on Lori and Edwin's defendant's face when he heard the word 'guilty'.
-Oh, and according to Alan, the entire profession of law, and he himself. But we already knew that.

Written by: Abney | Send feedback and comments to Abney at aliasabney@hotmail.com
Episode News

"TV Guide's The Watercooler
[October 25, 2005]

Boston Legal
Yeah, I watched this on tape. So what. Anyway, I didn't think it was possible, but I'm actually not seeing Captain Kirk in a pricey suit anymore when William Shatner is on screen. He has become "Denny Crane." Incredible. And I love how the show is already having fun with itself by peppering various utterances of "Denny Crane," both in the background and foreground, throughout various scenes. Nevertheless, this was Sally's (Lake Bell) episode. When Alan (James Spader) was laying into that poor, pathetic store clerk for daring to testify against a CEO who shoplifted, you could feel Sally's overwhelming regret. After seeing such venom from her colleague and lover, it not-so-strangely gave her pause regarding their relationship. Hmph, who would've thought?

Ratings

ABC Press Release:

Fast Facts for Sunday, October 24, 2004 (Based on Fast Affiliate Ratings)

ABC is the Top Choice for Non-sports Programming on Sunday Night

ABC's "Boston Legal" Beats NBC's "Crossing Jordan" in Adults 18-49 and Posts New Series Highs in Adults 18-34 and Women 18-34

ABC Telecasts the No. 1 Television Show on Sunday in Adults 18-49,as "Desperate Housewives" Tops Game 2 of the World Series on Fox

"Extreme Makeover: Home Edition" Earns its Top Numbers in the Hour Across the Key Women Demos and Ranks as the Top TV Program of the Night in Teens and Kids

Opposite the World Series, ABC's "Desperate Housewives" Generates New Series Highs in Adults 18-49, Young Women and Men 18-49

With Fox's baseball running late and into the time period, ABC's "Boston Legal" was the top-rated entertainment program in its hour among Adults 18-49, beating out NBC's "Crossing Jordan" (4.7/11 vs. 4.1/10).

* ABC's "Boston Legal" delivered the new series' highest ratings yet among Adults 18-34 (3.9/11) and Women 18-34 (4.7/12).

MediaWeek:

Despite airing opposite baseball, ABC blockbuster Desperate Housewives remained just that with a 13.3/19 in households (#2), 21.87 million viewers (#2) and a first-place (and series-high) 9.7/22 among adults 18-49 at 9 p.m. Comparably, that was an increase of 55 percent in households, 7.24 million viewers and 54 percent over still potent lead-in, Extreme Makeover Home Edition (HH: #3, 8.6/13; Viewers: #3, 14.63 million; A18-49: #2, 6.3/15 at 8 p.m.).

Although no one expects lead-out Boston Legal to completely hold the Desperate Housewives audience, erosion of 44 percent in households, 10.59 million viewers and 51 percent among adults 18-49 for the new David E. Kelley drama (HH: #3, 7.4/12; Viewers: #3, 11.28 million; A18-49: #2, 4.8/11 at 10 p.m.) is concerning.

October 26 update:

Boston Legal was ranked 31 of 107 shows, with 10.8mm viewers, the lowest ranking to date.
Crossing Jordan: #24 with 11.7mm viewers
Desperate Housewives: #6 with 21.5mm viewers
L&O:Criminal Intent: #22 with 12.4mm viewers

Zap2it.com:

FOX won the night's final hour as the World Series carried over to a 14.0/22. NBC was second with the 7.9/12 for "Crossing Jordan." ABC was right behind with "Boston Legal," with the CBS movie in fourth with a 6.4/10.

Variety.com:

ABC also did very well again at 8 with "Extreme Makeover: Home Edition" (6.2/15 in adults 18-49, 14.6 million viewers overall), which ran second to baseball, and OK at 10 with "Boston Legal" (4.7/11 in 18-49, 11.3m).

"Crossing Jordan" did (prelim) 4.1/10 in 18-49, 11.7 m.

So ultimately, Boston Legal placed 3rd in the 10pm time-slot. Crossing Jordan beat out Boston Legal by 400,000 viewers. BL hit the key demographic, but was 3rd overall.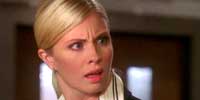 Episode Video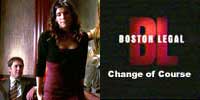 Boston Legal: Change of Course
Season 1, Episode 4
Airdate: October 24, 2004


Watch 1st segment clip (3:00)
wm stream; 298 bitrate / no downloads

Episode Images
Memorable scenes >> go

Transcript
Read the episode, transcribed by olucy: [pdf] Transcript

Episode Forum
Share your thoughts >> go

Episode Ratings
"Boston Legal" delivered the new series' highest ratings yet among Adults 18-34 (3.9/11) and Women 18-34 (4.7/12), the top-rated entertainment program in its hour among Adults 18-49. Game 2 of the World Series overlapped into this time period; 10.8 million viewers.