Episode Credits | Dialogue | Did You Know... ? | Reviews | News & Ratings
Episode Summary

"Live Big" / Season 2, Episode 16
Broadcast: February 21, 2006
A story of fathers, daughters, partners, a new beginning, a final end, old flames, reconciliation, forgetting your life and living big.

Shirley's ex-husband, who cheated on her with her sister on their honeymoon, asks her to be his best man at his wedding. Shirley is not sure if he has changed or is lying to his bride to be, Missy. Ryan Myerson helped euthanize his wife after she got Alzheimer's. When his lawyer recommends he plead to manslaughter because he can't win the trial, he wants Alan to take over. After 7 years of not speaking, Paul tries to reconnect with his daughter.
From ABC: While trying to woo her back, Shirley Schmidt's ex-husband, Ivan Tiggs (Tom Selleck), wants her to be his 'best man' at his upcoming wedding with an annoyingly perky woman. Meanwhile, Paul Lewiston's estranged daughter, Rachel, who he claims blindly stole from him to feed her drug and alcohol habits, comes back into his life after seven years. And Alan Shore defends a man who said he was only complying with his wife's wishes when he assisted in ending her life.

Episode Credits

Directed by .... Bill D'Elia
Written by .... David E. Kelley

Tom Selleck .... Ivan Tiggs
Meredith Patterson .... Missy Frank
Maury Chaykin .... Ryan Myerson
Adam Arkin .... A.D.A. Douglas Koupfer
Jayne Brook .... Rachel Lewiston
Michael Ensign .... Judge Paul Resnick
Stacy Galina .... Jody Young
Ashley and April Rios .... Fiona
Nick Toth .... Minister Bill
Georgia Murray .... herself
Peggy Etra .... foreperson

Set Photographer: Scott Garfield & Craig Sjodin
Set Photos taken December 12, 2005 and January 6, 2006
© 2005 ABC, INC.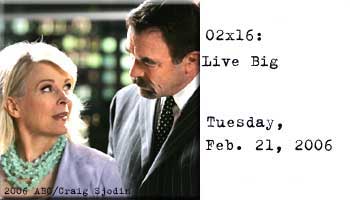 Episode Dialogue


Shirley Schmidt: I just want to make sure… are you okay with this?
Missy Frank: I am. You're dear to my Ivan. And I'm certainly wise enough to know that the heart wants what the heart wants. So long as his penis doesn't weigh in.
__

Rachel Lewiston: Well, dad, I think we both can agree we'd need to start with an apology. Where we differ is on who needs to give it.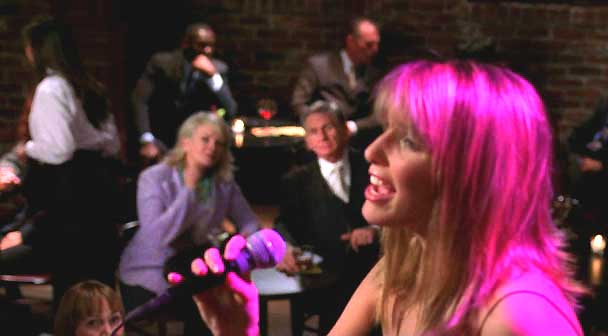 [more images in our forum]

Missy Frank: Well, we love children, we plan to have three, all perky. I'm a wonderful housekeeper, I like to cook, these are traditional values I speak of. I'm sexually very… indefatigable.
*And she snorts/laughs. And off she goes*
Shirley Schmidt: Oh, God. Holocaust, Tsunami. Trent Lott. *And she stops*
__

*Ivan's and Missy's rehearsal dinner*
Missy Frank: *to guests* Ivan, this is my turn to talk, so I shall thank you to keep quiet. I was about to say… see me for my heart. My heart. I never thought I'd actually meet a man who…
*It seems she's lost in emotion for a second. The piano starts up. She sings*
Perhaps I had a wicked childhood / Perhaps I had a miserable youth. But somehow in my wicked miserable past / There must have been a moment of truth.
Shirley Schmidt: *To Denise* Am I being punked?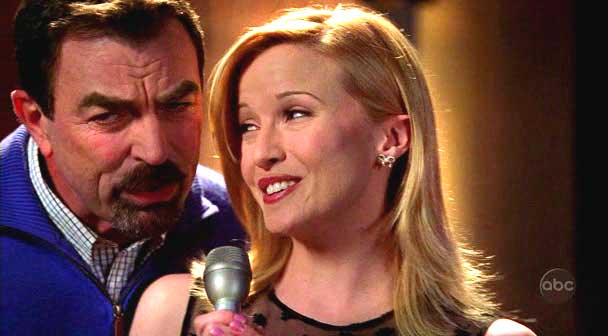 Photo: Craig Sjodin / © 2006 ABC Television, Inc. / David E. Kelley Productions / Taken Dec. 12, 2005


Did You Know... ?

Be My Best Man, Part 2
As reported by CBFan in our forum, a key storyline detail in Live Big seems to hark back to an episode of Candice Bergen's Murphy Brown.

Episode title: Seems Like Gold Times
Jerry Gold returns from Germany and it seems just like old times for Murphy and Jerry and the gang. [...] Jerry and Murphy end up in bed together and Murphy tells him she does not want a relationship. Jerry says like wise because he's getting married. After Murphy tries to kick Jerry out of her house he tells her he wants her to be his best man because he cares so much about her. Murphy agrees with much begrudging.
>> Murphy Brown episode info at TV.com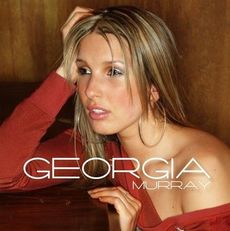 Georgia on their minds: Victoria singer discovered at resort by Boston Legal crew
Georgia Murray portrayed herself in the "Live Big" episode as the lounge singer performing in front of Shirley Schmidt and Paul Lewiston. Georgia was 'discovered' by the production team of the show while they were filming episode 2.3 ("Finding Nimmo") on location at Nimmo Bay, British Columbia last April. She sang three songs in this episode: "Thanks Again", City Lights" and "World Goes 'Round." Her website is www.georgiamurray.net and she has graciously provided a free mp3 download of an acoustic version of "Thanks Again" at her iSounds page [http://www.isound.com/music/georgia_murray].
[Thank you to Sue for finding this information]
>> read the article about Georgia or see 'News' at the end of this page
>> see images of Georgia in "Live Big"
>> Listen to Georgia and Dana's "Live Big" podcast:
Part 1 mp3 [74 min.]
Part 2 mp3

Six Degrees of the Guest Star
Jayne Brook as Rachel Lewiston - Brook has been appearing on film and TV since 1987 and first worked on a David E. Kelley show in 1993 with a recurring role on LA Law. She later played Dr. Diane Grad Chicago Hope, alongside Adam Arkin. Since then, she's had recurring roles in series such as Sports Night, The District, and John Doe. Most recently, she appeared earlier this season on two episodes of Everwood.

Thanks to Sue for this research. For more acting Six Degrees for every guest star in this episode, see our forum episode page


Trek in Courtroom/Live Big [pdf]
Check out the similar themes: Parental eSTRANGEment, Wedding Belles and Star Trek Alumni: Judge Resnick / Michael Ensign >> our Star Trek in the Courtroom page


Photo: Scott Garfield / © 2006 ABC Television, Inc. / David E. Kelley Productions / Taken Jan. 6, 2006
Episode Reviews


| 2.16 'Live Big' written by Abney


Coming soon.


Written by: Abney | Send feedback and comments to Abney at aliasabney@hotmail.com





Episode News


Ratings Ratings [101 by Nielsen]

Feb. 21, 2005 "Live Big"
Households: 9.5 mil [10.4 mil last week]; 6.2/9 , 2.8 in 18-49 [3.3 last week], gaining from lead-in George Lopez [4.1/6 and 2.6 in 18-49]. A repeat of CSI pulled a 7/11. The Olympic skating competition was 17.7 at 10pm

>> More ratings information in our Forum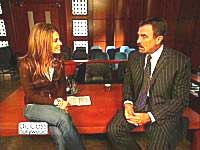 Boston Legal on Access Hollywood
On Jan. 3, Access Hollywood did a piece on Tom Selleck, guesting on Boston Legal Feb. 21 in the episode 'Live Big'. Maria Menounos spent a few minutes with him on the set. They showed him shooting a scene with Candice Bergin when he asked her to be his best man - and they both cracked up when he made a rude gaseous noise when he went down on one knee. He talked about being a bit nervous after five years away from prime time. Shatner talked to the camera about Sellecks sexy goatee, all the while pulling on his suspenders. >> full text]


Political Punchline
The Reader
A sweeps-month episode of "Boston Legal" (Tuesday, 9 p.m., ABC) finds the David E. Kelley formula at its best: a meaty moral issue mixed with heavy-duty emotion, topped by eccentric humor. For the meaty moral issue, Alan (James Spader) defends a man who granted his deteriorating wife's wish for assisted suicide. For the heavy-duty emotion, Paul (Rene Auberjonois) reunites with the wayward daughter he hasn't seen in seven years. And for the eccentric humor, Shirley (Candice Bergen) ponders a request from her ex-husband, Ivan (Tom Selleck), to serve as best man at his wedding.

The bride-to-be is a classic Kelley whack job, a ditz with a loud, snorty laugh. Once she starts laughing she can't stop, and Ivan has to make tragic comments to snap her out of it — something like "Bambi's mother got shot." Shirley is forced to come up with a tragic comment herself when faced with the out-of-control laugh in a one-on-one conversation. "Tsunami…" she says, fumbling. "Holocaust … TRENT LOTT!"


Georgia on their minds: Victoria singer discovered at resort by Boston Legal crew
by Adrian Chamberlain, CanWest News Service
Published: Monday, January 09, 2006

VICTORIA -- A Victoria singer discovered at a remote B.C. luxury resort has made the leap to Hollywood and New York.

This week, Georgia Murray flew to Los Angeles to shoot a scene for the courtroom drama TV series Boston Legal. Next month, she travels to Madison Square Garden, where she'll sing the national anthems before New York Knicks and New York Rangers games.

The 21-year-old graduate of Victoria's Canadian College of the Performing Arts was discovered by Boston Legal's creator David E. Kelly when the show filmed an episode in April at the Nimmo Bay Luxury Resort, 300 kilometres north of Vancouver. The Boston Legal team was impressed with her singing at the resort, owned by her father.

That performance coincided with her 21st birthday, so the TV crew presented her with $700 US, a signed script and other souvenirs. Murray thought little more of it until a month ago, when Boston Legal's casting agent left a message on her cellphone.

The offer to be part of a top-rated TV show was a belated birthday present she'll never forget.

"I was totally -- I mean, I was blown away," she said from Los Angeles.

The aspiring singer-songwriter plays a nightclub vocalist in a scene with Candice Bergen and Rene Auberjonois. Murray sings three songs, including the Ricky Skaggs hit Thanks Again.

The episode, titled Live Big, features a guest appearance by Tom Selleck. It is slated to air Feb. 21 on ABC during sweeps week.

Boston Legal features William Shatner -- who's won an Emmy for his efforts -- and draws more than 11 million viewers weekly.

"I was extremely nervous before I came (to Los Angeles)," said Murray. "I thought, 'Gosh, I can't live up to this.' But when I got there I felt, 'I can really do this.' I fit in and I was totally vibing with everybody and I felt confident."

She scored the gigs singing anthems in New York after an executive of the National Basketball Association Knicks and the National Hockey League Rangers visited the Nimmo Bay resort. Her father, Craig Murray, presented him with a copy of his daughter's three-song CD.

Murray will sing the American anthem for a Feb. 7 Knicks game, and both the American and Canadian anthems for a Rangers game on Feb. 8 against the Ottawa Senators.

The young vocalist didn't even know the American anthem, but boned up on it over two days.

"When I found out I was totally ecstatic and trying to learn it as quickly as I could," she said. "It's not an easy song. It covers my entire range -- it goes really low and really high."

The Nimmo Bay Luxury Resort has attached the likes of Michelle Pfeiffer, Richard Branson, Jimmy Pattison and George Bush Sr. A four-day stay costs almost $8,000 per person.

"I don't want people to think I was just handed this because these (Boston Legal) people came to my dad's resort," said Murray. "The opportunity was presented because they came and visited, but I got here because I'm capable."

Murray, who plans to independently release an EP of hip-hop-inflected folk music in March, views herself as primarily a singer-songwriter. However, Murray is open to acting on the side should the opportunity arise.

"I would love to be a part of whatever I can be, really."

© The StarPhoenix (Saskatoon) 2006


Rant[Hony]-ings: a Blog
Boston Legal, Jury Nullification, Euthanazia
by R. Anthony Steele
Speaking of Boston Legal (I was) the episode "Live Big" (that aired on the 21st) features Alan Shore once again on the horns of an ethical dilemma. His client granted his Alzheimer's afflicted wife's request to have her life terminated.

I love watching James Spader's characterization of Alan Shore. He's so wonderfully dry. The contrasting relationship with bombastic 'Denny Crane' (William Shatner) makes an excellent sounding board (and vice versa) for discussion points within the episode.

Denny Crane: That's how dad went. Morphine drip.
Alan Shore: How did you get the doctor to do it?
Denny Crane: "Denny Crane". It was the real thing then.

Spader's 'Shore' is clearly uncomfortable with the whole subject, but he believes that his client should not be labeled a criminal, and bases his closing argument on that very basic fact.
>> read more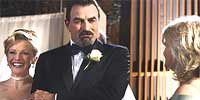 Episode Forum
Share your thoughts >> go

Episode Video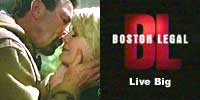 Watch the preview for "Live Big" Pt. 2 (:25) / wm stream; 340 bitrate / no downloads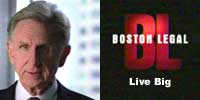 Watch the preview for "Live Big" (:40) Airdate: February 21, 2006

Boston Illegal Radio


"Live Big" Part 1 of 2 mp3 download [74 min; 26 mb]


"Live Big" Part 2 of 2 mp3 download [58 min; 20 mb]
>> Follow along with the Live Big show notes



Listen or subscribe via Yahoo Podcasts

Listen with streaming mp3 or subscribe via Odeo


iTunes subscription
Download free iTunes application


Listen on your cell phone
Episode Images
Memorable scenes >> go
Transcript
Read the episode, transcribed by Imamess: [pdf] Transcript
Episode Ratings
February 21, 2006:
Households: 9.5 mil [10.4 mil last week]; 6.2/9 , 2.8 in 18-49 [3.3 last week], gaining from lead-in George Lopez [4.1/6 and 2.6 in 18-49]. A repeat of CSI pulled a 7/11. The Olympic skating competition was 17.7 at 10pm